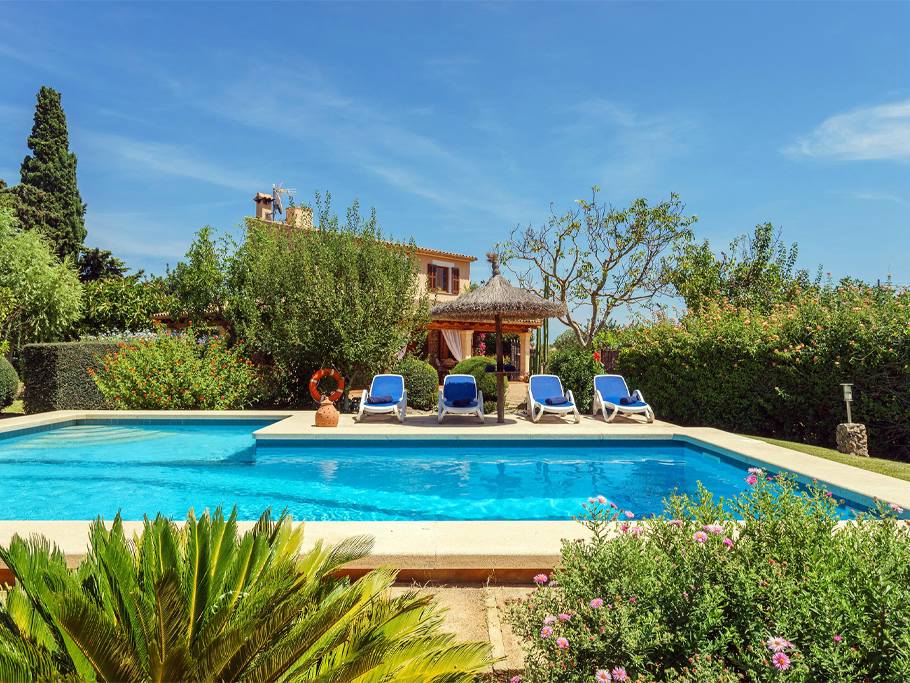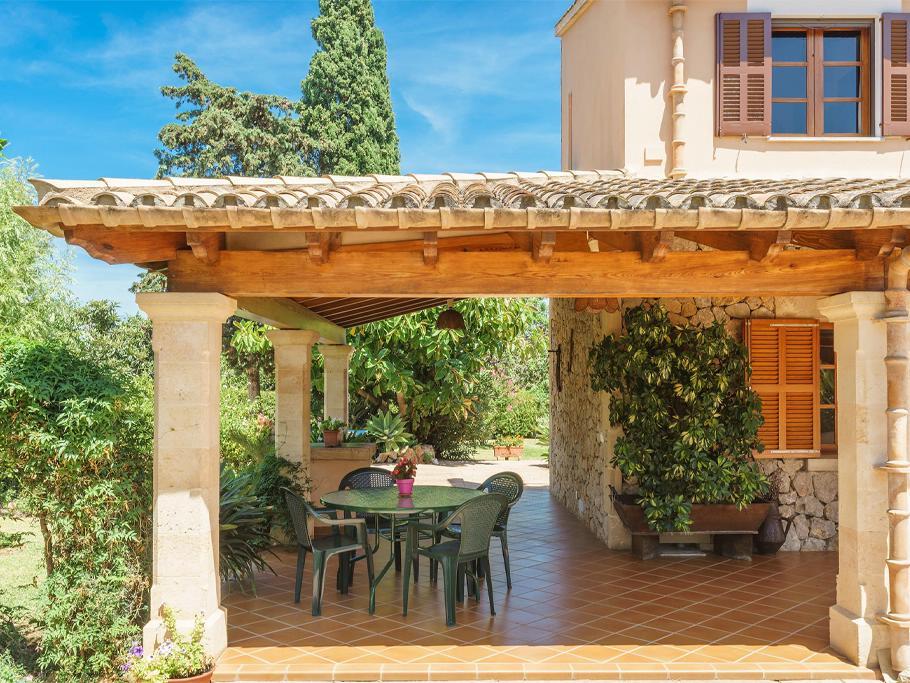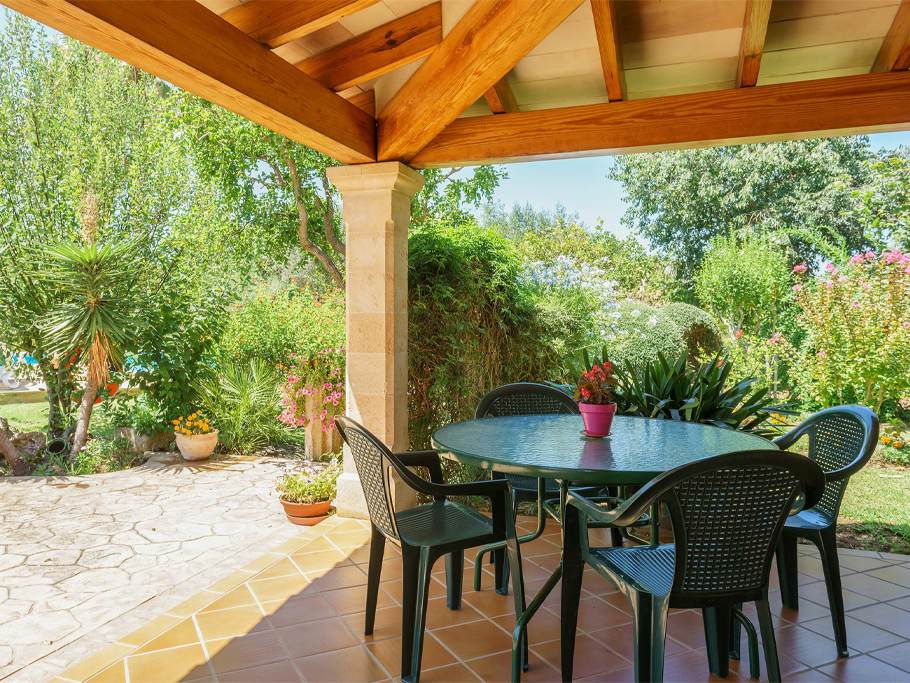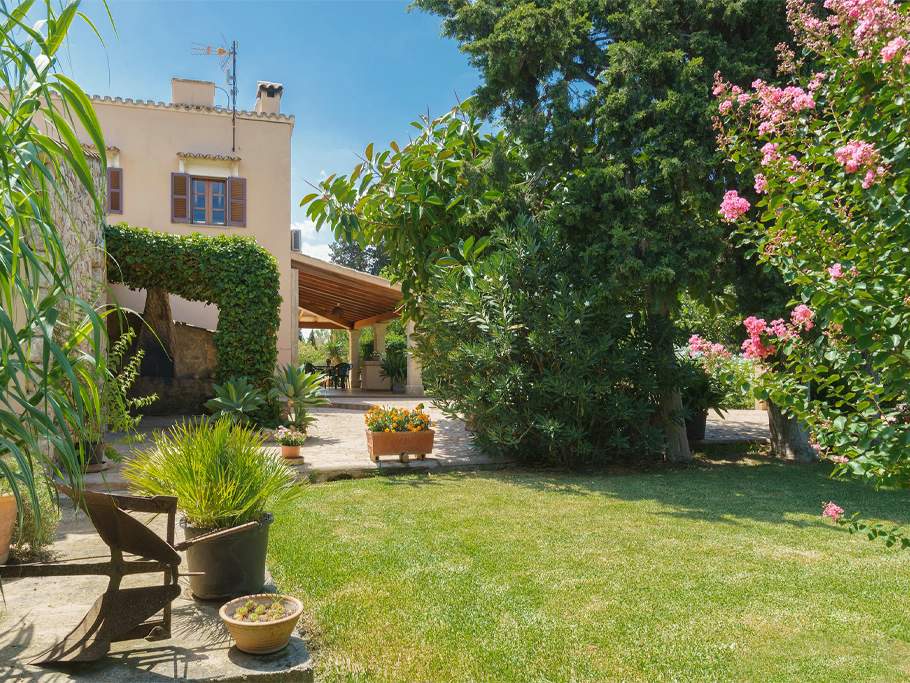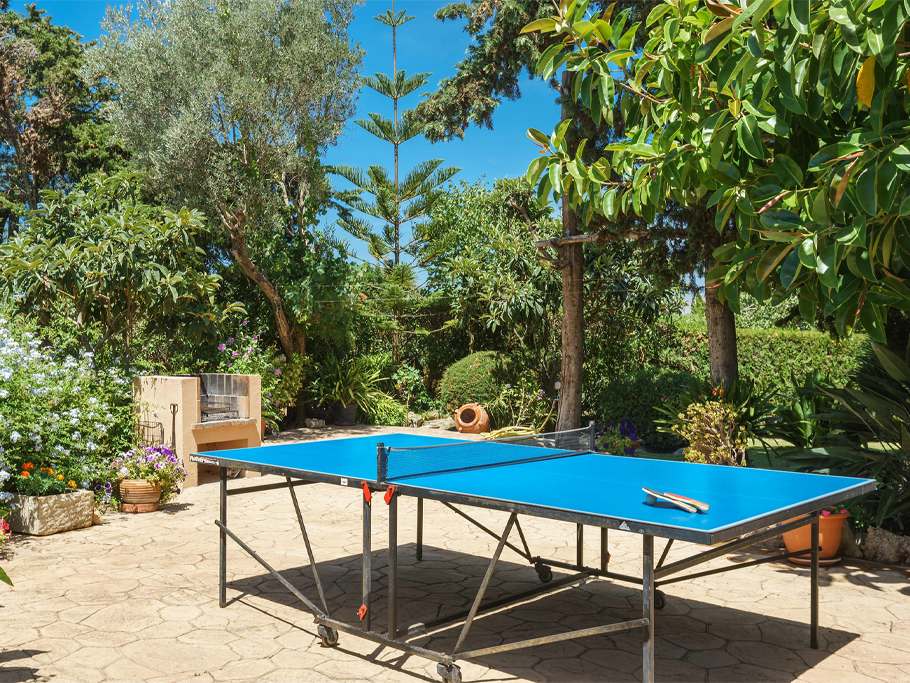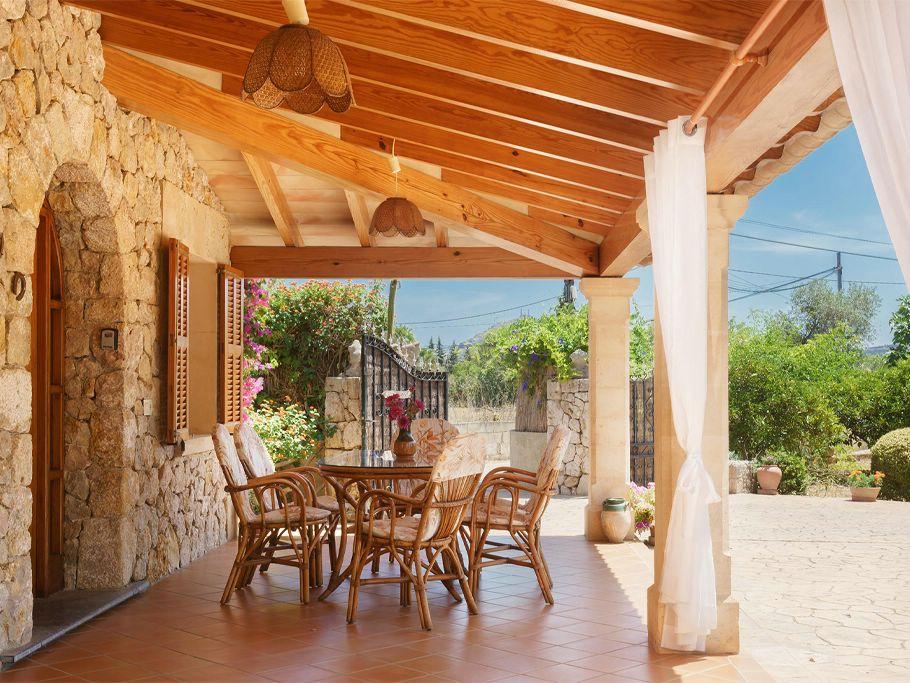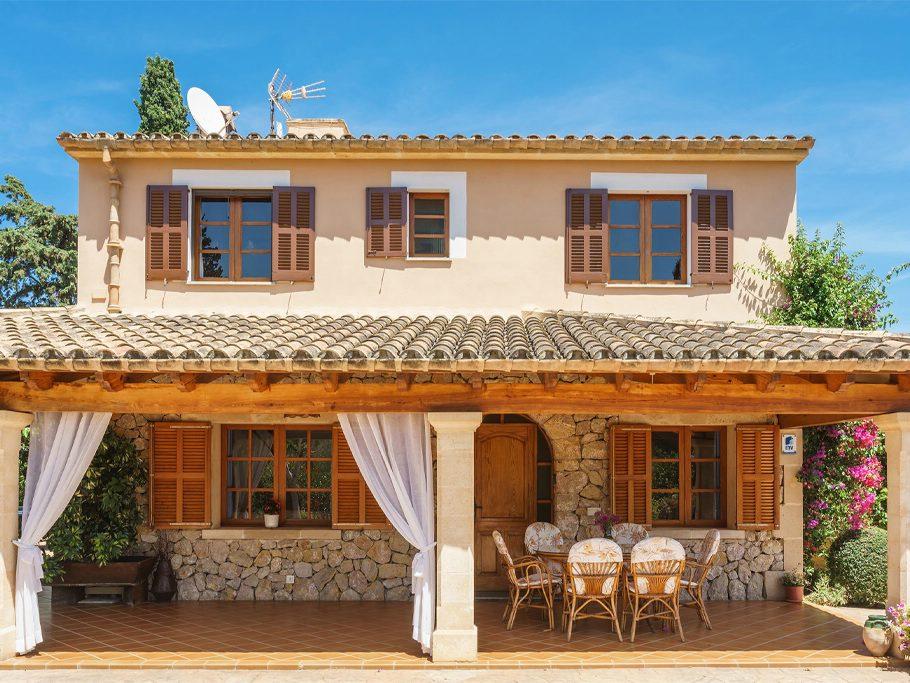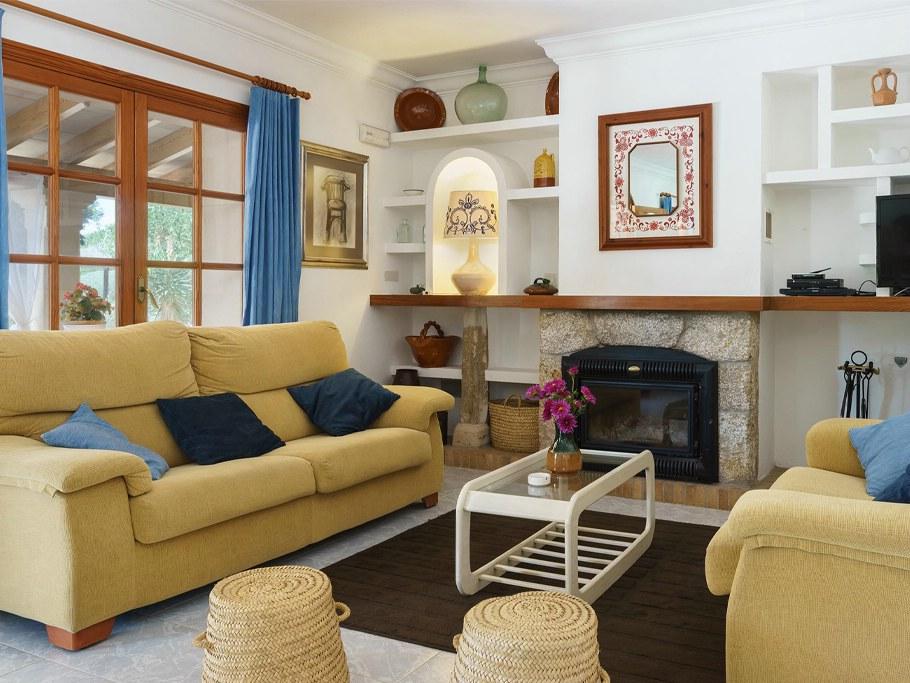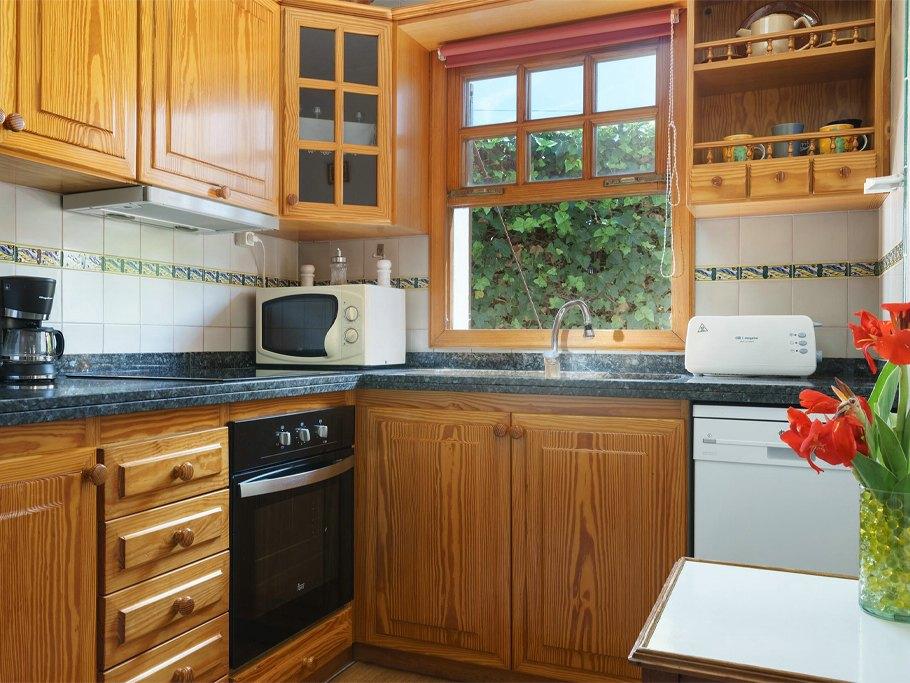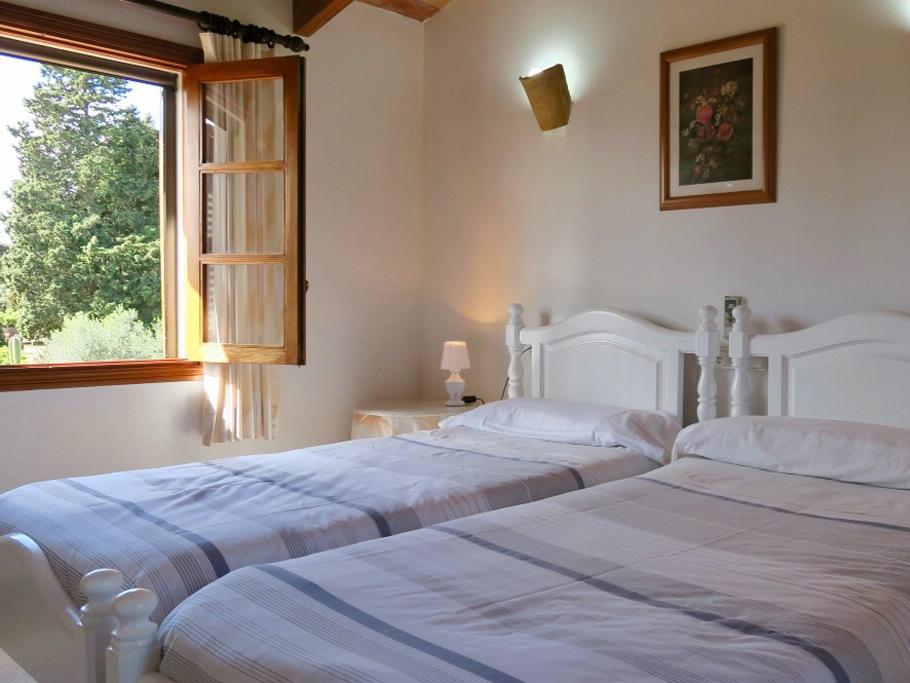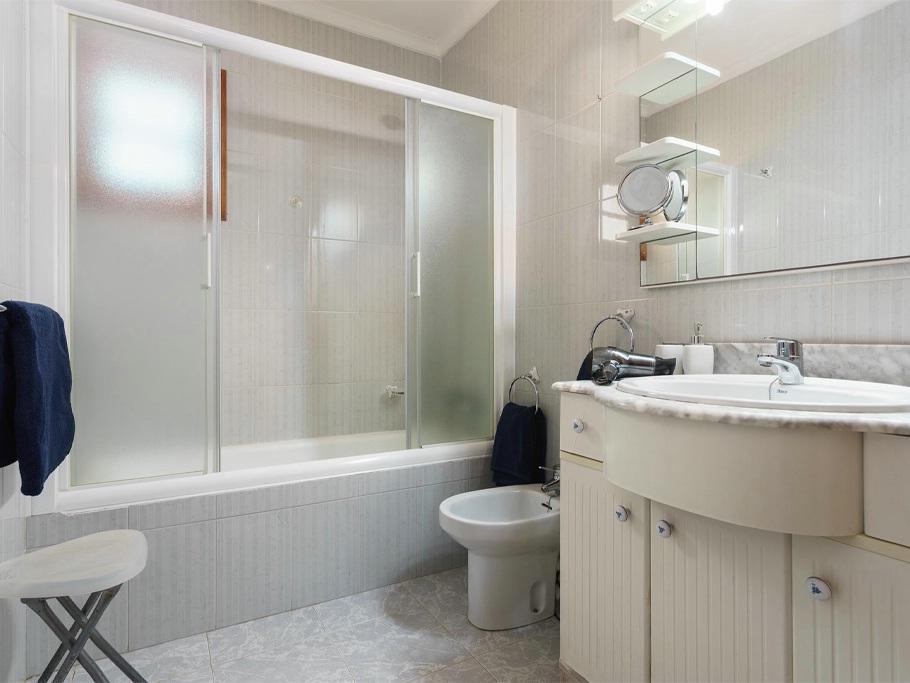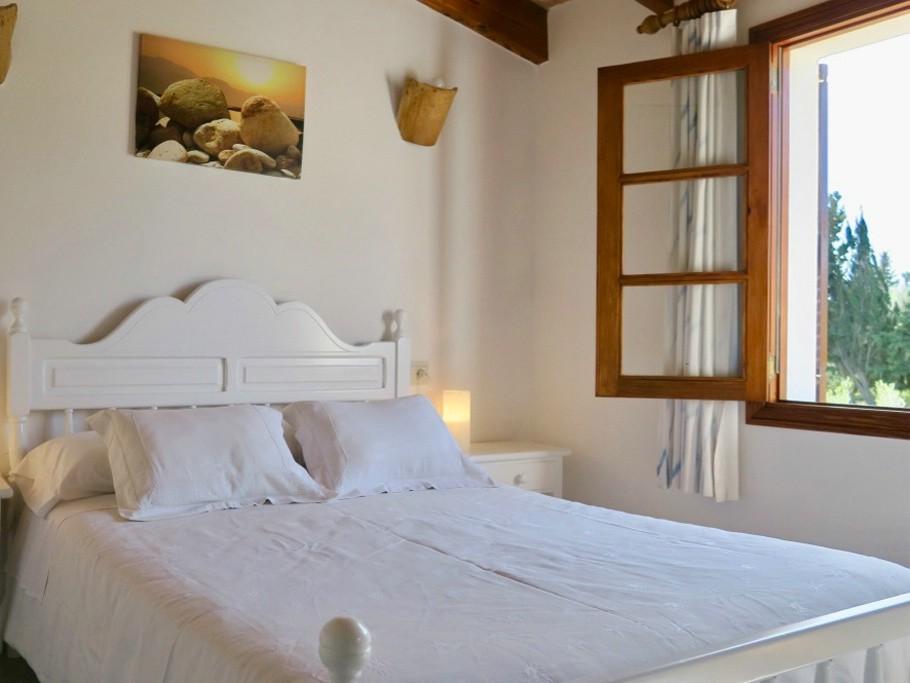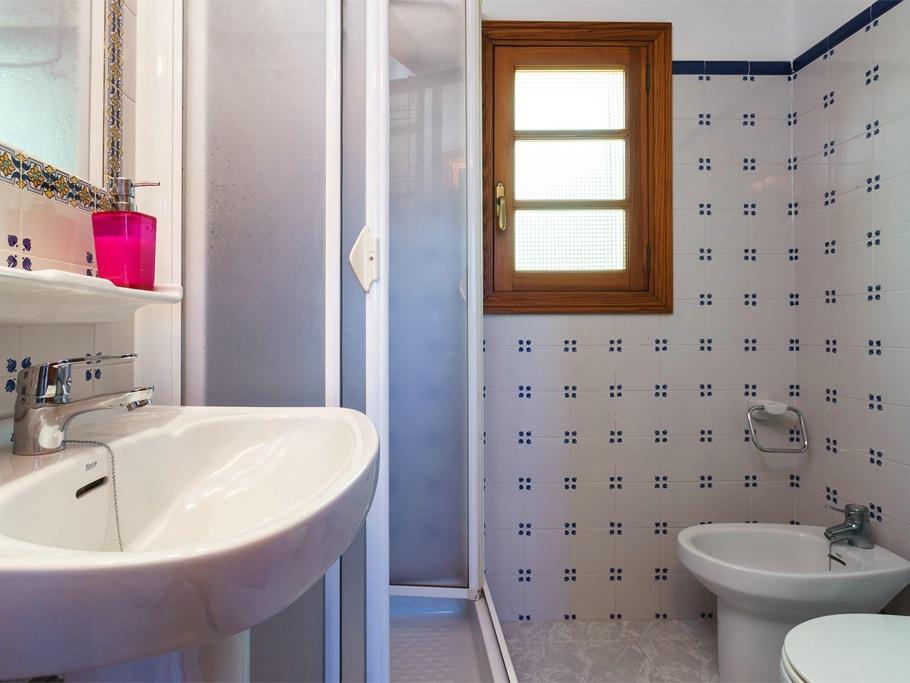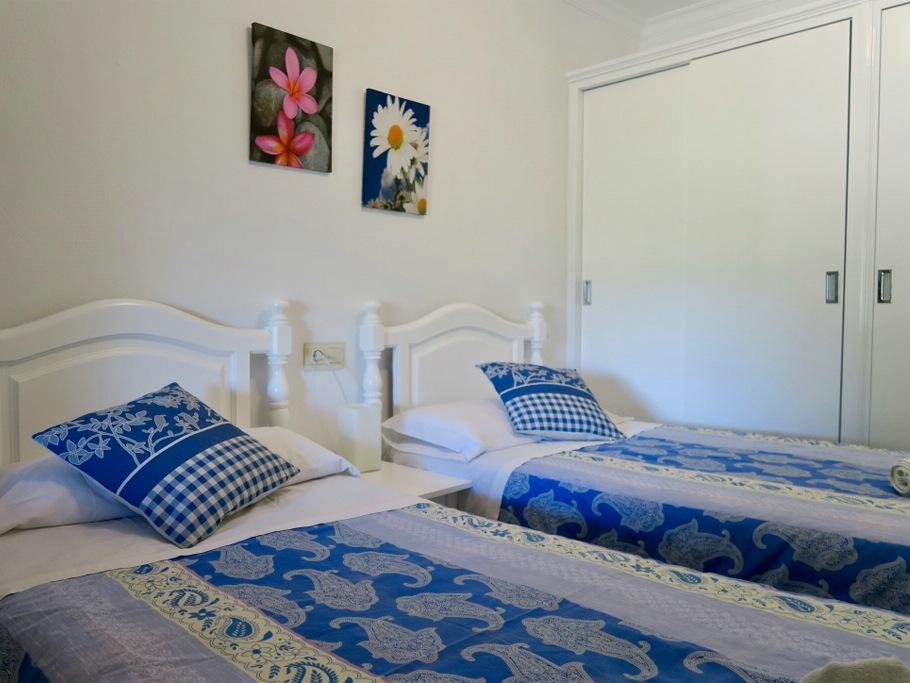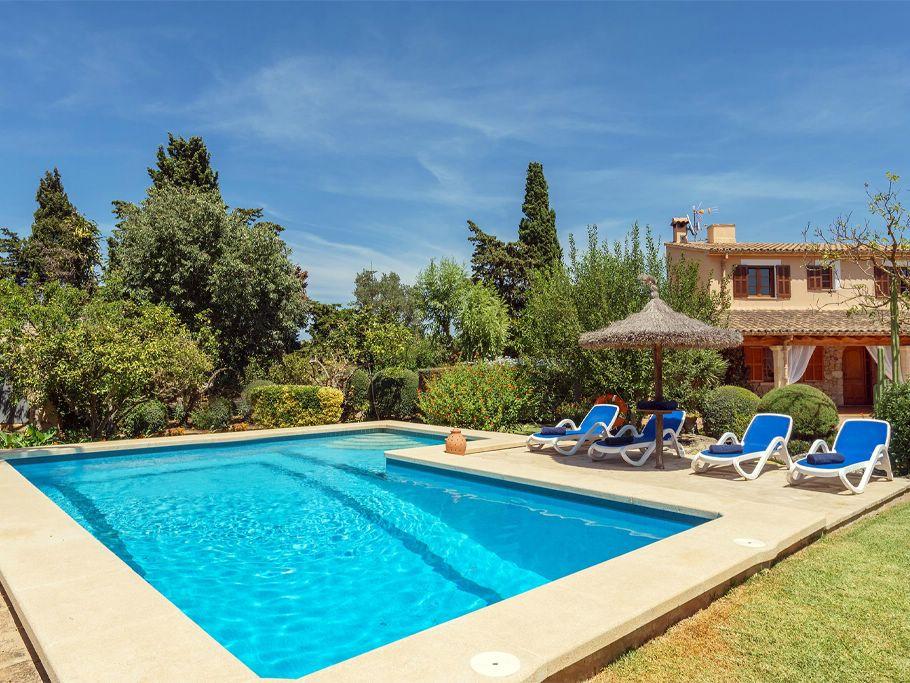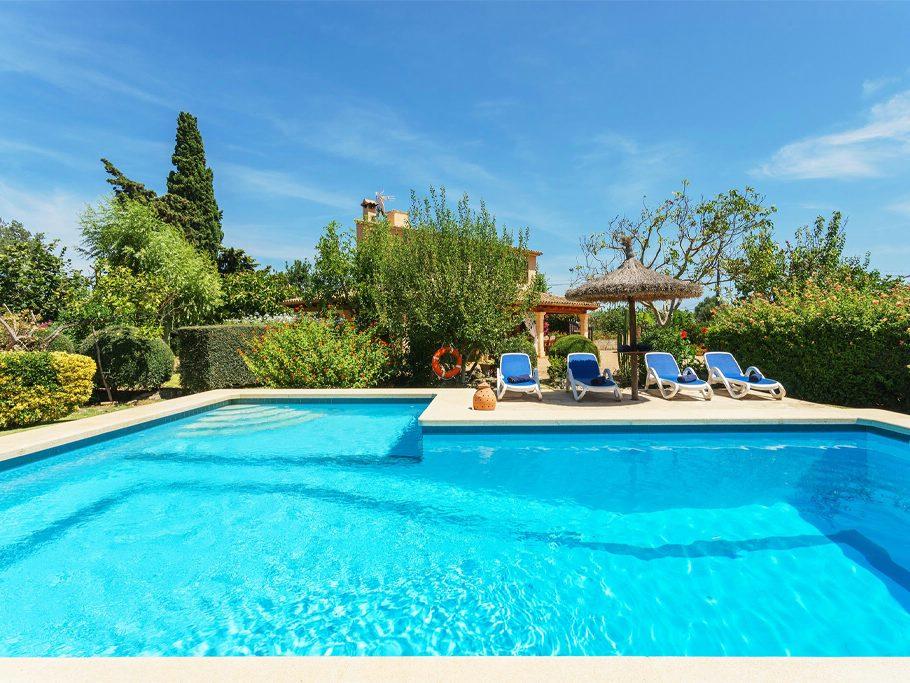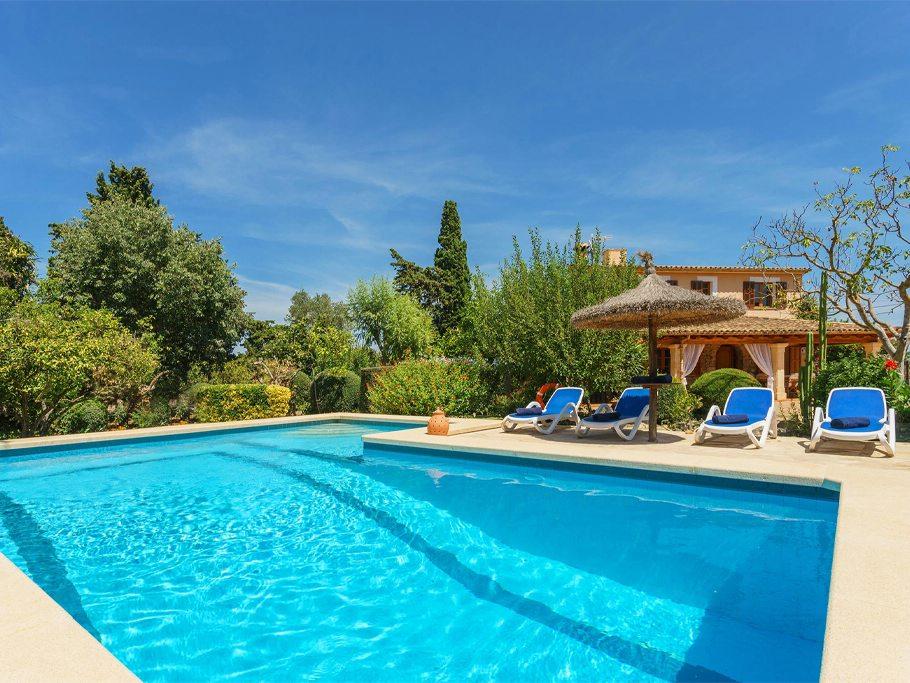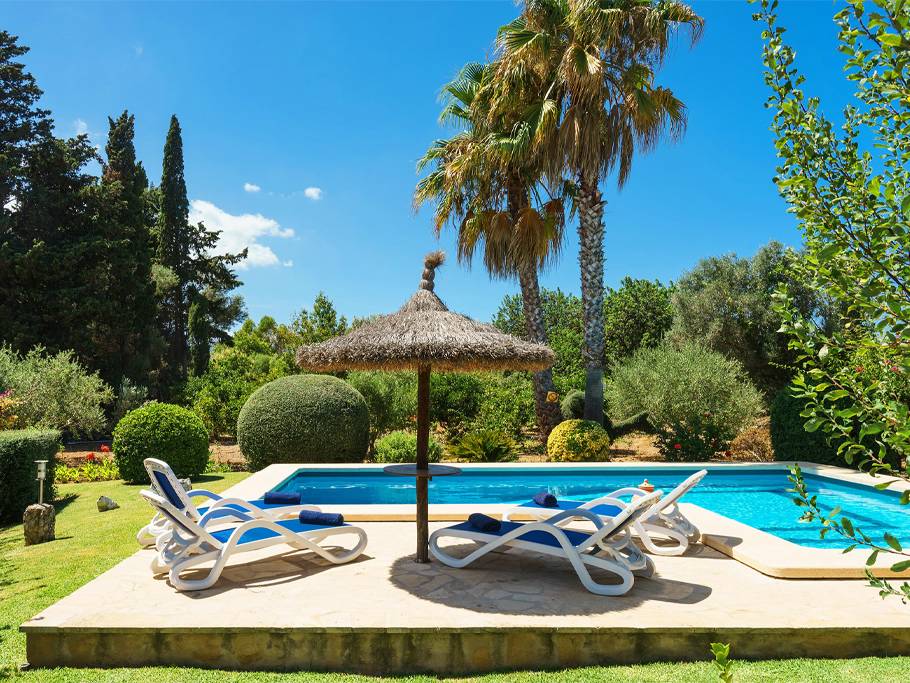 Size of plot:
approx. 5.000 m²
Living space:
approx. 120 m²
Bedrooms:
3 double bedrooms
Living room:
with dining room
kitchen:
open plan kitchen
Facilities:
AC, wood stove, dishwasher, washing machine, TV, Wi-Fi, table tennis, BBQ
Linen:
1x weekly bed linen, 2x weekly towels
Arrivals:
From June to September on Saturday
Traditional Villa for 6 persons in Pollença. Surrounded by a beautiful garden. Sandy beaches are within 10 minutes by car.
In the middle of a lovingly tended Mediterranean garden (with oranges, lemons, apricots and figs) lies the Finca Can Cladera. The holiday house offers on two floors 3 double bedrooms, 2 bathrooms, living / dining room and kitchen. The decoration is bright and friendly. Finca Can Cladera is an oasis of peace and serenity. At the table tennis, at the pool or in the evening on the barbecue you can enjoy your stay in Pollensa.
The Villa with private pool is situated between Pollença, Puerto Pollensa and Alcudia. In Puerto Pollensa and in the Bay of Alcudia, you will find sandy beaches that fall flat into the sea and are perfect for little children. There are also restaurants, supermarkets and shops and beautiful weekly markets, where you can buy fresh fruit and vegetables.
01.03. – 03.04.:
1.045 €/ week
04.04. – 18.04.:
1.155 €/ week
19.04. – 26.06.:
1.595 €/ week
27.06. – 29.08.:
2.258 €/ week
30.08. – 30.09.:
1.595 €/ week
01.10. – 07.11.:
1.210 €/ week
Requires 7 nights minimum stay.
From June to September arrivals on Saturday
Eintrag vom 03.10.2019
Liebe Frau Prager,
es war ein traumhafter Urlaub. Das Tor von der Finca ging auf und wir haben gestaunt, wie schön die Finca und der wunderschöne Garten angelegt ist mit dem herrlichen Pool. Der Eigentümer hat uns gleich im Garten begrüßt, super nett.
Wir haben uns sehr wohl gefühlt und die schöne Zeit auf der Finca Can Cladera genossen.
Das war bis jetzt, unser schönster Mallorca Urlaub. Wir waren mit den Leihwagen in Pollenca, Alcudia Stadt und in Valldemossa bummeln. Es war beeindruckend schön.
Wir kommen gerne mal wieder und haben die schöne Finca Can Cladera im Kollegen und Freundeskreis bereits weiterempfohlen.
Viele Grüße an die netten Eigentümer, die die tolle Gartenanlage auf Can Cladera so fleißig pflegen. Wie im Paradies.
Danke auch für Ihre Hilfe, hat alles toll geklappt.
Liebe Grüße Anja & Bernhard und Petra aus Oyten bei Bremen
Eintrag vom 20.09.2019
Guten Tag Frau Prager,

das Haus und der liebevoll gestaltete Außenbereich sind wunderschön, so dass wir sehr zufrieden waren und einen sehr angenehmen Urlaub auf Mallorca verbracht haben.
Wir kommen gerne wieder zur Can Cladera (oder möglicherweise auch in ein anderes Haus Ihrer Agentur).

Bis demnächst und herzliche Grüße.
Jürgen Marggraf und Familie
Eintrag vom 29.06.2019
Liebe Frau Prager,
Wir haben den Urlaub in Mallorca und vor allem den Aufenthalt in Can Cladera sehr genossen. Die Finca war perfekt. Der Garten ein Traum. Die Klimaanlage vor dem Schlafengehen sehr hilfreich.
Wir danken Ihnen für die tolle Abwicklung.
Liebe Grüße,
Rita R.
Eintrag vom 28.09.2018
Wir haben den Aufenthalt in dieser schönen, gut gepflegten Finca wirklich genossen. Die Nähe zu Pollenca, Alcudia etc. lässt keine Langeweile aufkommen. Der zugehörige Pool ist sauber und gepflegt und bereichert den Aufenthalt. Wir waren mit vier Erwachsenen plus einem Kleinkind dort und hatten mehr als genug Platz. Wir würden jederzeit wieder dort hinfahren.
Bert J.
Eintrag vom 20.08.2018
Der Urlaub war schön und das Haus ist ist super gepflegt und besonders den Garten haben wir sehr genossen. Der Pool war für uns ein echtes Highlight. Wir haben ihn mit Beleuchtung sogar abends benutzt. Auch die Tischtennisplatte und der Außengrill haben dafür gesorgt, dass man nicht ständig etwas unternehmen musste, sondern entspannt an der Finca bleiben konnte.
Meine Vorurteile gegen die Insel haben sich in keiner Weise bestätigt. Pollenca und Umgebung hat uns sehr gut gefallen und es ist selbst in der Hauptsaison trotz der vielen Menschen sehr entspannt gewesen.
Liebe Grüße
Familie Hoffmann
Eintrag vom 07.05.2018
Hallo Frau Prager,
Und hat es auf der Finka unglaublich gut gefallen.
Wir waren so begeistert schon bei der Ankunft. Dieser tolle Garten und alles so gepflegt. Wir haben uns wirklich sehr Wohlgefühlt.
Ein großes Lob für diese schöne Immobilie. Wir sind uns sicher noch einmal wieder zukommen.
Ganz liebe Grüße aus Braunschweig.
Lena Moser