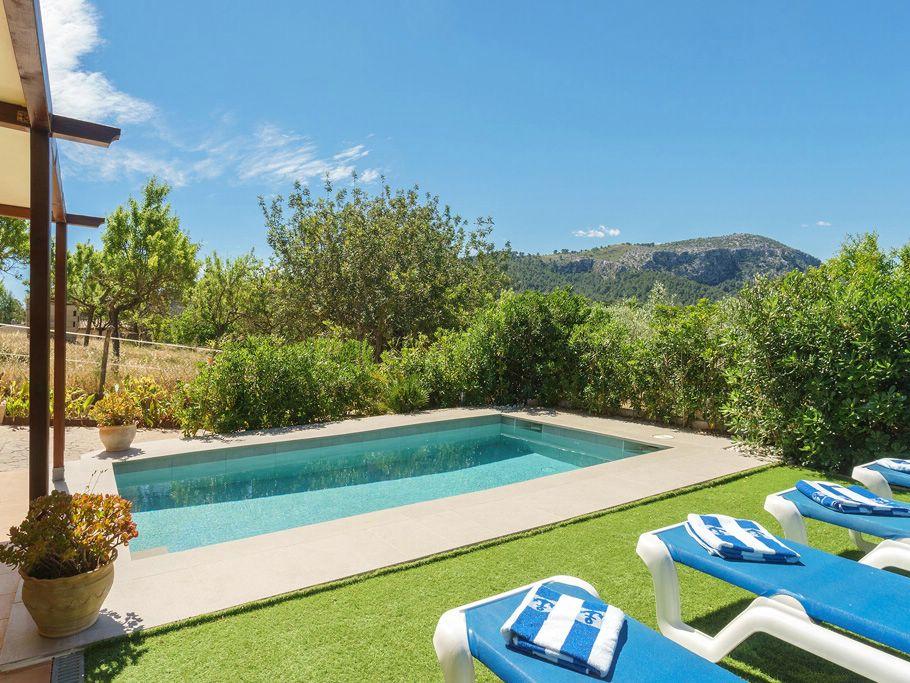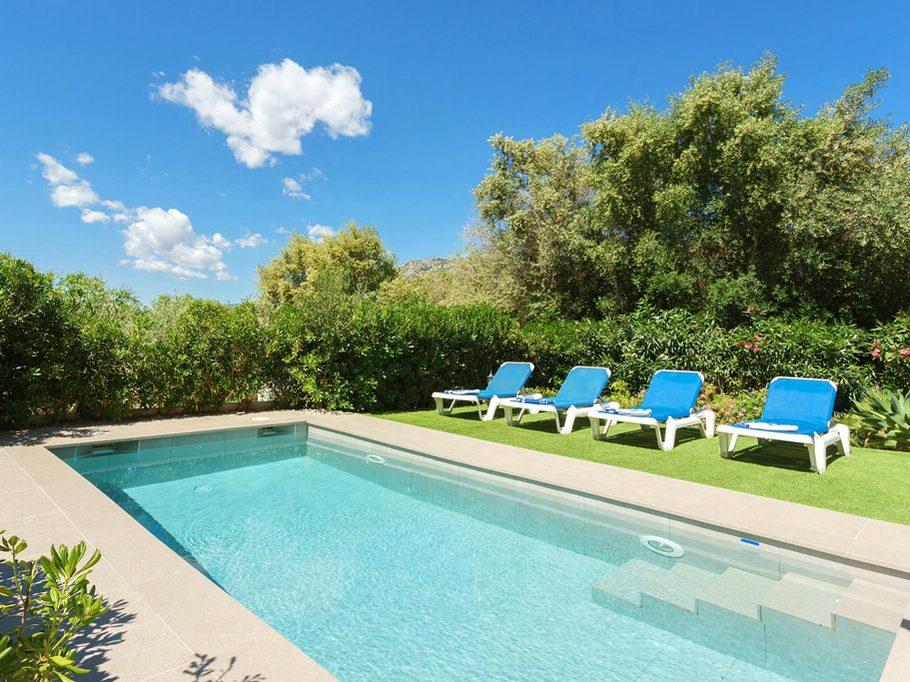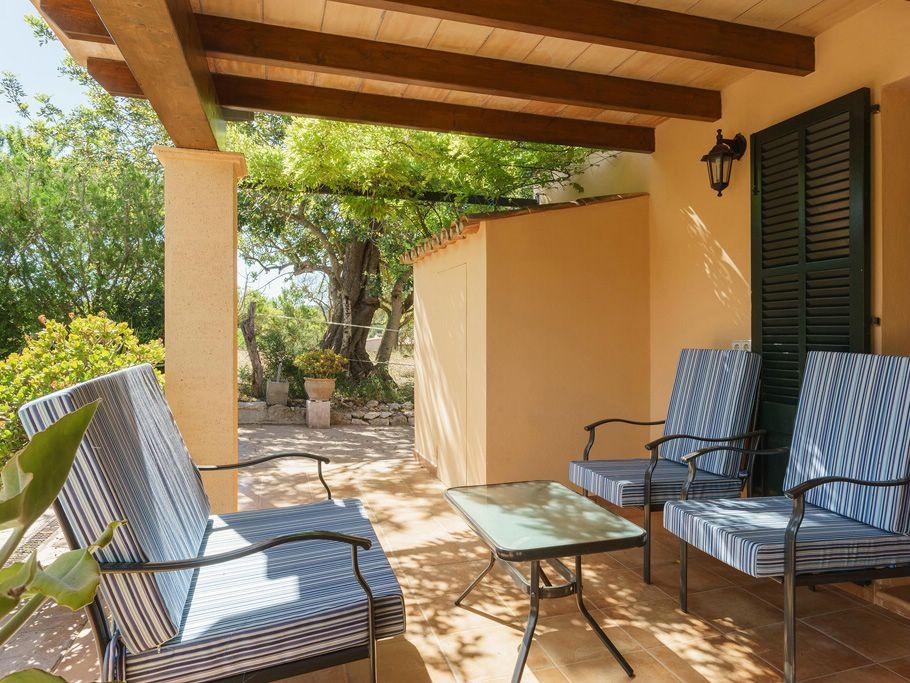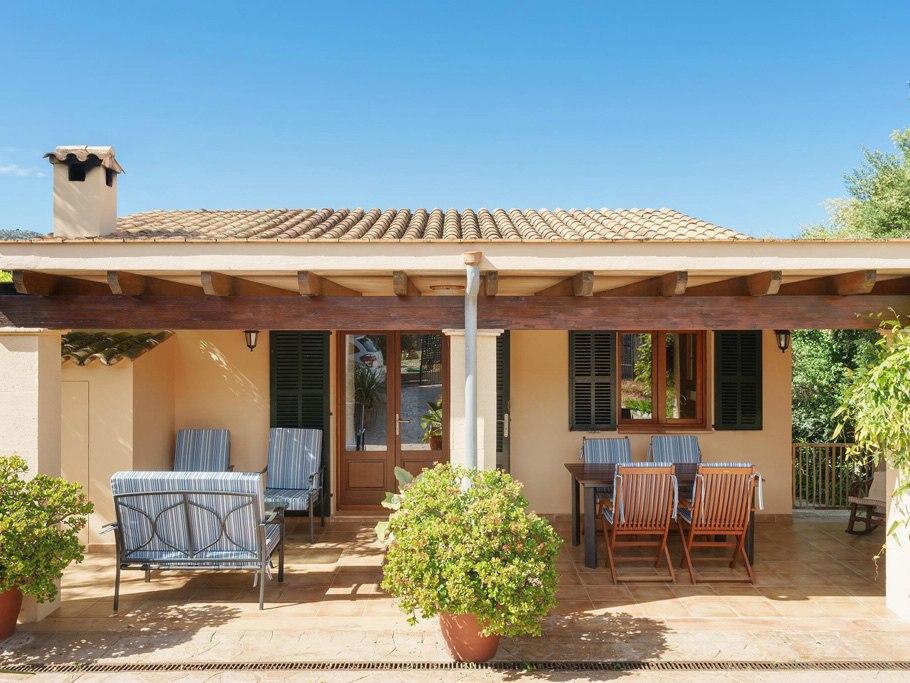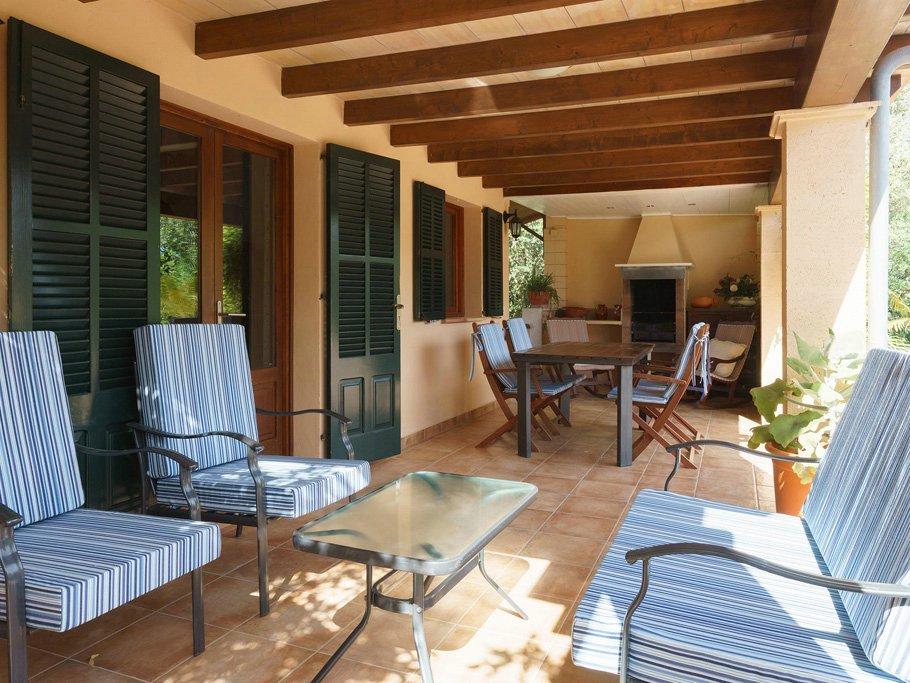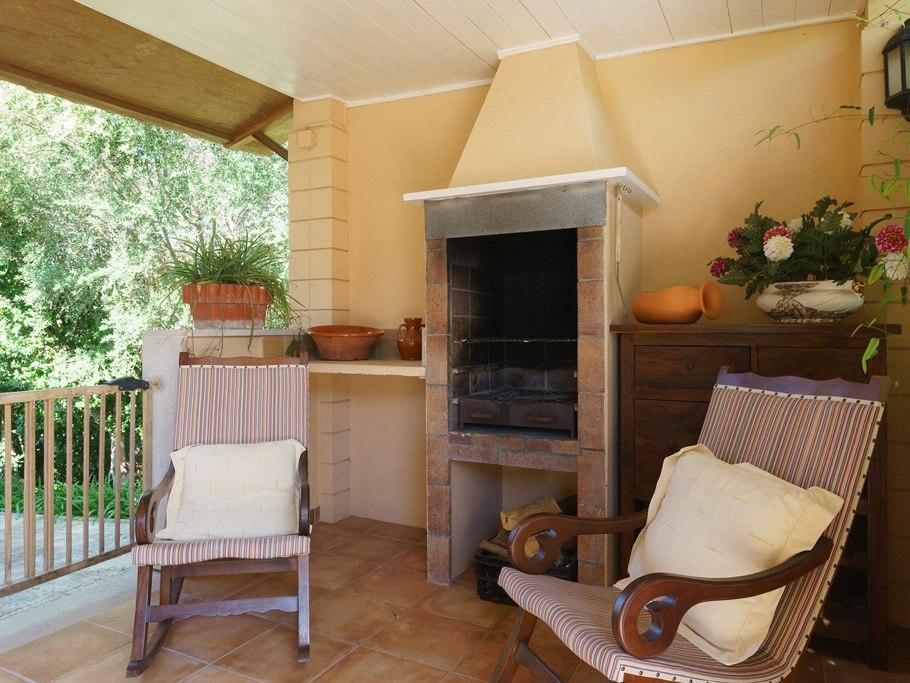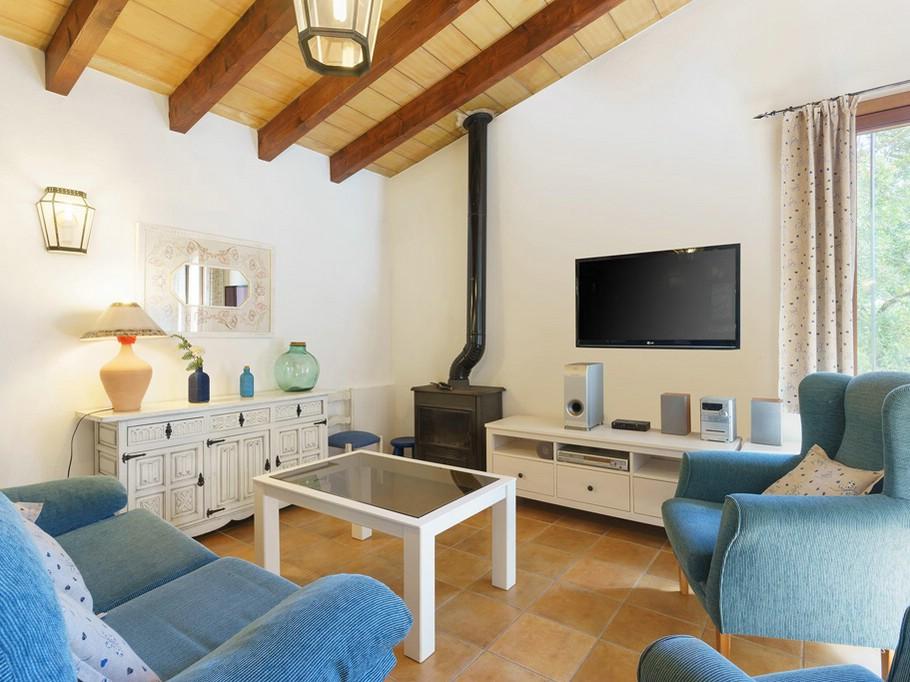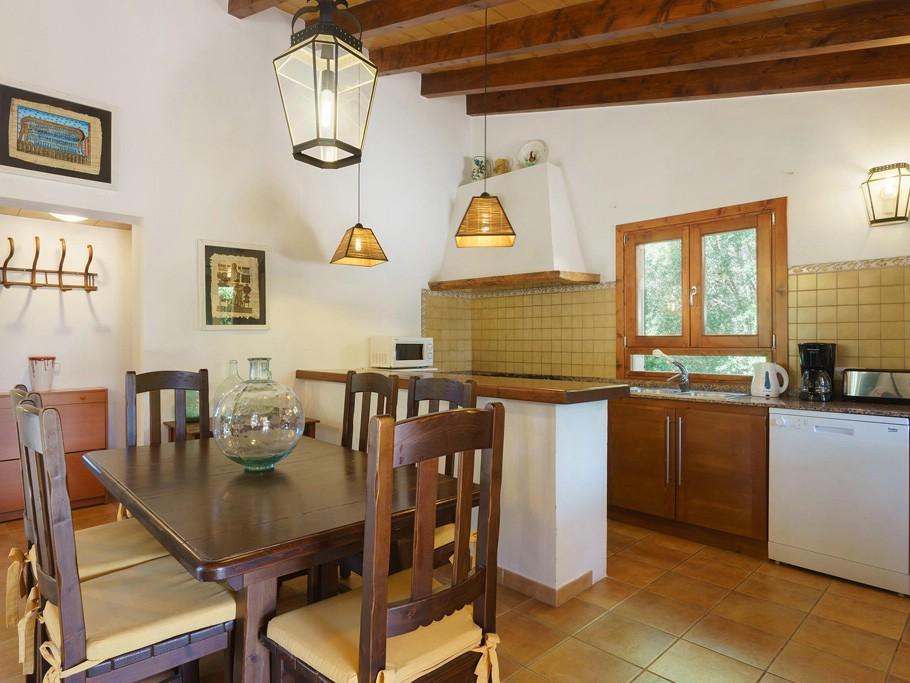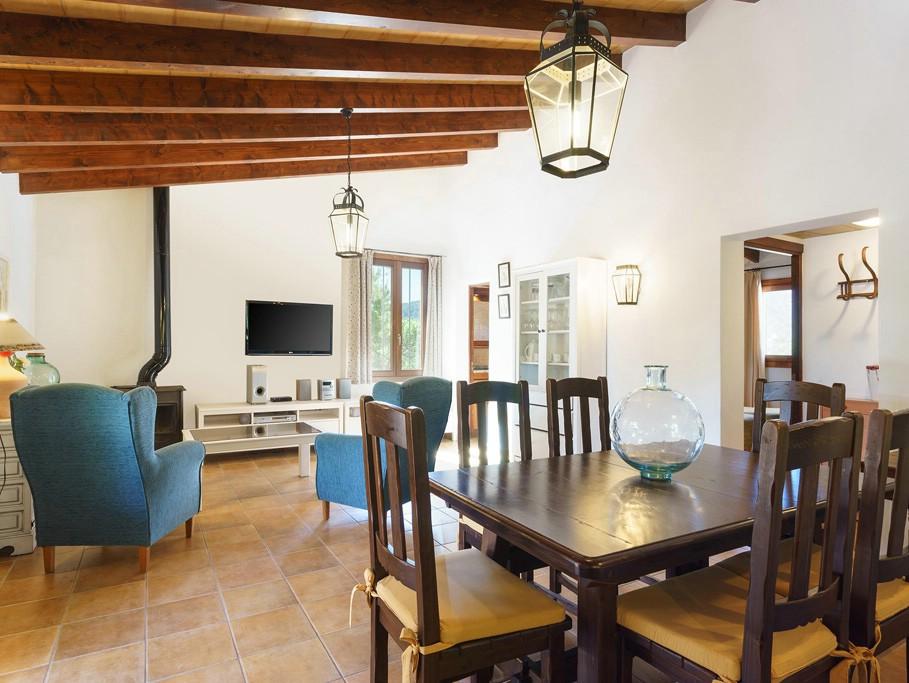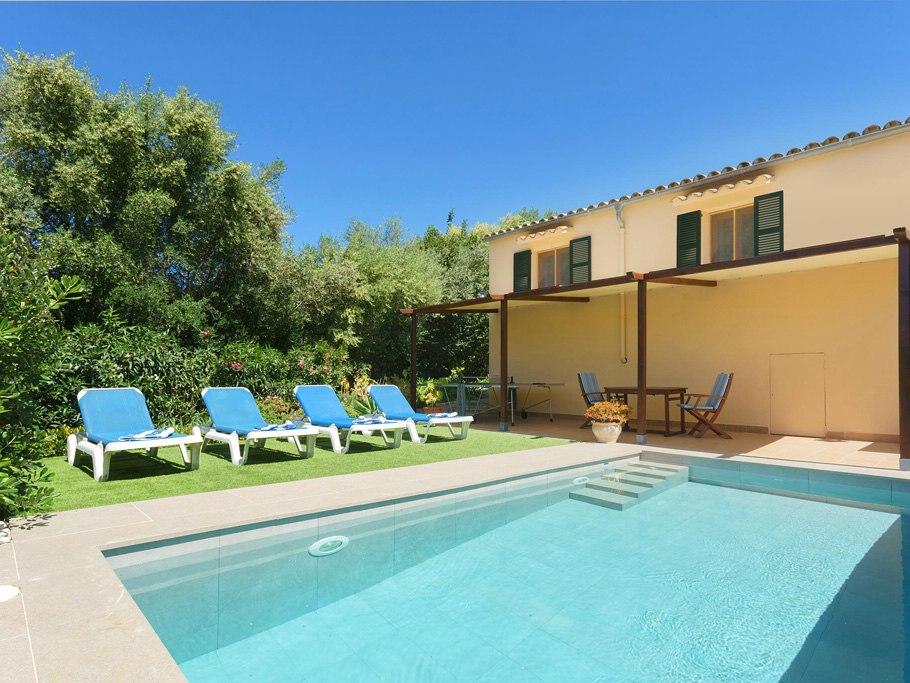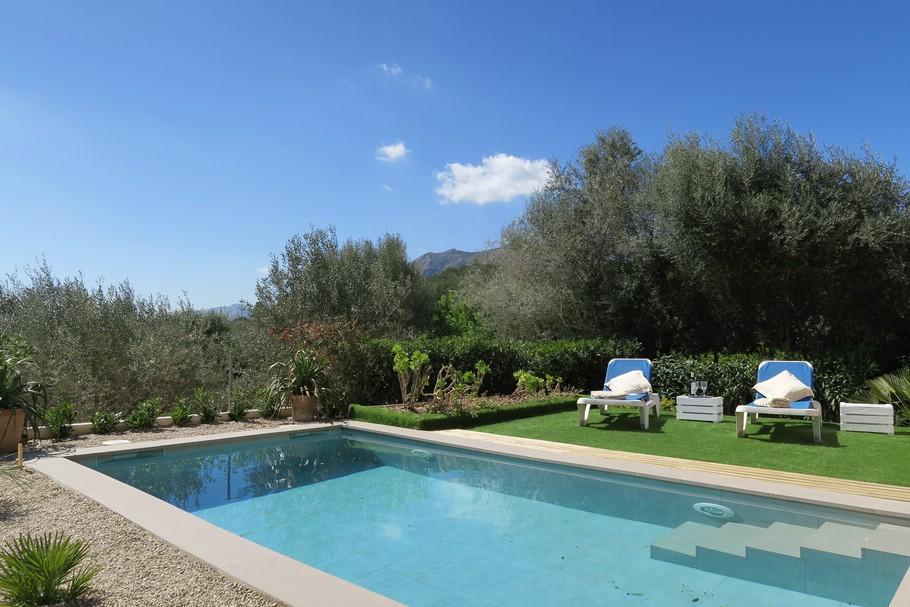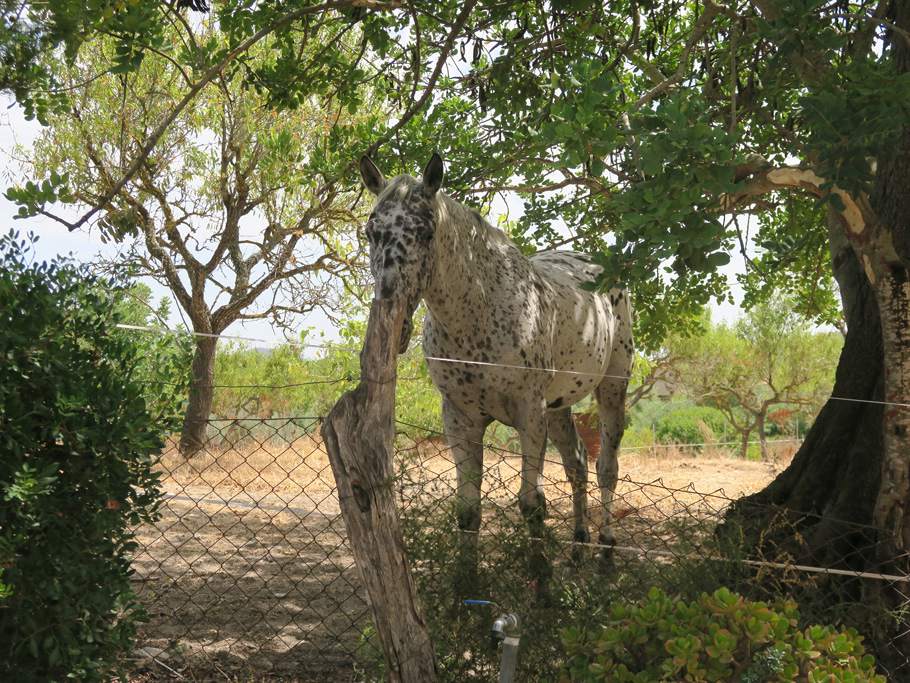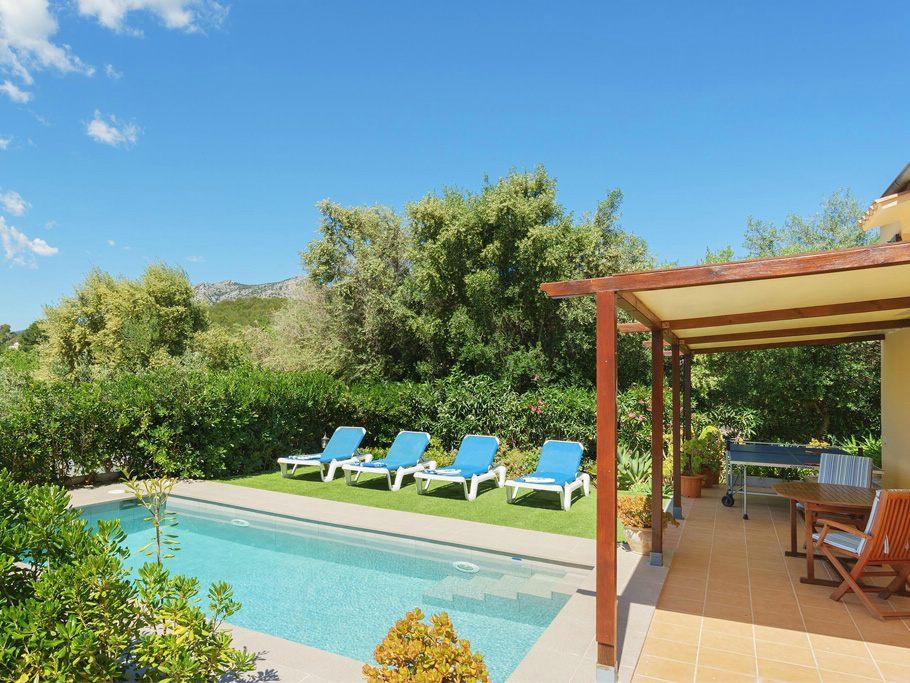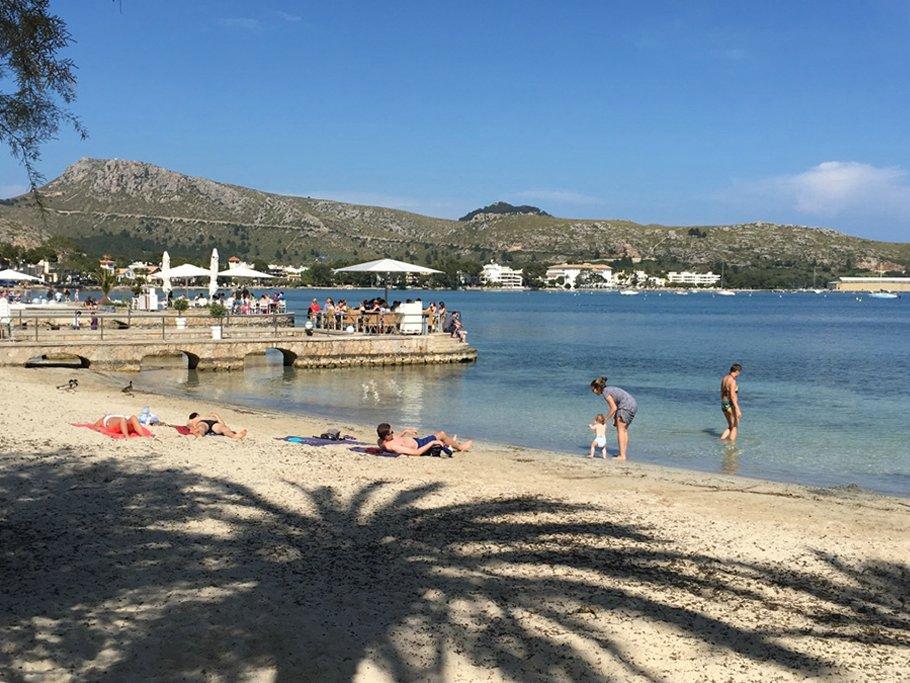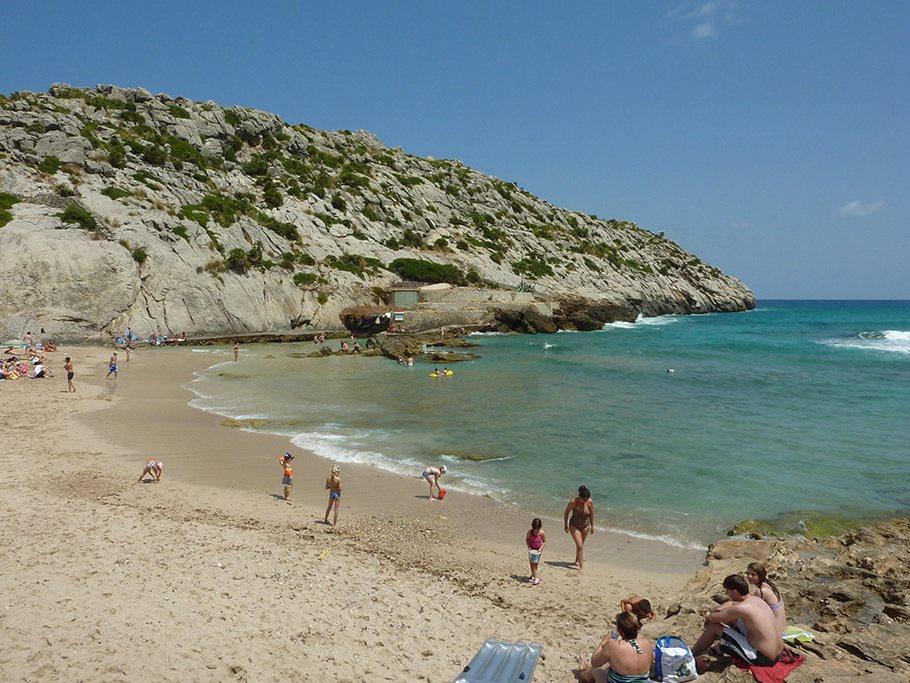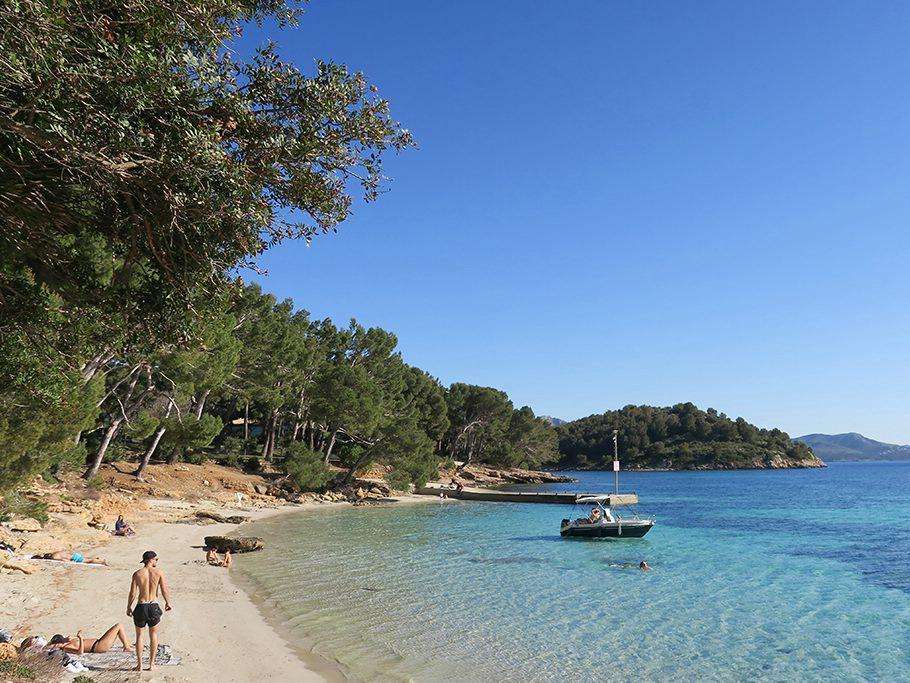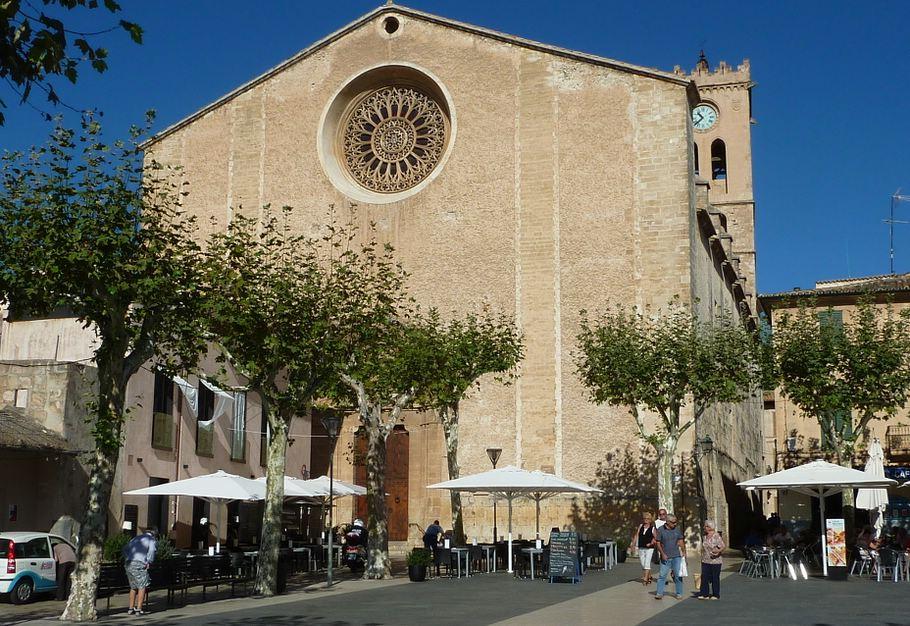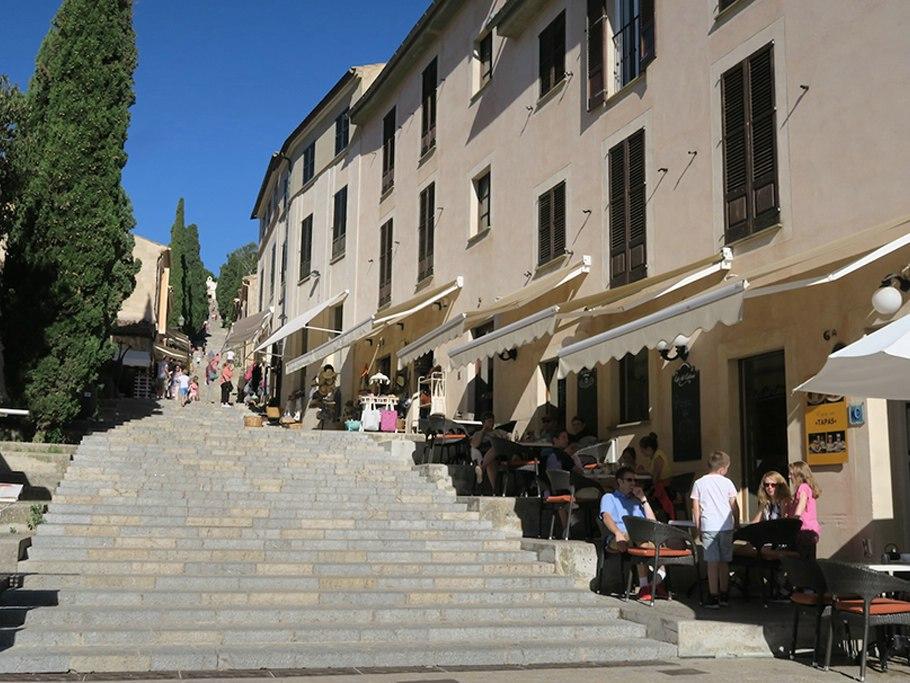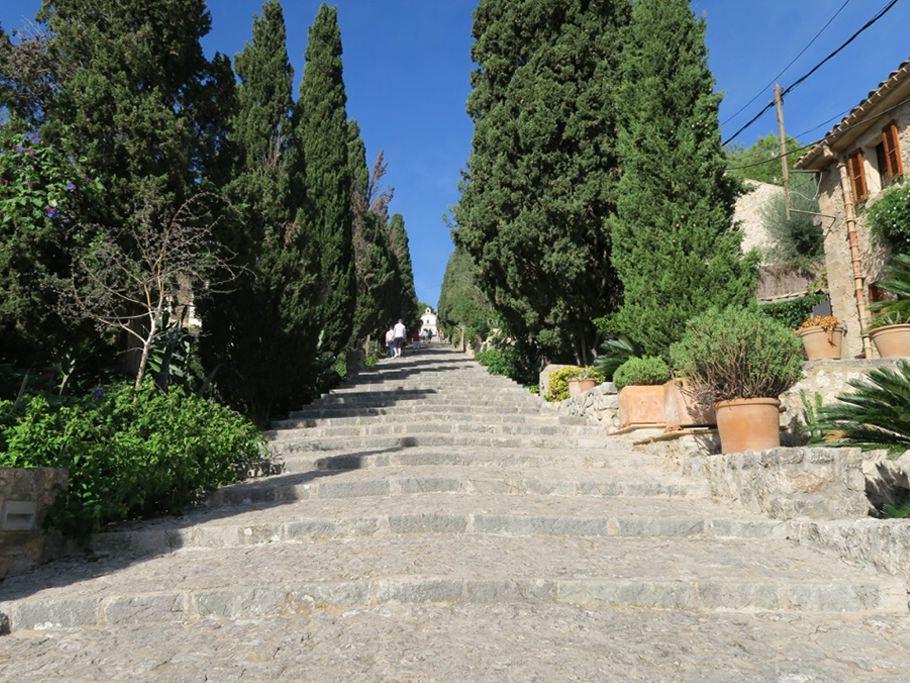 Size of plot:
approx.1.200 m²
Living space:
approx. 70 m²
Bedrooms:
2 double bedrooms
Living room:
with dining room
Private Pool:
5,60 m x 3 m
Facilities:
AC, wood stove, dishwasher, washing machine, TV, Wi-Fi, table tennis, covered terrace with BBQ, pool towels
Linen:
1x weekly bed linen, 2x weekly towels
Beautiful tranquil holiday home with fenced private pool at the Pollensa golf. Perfect for families.
This romantic house is situated on the outskirts of Pollensa Town, you enjoy the peaceful mediterranean country side.
The interior of the house is with rustic furnishings and offers 2 double-bedrooms, 1 bathroom and a sitting-/ dining room with an open plan kitchen.
Outside you find a covered, furnished terrace with a lovely barbecue area. Behind the house at the private swimming pool there is the sun terrace with sun beds and a view to the garden. You are quite close to Pollensa golf and the sandy beaches of Cala St. Vicente and Puerto Pollensa you reach in about 15 -20 minutes by car. Pollensa Town is in 4 km distance. The area around the pool is fenced so its save for children.
01.03. – 30.04.:
750 €/ week
01.05. – 31.05.:
890 €/ week
01.06. – 30.06.:
1.150 €/ week
01.07. – 31.08.:
1.395 €/ week
01.09. – 30.09.:
1.075 €/ week
01.10. – 31.10.:
890 €/ week
Requires 7 nights minimum stay.
Daily arrival possible
Eintrag vom 17.09.2019
Hallo Frau Prager,
hier ein paar Zeilen zu unserm Aufenthalt im Can Puig.
Der schön angelegte Pool und die Wassertemperatur war ausreichend.
Die Finca sehr geräumig und gut ausgestattet.Ganz wichtig im Urlaub ist der Schlaf.Die Matratze war super.
Wir hatten einen angenehmen Aufenthalt.
Fünf STERNE!!!!!!!!!!!!!!!!!
Wir würden bestimmt gern mal wiederkommen.
Mit freundlichen Grüßen
Max Schöle
Eintrag vom 04.06.2019
Sehr geehrte Frau Prager,
Der Urlaub war sehr schön. Den Aufenthalt im Haus haben wir sehr genossen.
Alles prima. Wenn etwas war hat Vincent schnell reagiert und auch die Putzfrau hat tolle Arbeit geleistet.
5 Sterne
Joachim Sch.
Eintrag vom 08.11.2018
Auch Ende Oktober kann man sich nach Mallorca trauen! Wir hatten eine wunderbare Woche voller Sonnenschein und mit warmem Meer.
Die Finca war inseltypisch und sehr gemütlich eingerichtet und es hat uns an nichts gefehlt. Liegestühle und Tischtennisplatte kamen voll zum Einsatz.
Das war nun schon unser 6. Aufenthalt über contacto-mallorca und alles lief wieder wunderbar glatt und unkompliziert.
Bis zum nächsten Mal!
Familie Neuber
Eintrag vom 16.10.2018
Liebe Frau Prager,
wir waren rundum zufrieden. 🙂
Das Wetter war tatsächlich zeitweise wild. Es beschäftigt uns immer noch, wie es den Menschen in Sant Llorenc und Umgebung geht. Die Straßen dorthin waren weiträumig abgesperrt, wir haben überlegt, zu helfen, haben uns aber dann für eine Spende entschieden.
Die Finca hat uns sehr gut gefallen. Sollten wir wieder einmal auf Mallorca sein, würden wir sie gerne wieder buchen. Land und Leute waren bezaubernd, wir hatten tolle Erlebnisse.
Vielen Dank auch noch einmal an Sie und die freundliche und unkompliziete Vermittlung. Gerne wieder!
Herzliche Grüße
Yvonne Z. & Familie
Eintrag vom 13.08.2018
Hallo,
wir sind wieder gut gelandet, wollen aber jetzt schon wieder zurück!
Es hat uns wieder super gefallen, und wir haben uns richtig wohl gefühlt.
Unser Sohn vermisst die Schafe schon so sehr, dass er schon
angeboten hat dafür unsere Katzen herzugeben. 😉
Wir kommen bestimmt wieder, alleine deshalb, weil es der perfekte Ort
ist, um Urlaub mit Kind zu machen.
Viele Grüße auch aus Berlin!
Sarah B.