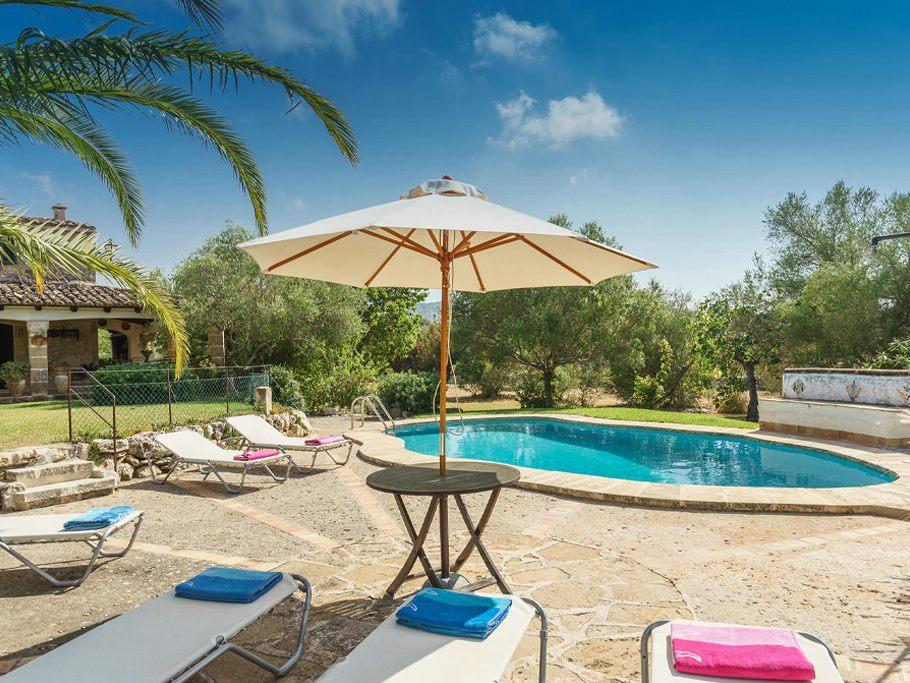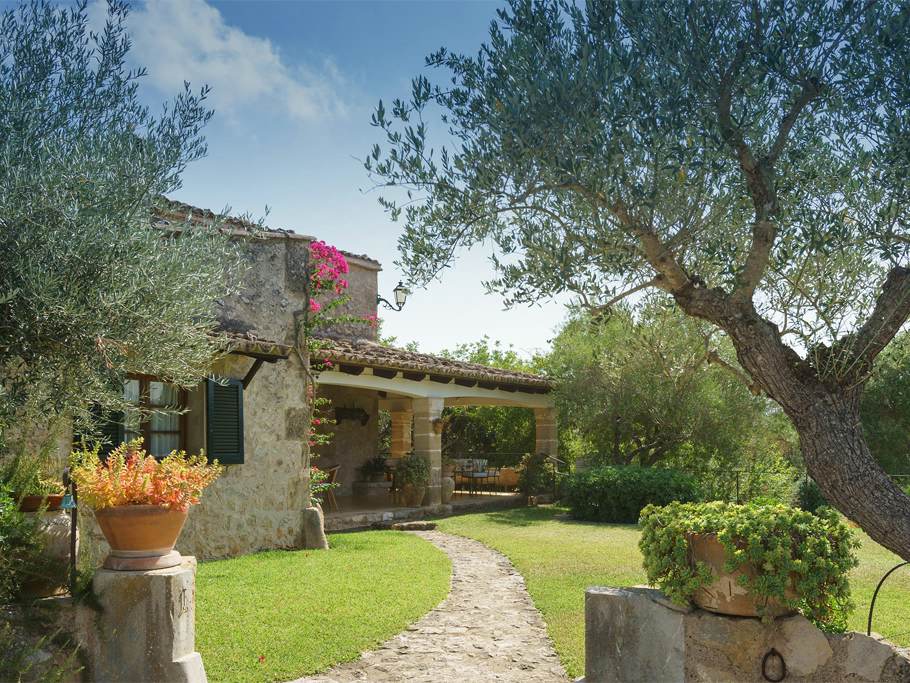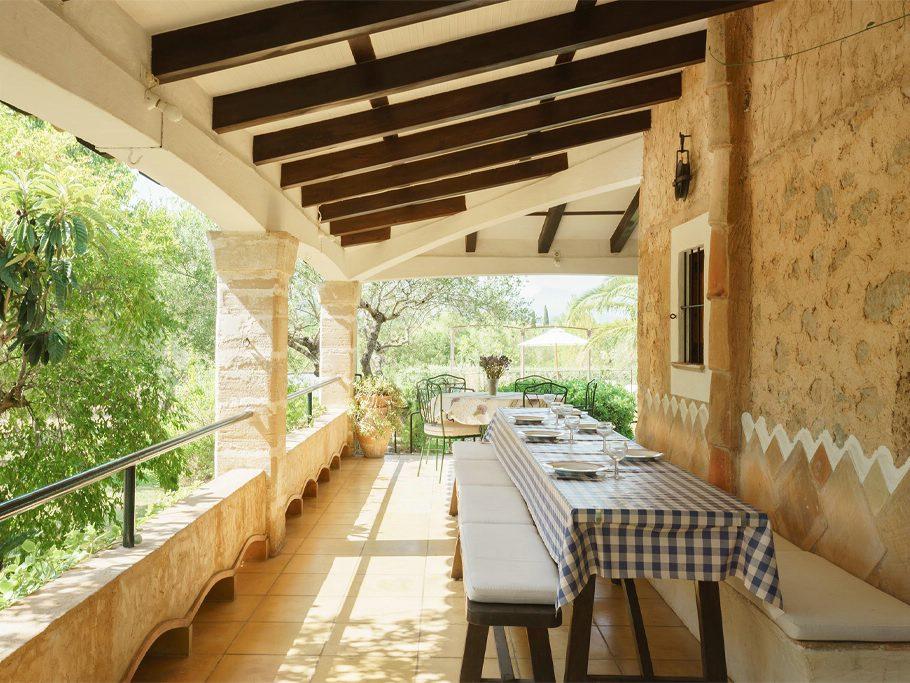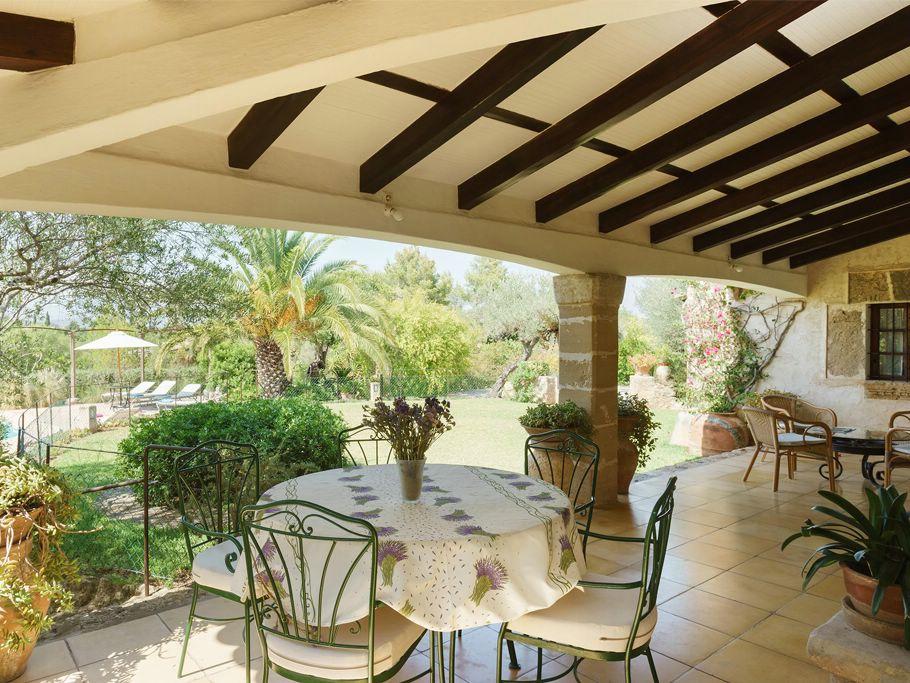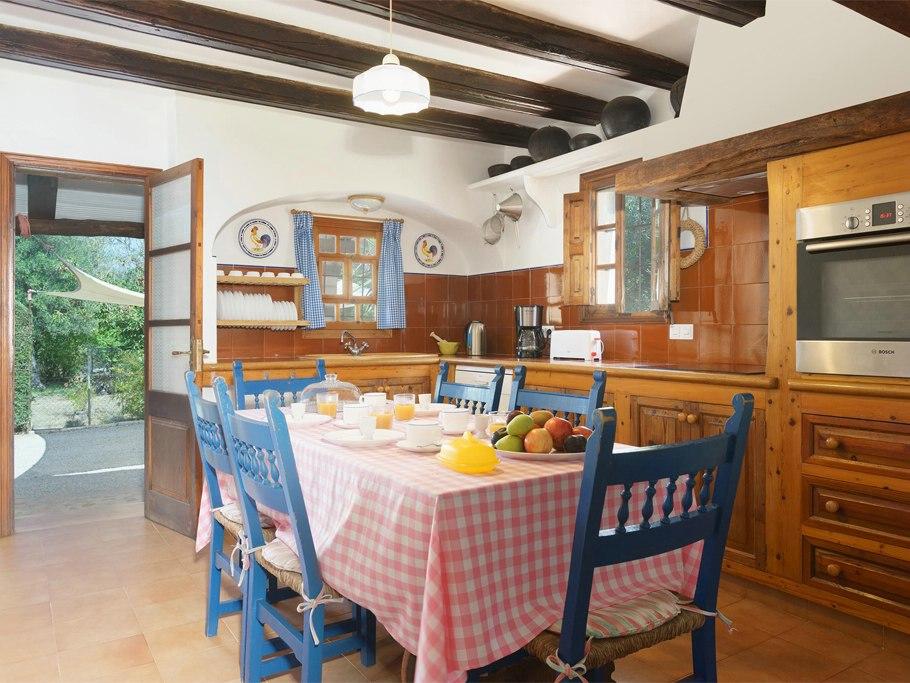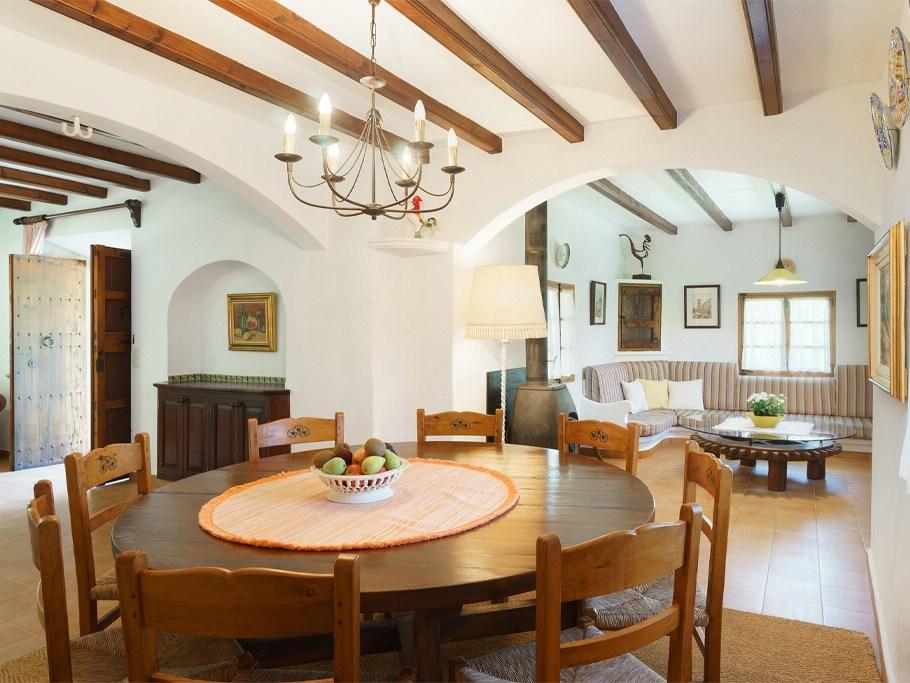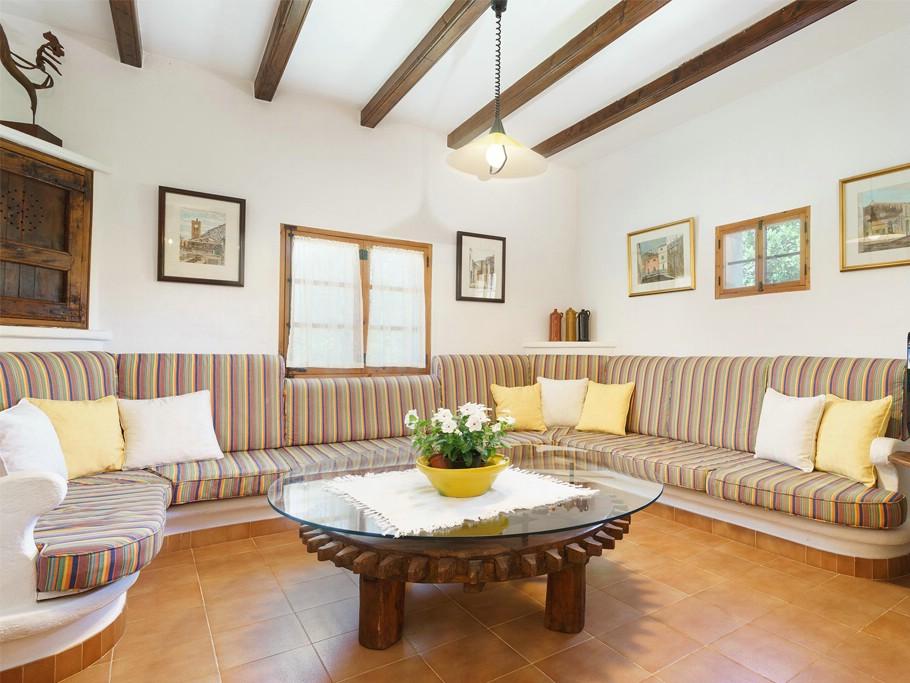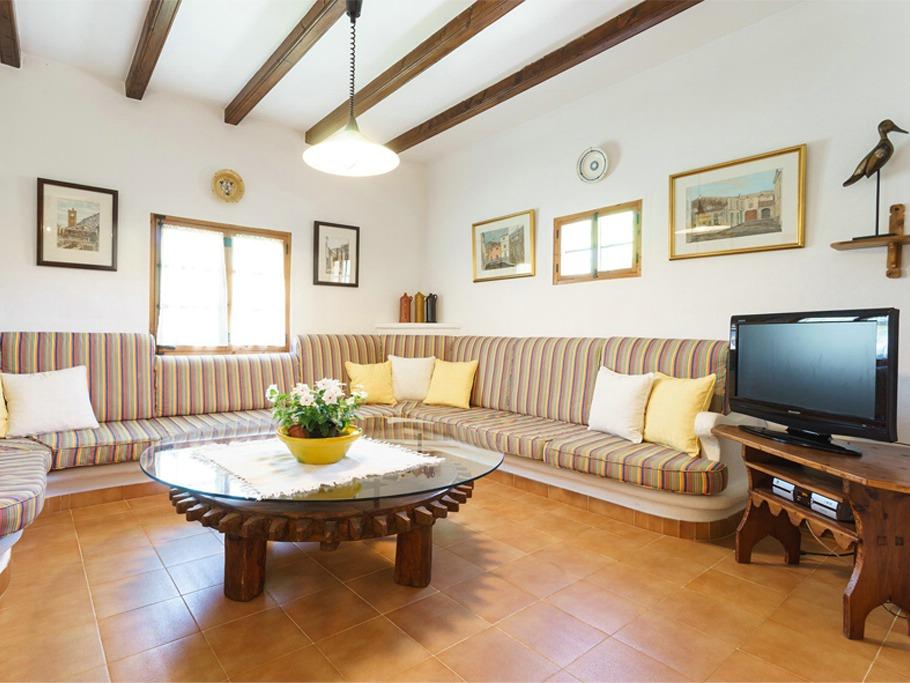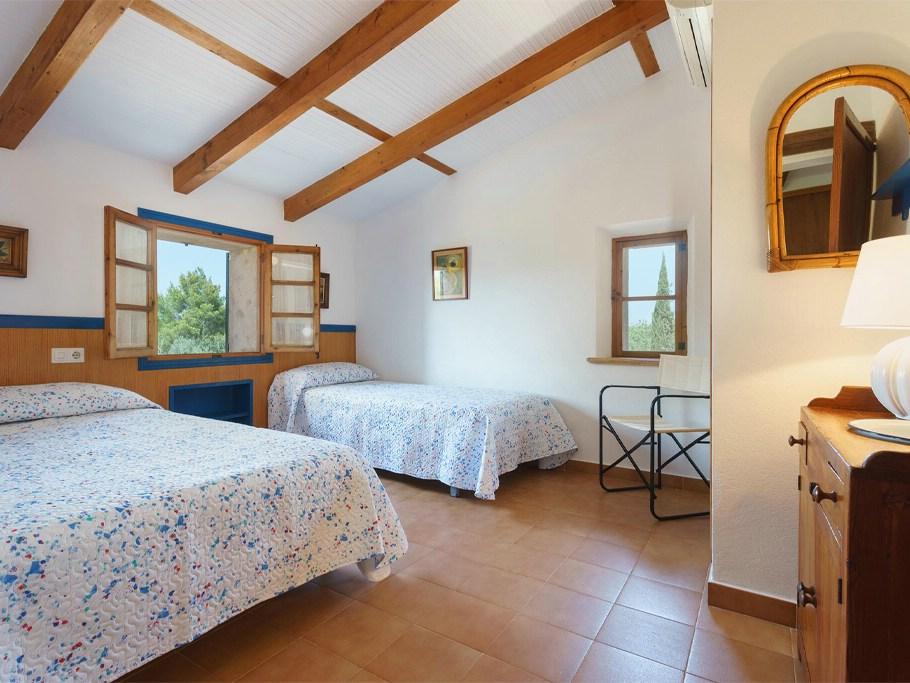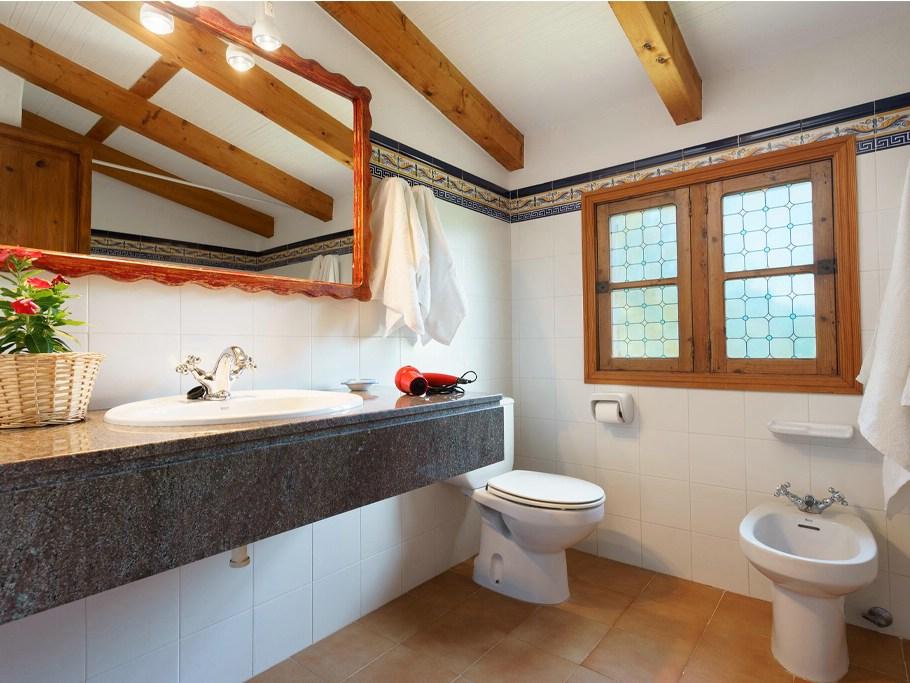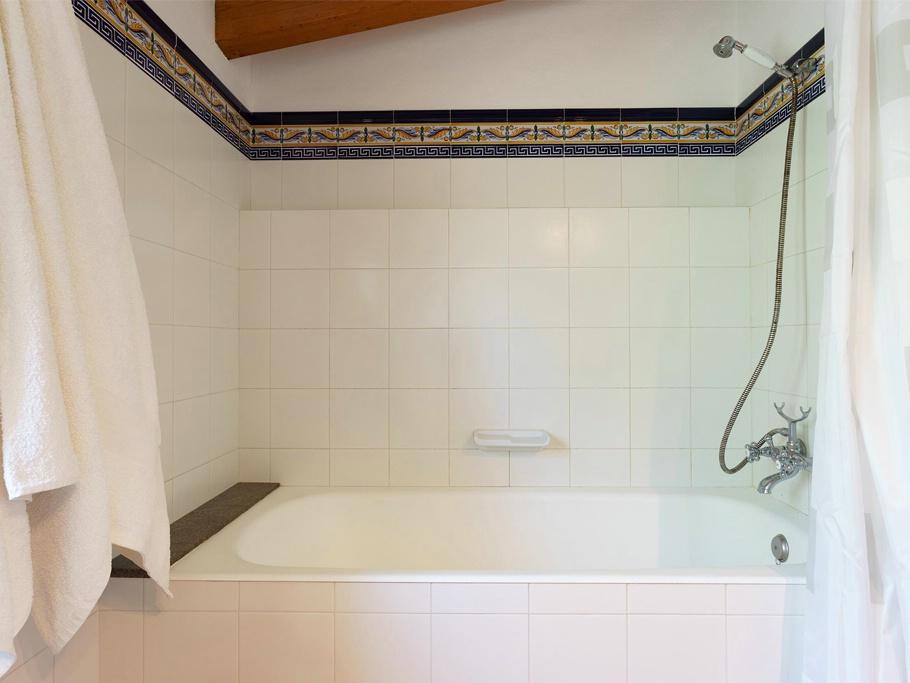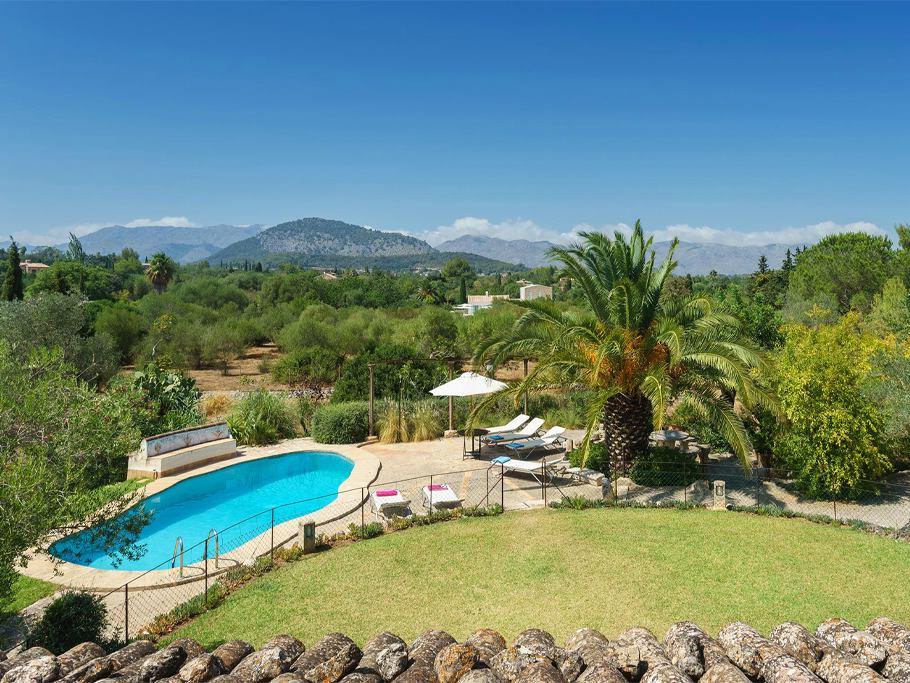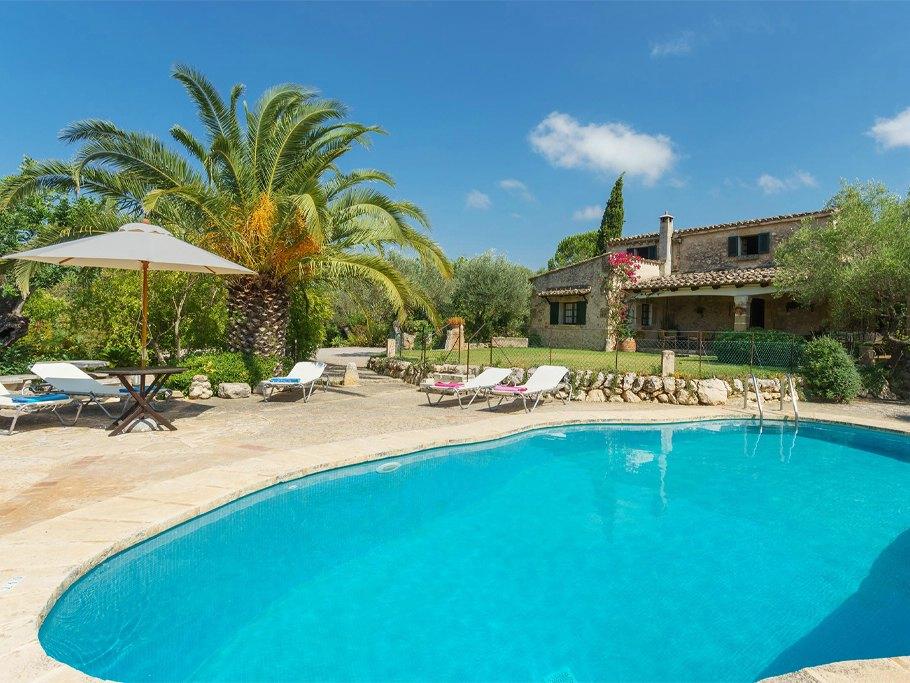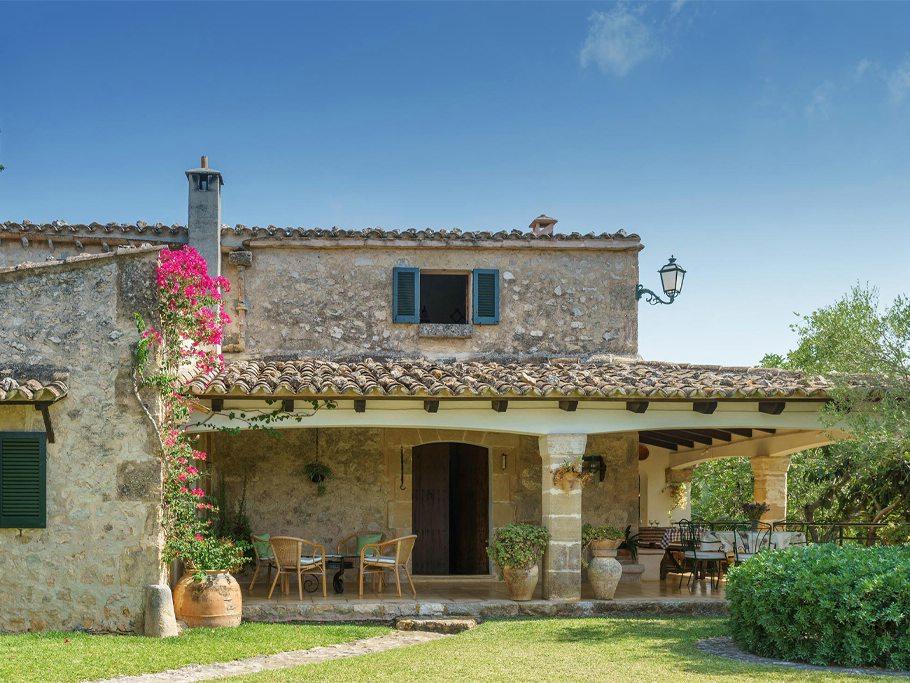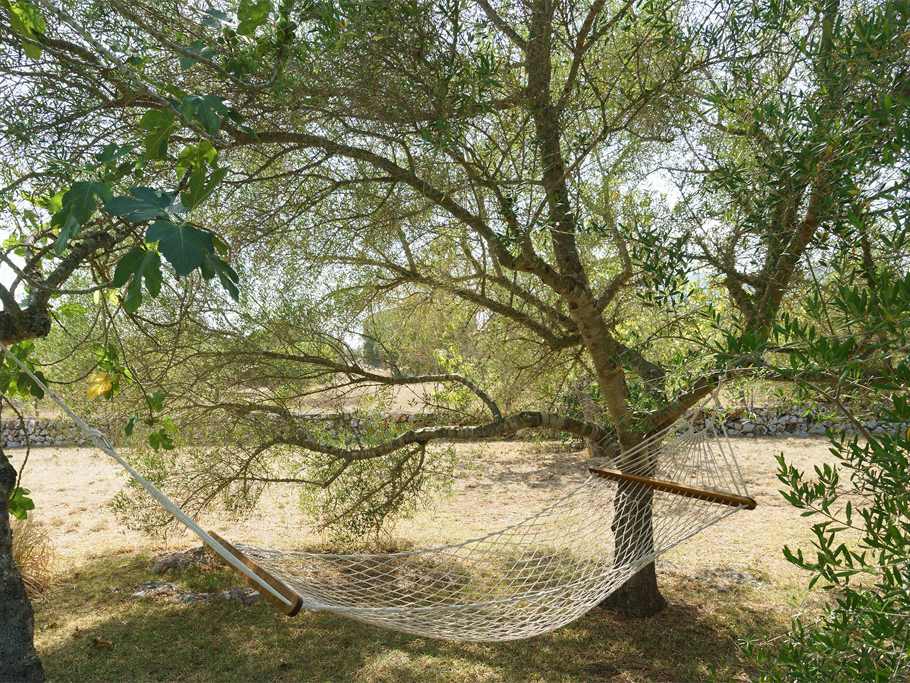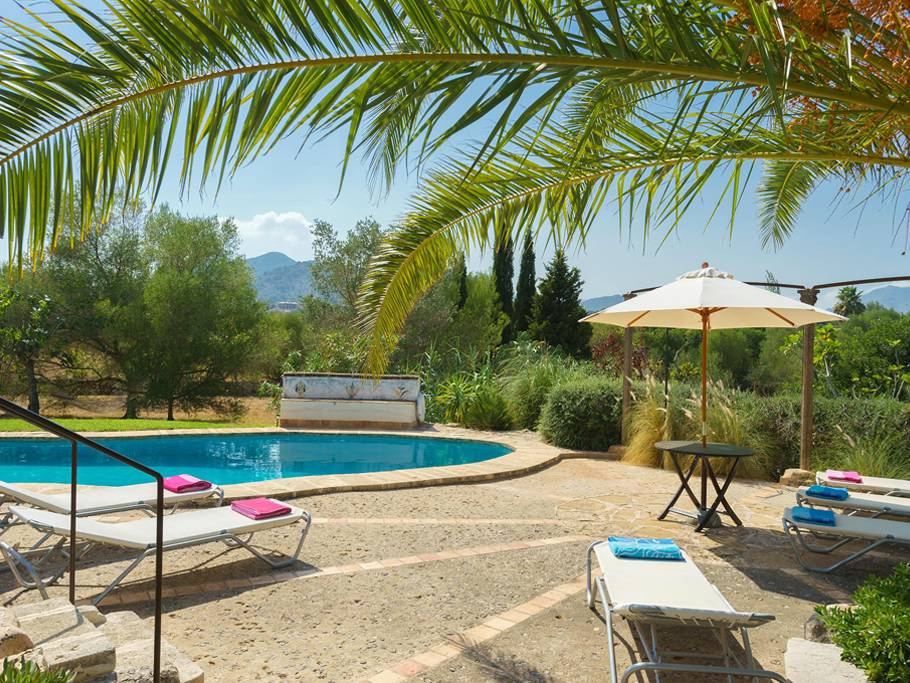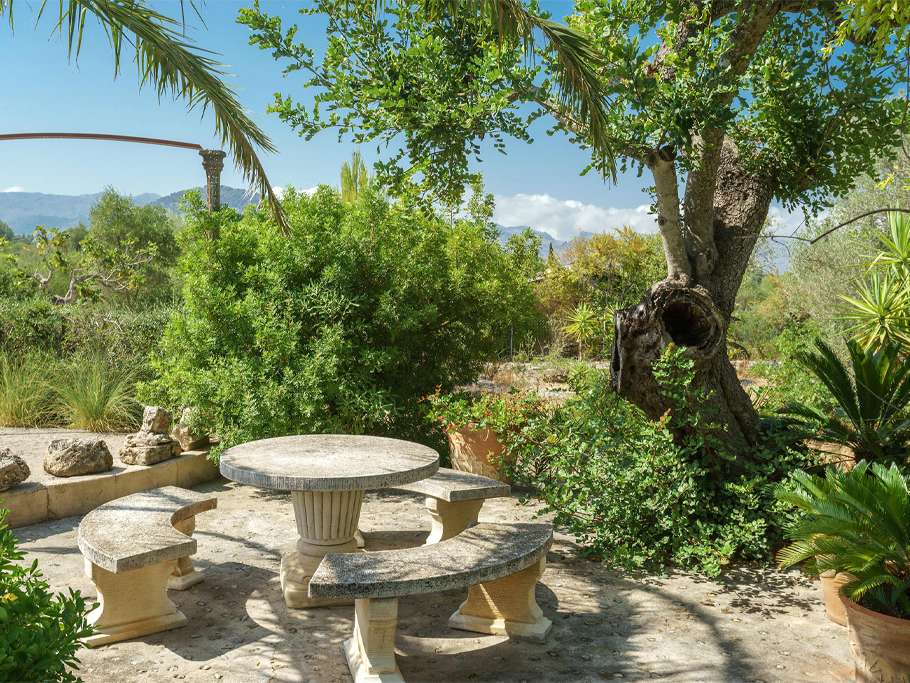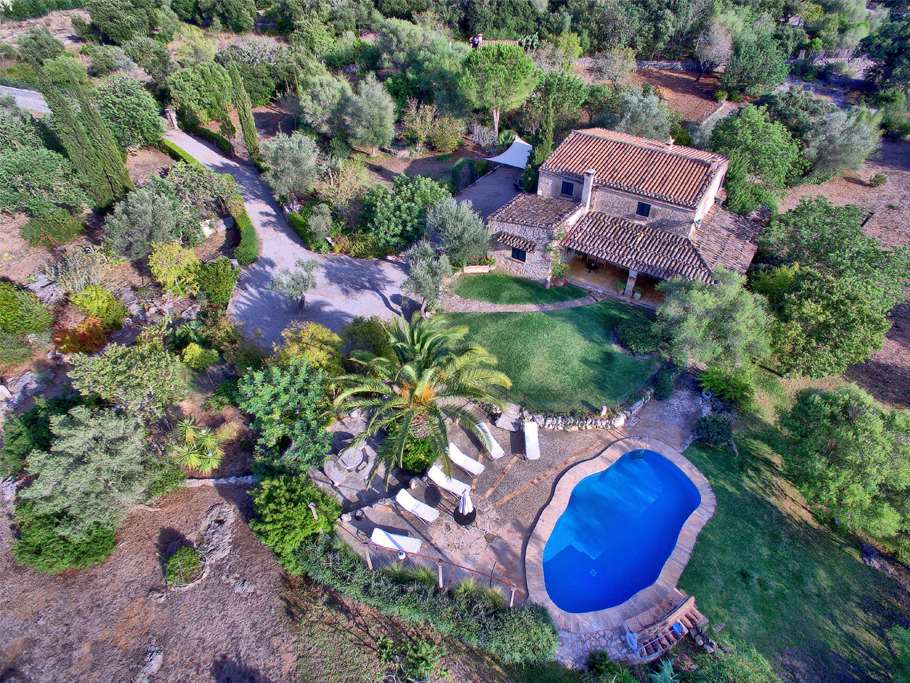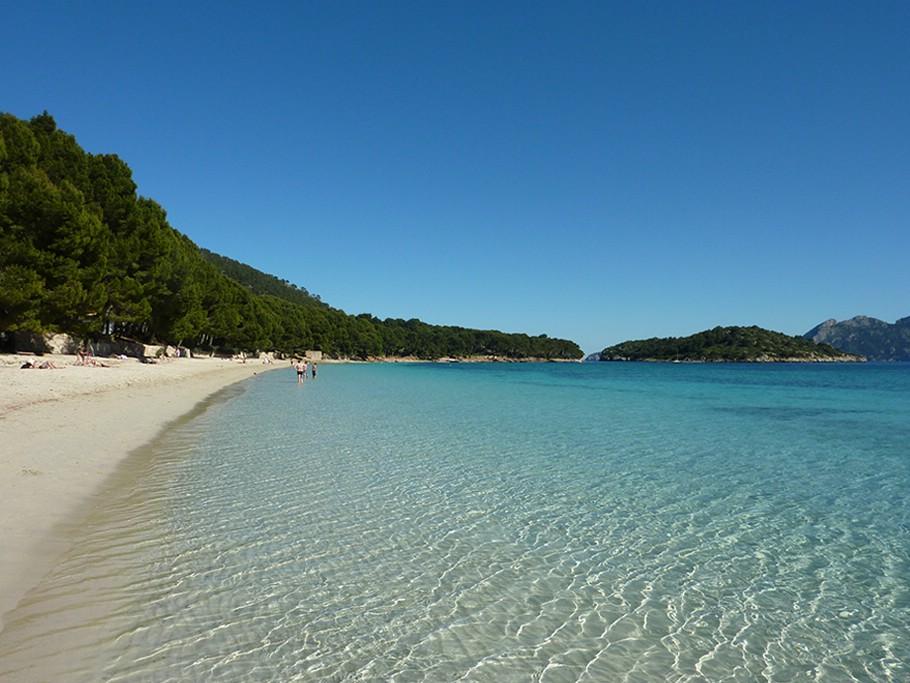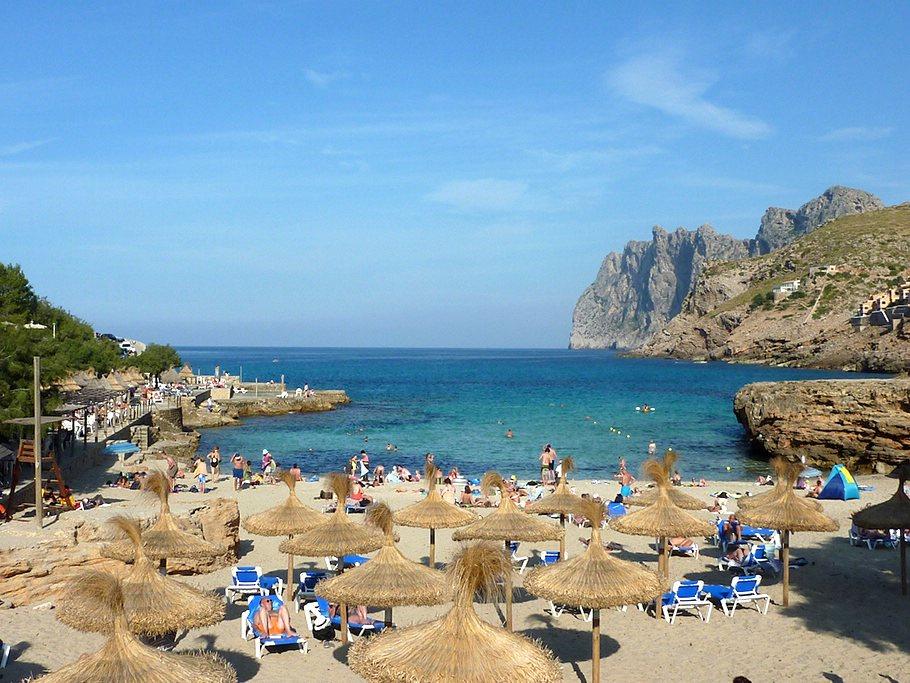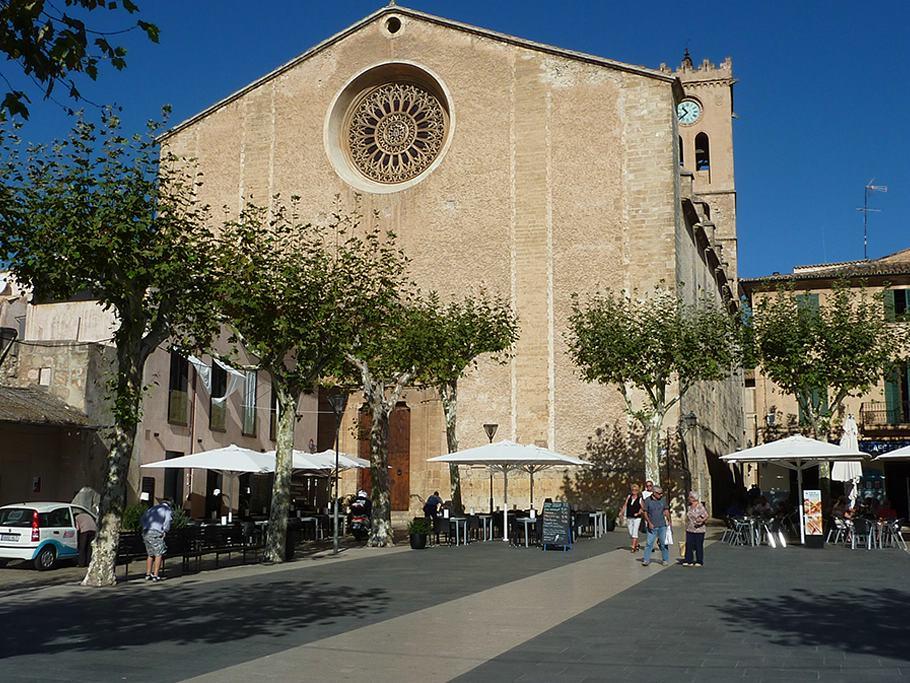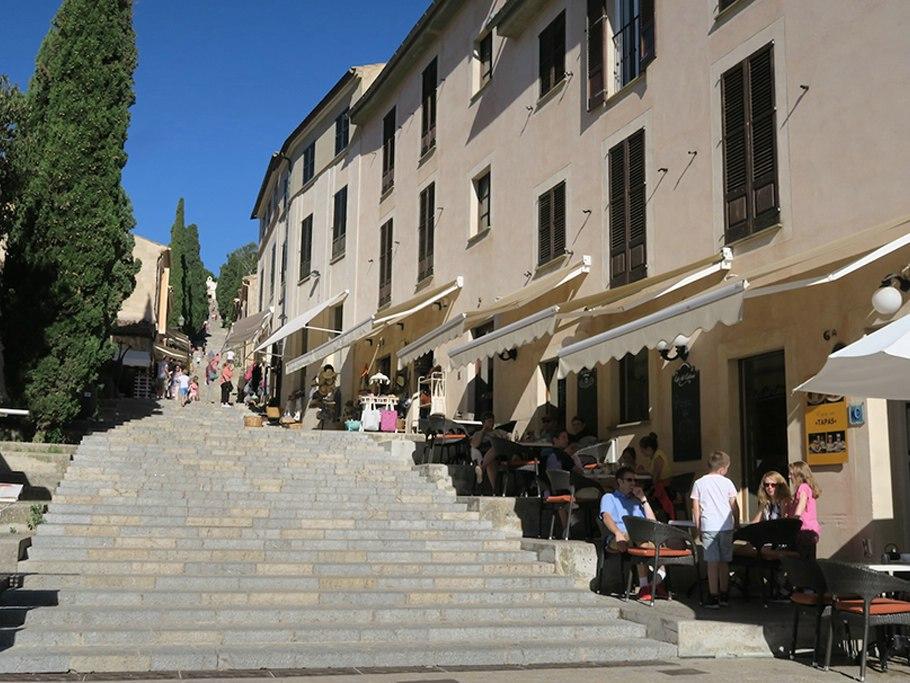 Size of plot:
approx. 7.000 m²
Living space:
approx. 180 m²
Bedrooms:
4 double bedrooms
Living room:
with dining room
Private Pool:
7 m x 3,50 m
Facilities:
AC, wood stove, fire place, dish washer, washing machine, TV, Wi-Fi, BBQ, pool towels
Linen:
1x weekly bed linen, 2x weekly towels
Arrivals:
From June to September arrivals on Saturday
Traditional majorcan country house in Pollensa situated in the heart of the countryside. Located in a very quiet area approximately 4 km distance from the Old Town. The house is built in two levels and offers 4 double bedrooms and three bathrooms. The kitchen is furnished with table and chairs. In springtime or autumn it´s very romantic to have dinner next the fireplace. The sitting room also has an open fire place and a wooden stove. There are 2 sittings areas and a big round dinner table. The house is surrounded by a covered furnished terrace- ideal for having lunch or dinner alfresco or a BBQ in the summer time. The villa features a stunning pool which is set amongst established gardens where you can enjoy views of the surrounding countryside.The finca is situated between Pollensa Town, Port Pollensa and Alcudia. To the sandy beaches of Alcudia or Pollensa it takes approx. 10-15 minutes drive by car.
01.04. – 30.04.:
1.390 €/ week
01.05. – 31.05. :
1.430 €/ week
01.06. – 26.06.:
1.695 €/ week
27.06. – 05.09.:
2.755 €/ week
06.09. – 30.09.:
1.695 €/ week
01.10. – 07.11.:
1.430 €/ week
Requires 7 nights minimum stay
From June to September arrivals on Saturday
Eintrag vom 24.10.2019
Diese Finca ist ein Traum! Wir haben die Tage hier sehr genossen, würden jederzeit hierher zurückkommen. Der Ausblick, der tolle Pool, die Ruhe, der wunderschöne Garten! Wir wussten nicht, wohin wir uns zuerst setzen sollen, was wir zuerst ansehen sollten! Auch der Empfang hat sehr gut geklappt, geduldig wurde uns die Anfahrt erklärt, für sonstige Fragen stand Frau Prager immer zur Verfügung. Lieben Dank für die tolle Zeit!
Eintrag vom 10.10.2019
Wir haben in der Cana Pilar zwei Wochen mit Familie und Freunden von drei bis 75 Jahren verbracht, und es war die perfekte Unterkunft für alle Generationen.
Die Lage ist sehr ruhig, es war allenfalls mal ein Esel oder ein Hund in der Ferne zu hören. Trotzdem ist mit dem Auto alles in wenigen Minuten gut erreichbar. Die umlaufende Terrasse bietet neben viel Platz den ganzen Tag angenehmen Schatten und gleichzeitig – auch dank der leicht erhöhten Lage – wunderschöne Sonnenuntergänge über den Bergen.
Das große abgeschlossene Grundstück verfügt über einen sehr schönen Garten mit ausreichend Rasenfläche für die Kleinen und einen schönen Pool. Das Haus ist gepflegt, gut ausgestattet und bietet mehr als ausreichend Platz.
Die Betreuung auch vor Ort war sehr gut. Wir hatten einen tollen Aufenthalt!
Familie U.
Eintrag vom 07.09.2019
Bei der Organisation lief alles prima. Am Ende einer kleinen Strasse, abgeschieden und ruhig, öffnet sich für einen eine absolute Oase. Sie wurde liebevoll von den Besitzern eingerichtet und erweitert und man fühlt sich sofort wie Zuhause. Wir wurden von Pilar und Felipe auch direkt sehr herzlich begrüßt, eine erste kleine Ausstattung, wie z.B. Getränke, hatten sie sogar geholt und sie kümmern sich toll um das Haus und sind sofort zur Stelle, wenn einmal etwas sein sollte, tolle Menschen. Die Finca ist super ausgestattet, hat alles (toller Pool, tolle Liegen, viel Sitzgelegenheiten, viele Küchenutensilien) und noch mehr (z.B. inclusive kleine Hausapotheke, Spiele). Der Garten ist einfach nur wundervoll und wird täglich gepflegt. Hier kann man sich einfach nur wohl fühlen und einen tollen Urlaub verbringen.
Stephanie SJ aus Berlin
Entry from 17.06.2019
Sehr geehrte Frau Prager,
wir sind wieder wohlbehalten aus Mallorca zurückgekommen.
Es war alles so, wie wir es erwartet haben und wir haben die Tage auf der Finca Cana Pilar
genossen.
Herzliche Grüße
W. B.
Eintrag vom 24.08.2018
Wir sind erfahrene Finca-Urlauber und haben CaNaPilar für 2 Wochen bei Martina Prager gebucht, die Buchung erfolgte absolut
zuverlässig und völlig problemlos. Über das Anwesen gibt es keinerlei Kritikpunkte, im Gegenteil, alles war sehr sauber und gepflegt, keinerlei Probleme, WC-Spülung, Duschen, Klimaanlage – alles hat tadellos funktioniert. Der sehr nette Vermieter kümmerte sich täglich (ohne uns zu stören) liebevoll um den Pool und den schön angelegten Garten mit einem tollen Panoramablick.
Kurzum , ein absolut gelungener Urlaub mit 100% Weiterempfehlung – DANKE
Familie S. und Freunde
Eintrag vom 06.07.2018
Liebe Frau Prager,
wir waren ja in der Finca Cana Pilar und haben es voll und ganz genießen können. wir hatten wirklich alles, was wir
uns für einen erholsamen, schönen und gemütlichen Urlaub gewünscht hatten. Die Finca ist super sauber und mit liebe
zum Detail gepflegt. Die Planungen von Ihnen war echt super. Die Herrschaften, die sich um das Objekt kümmern waren
allesamt sehr hölflich und unheimlich lieb. Wir freuen uns alle schon riesig auf den nächsten Urlaub 2019.
Tausend Dank
Liebe Grüße, bis bald
Stephan Lentzsch
Eintrag vom 17.08.2016
Liebe Martina,
das war wieder ein ganz wunderbarer Urlaub! Am Liebsten würde ich gar nichts dazu schreiben – damit es ein Geheimtipp bleibt. Aber das wäre zu egoistisch. Also ganz leise: eine fantastische Finca, bequem für 8 Personen, großzügig und mit gut klimatisierbaren Schlafzimmern (im Juli/August zeitweise nötig) mit einem Ausblick, wie in einen botanischen Garten. Dazu wirklich reizende Besitzer, die auf jedes Problem(chen – gibt es ja immer mal) sofort reagieren und eine Pollenca-nahe Lage mit dem Gefühl von Abgeschiedenheit. Wir waren wunschlos!
Vielen Dank dafür und deine -wie immer- tolle Betreuung
Carola & Co
Cana Pilar
Tranquil country house – with views, perfect for a family holiday
from 199,00

€

/ night
Imported 14 bookings
Favorite