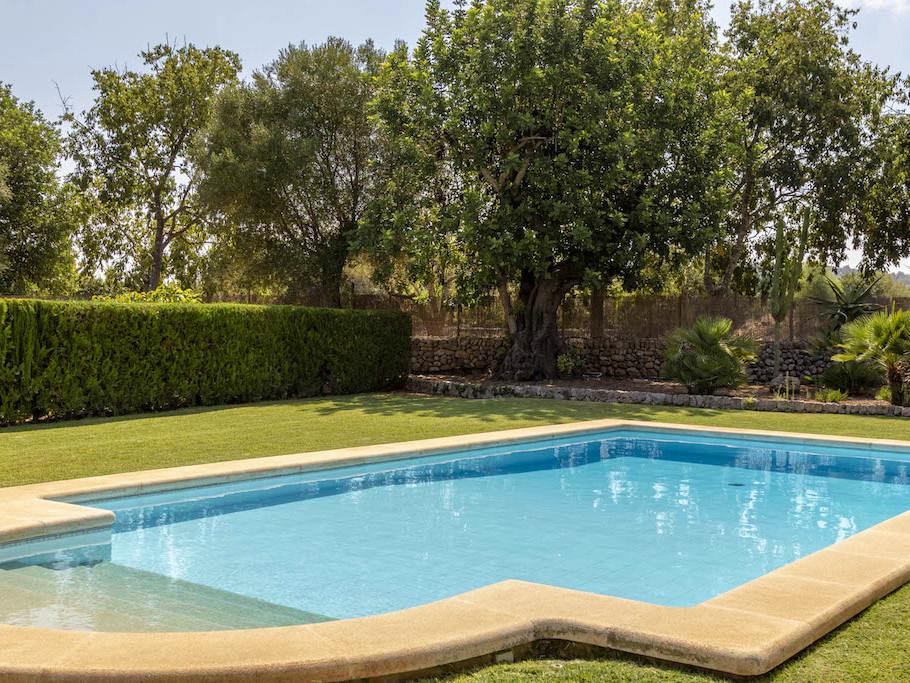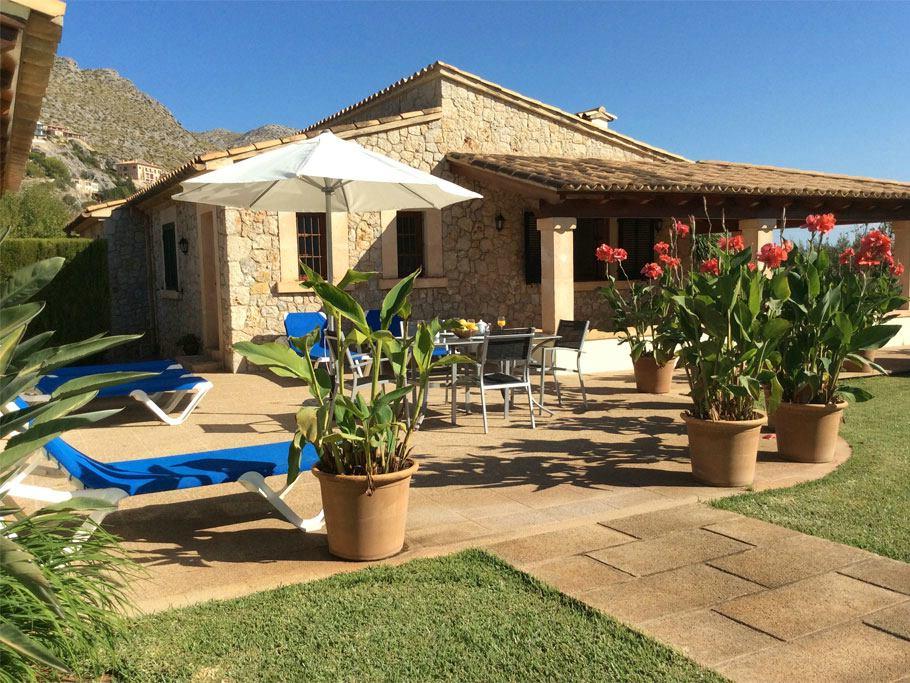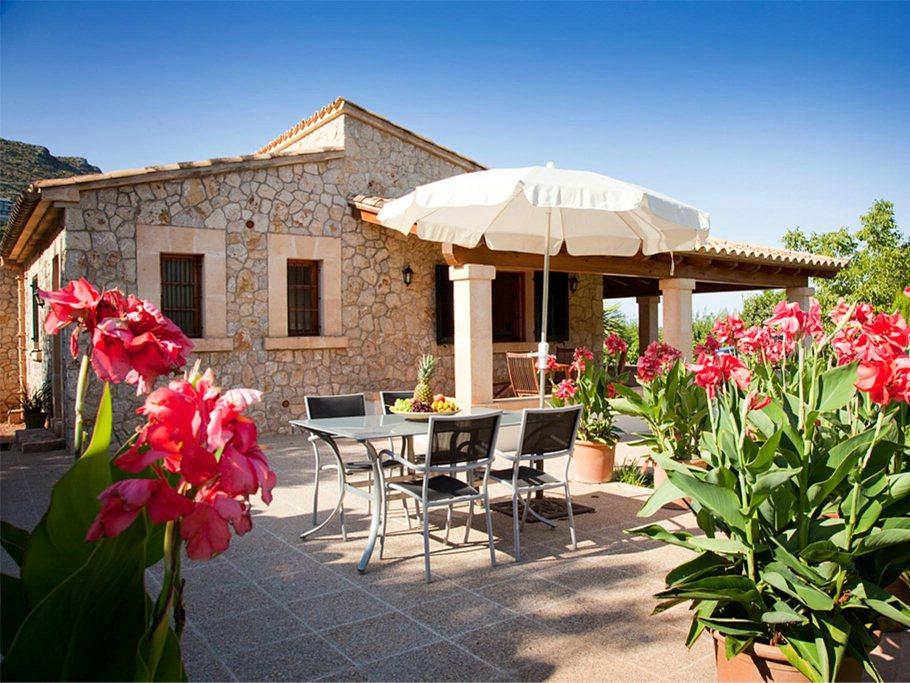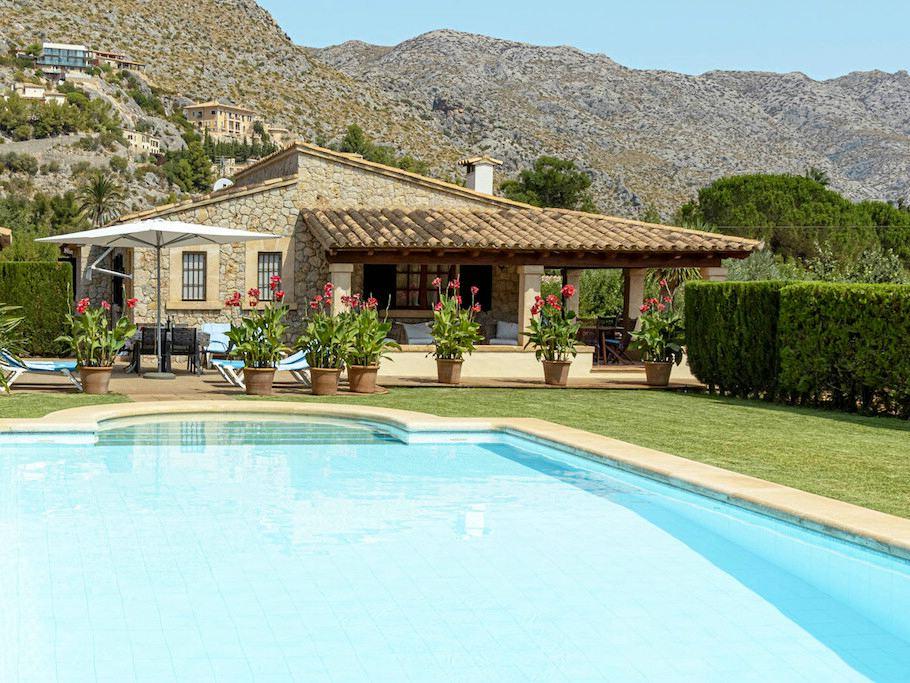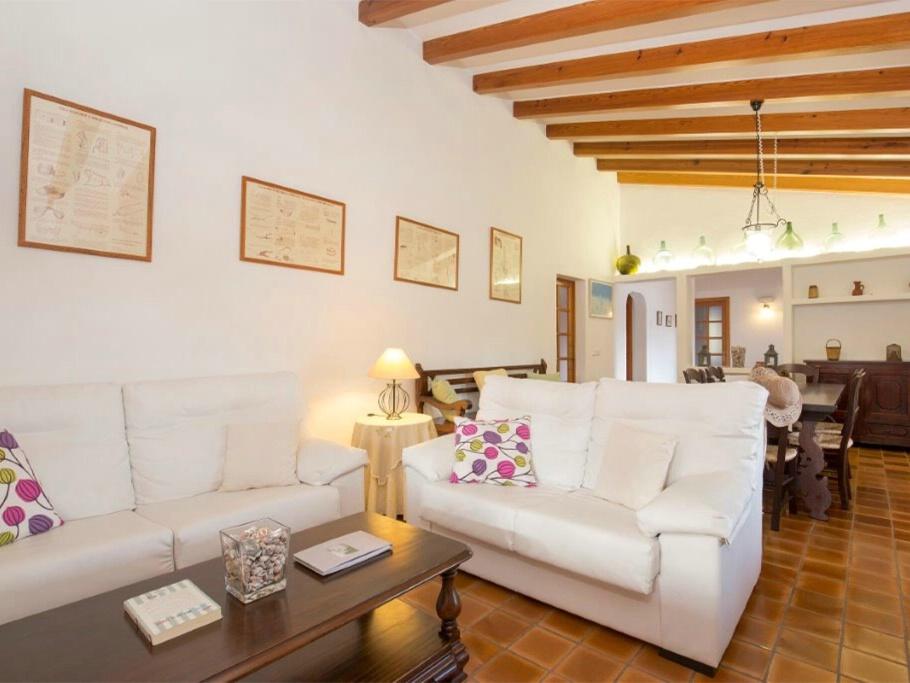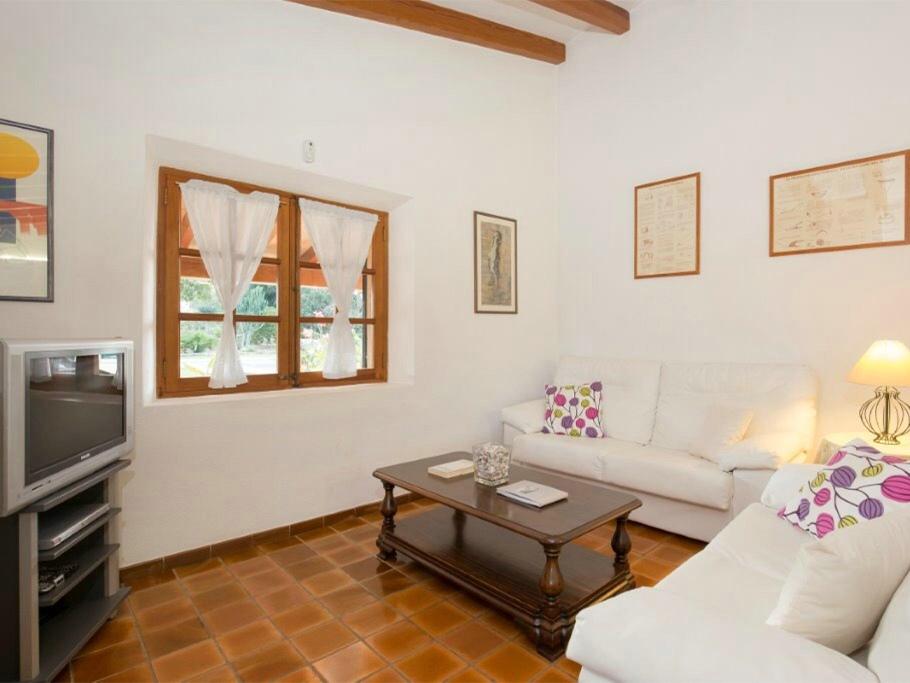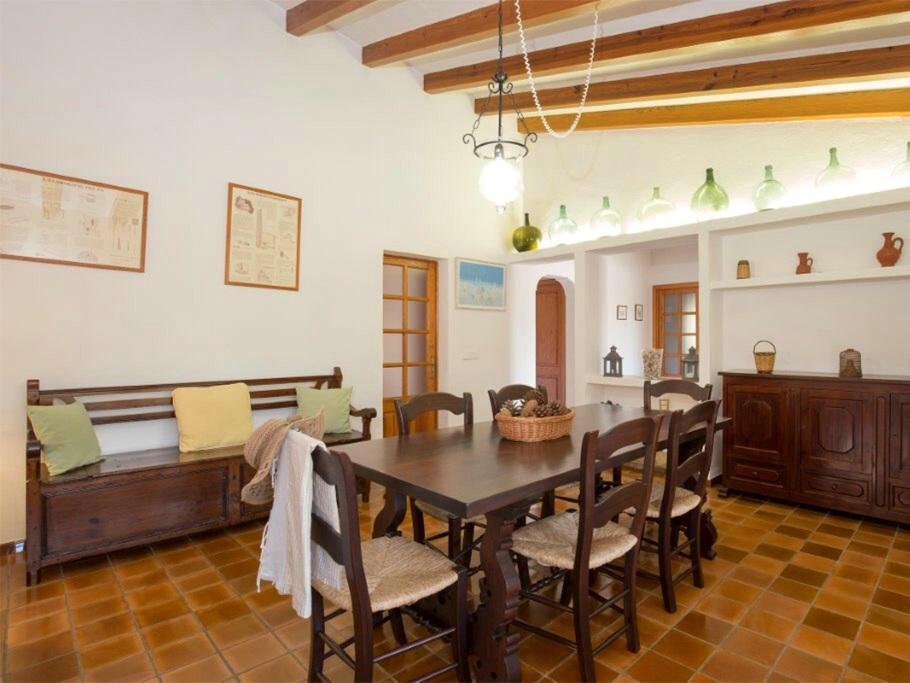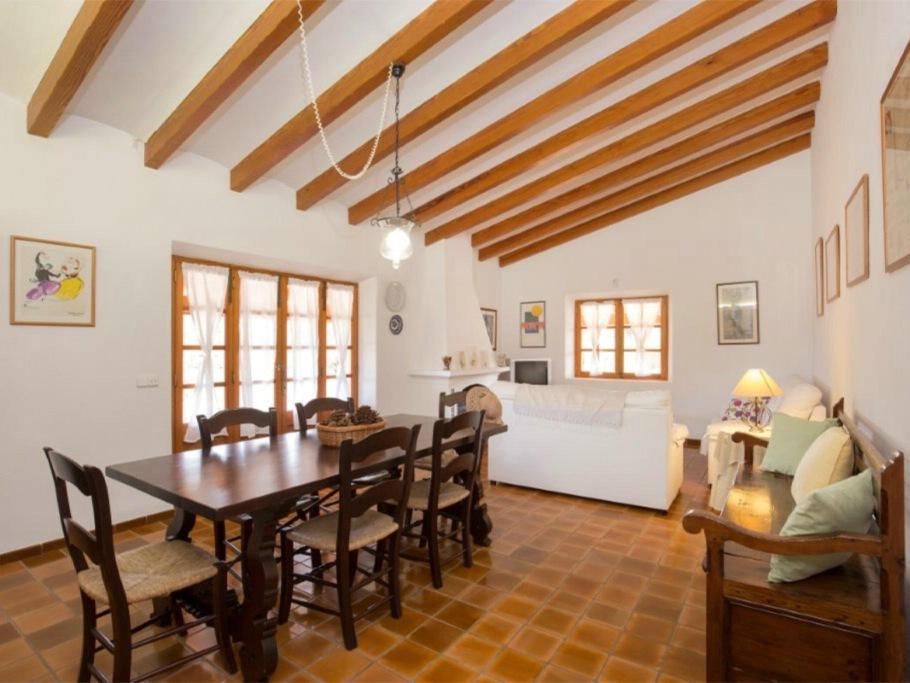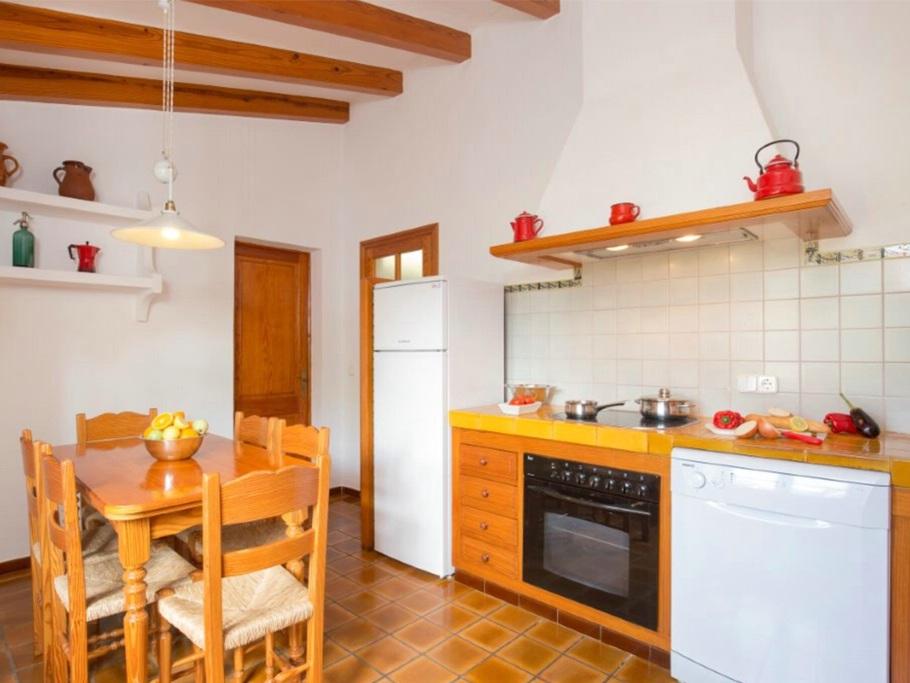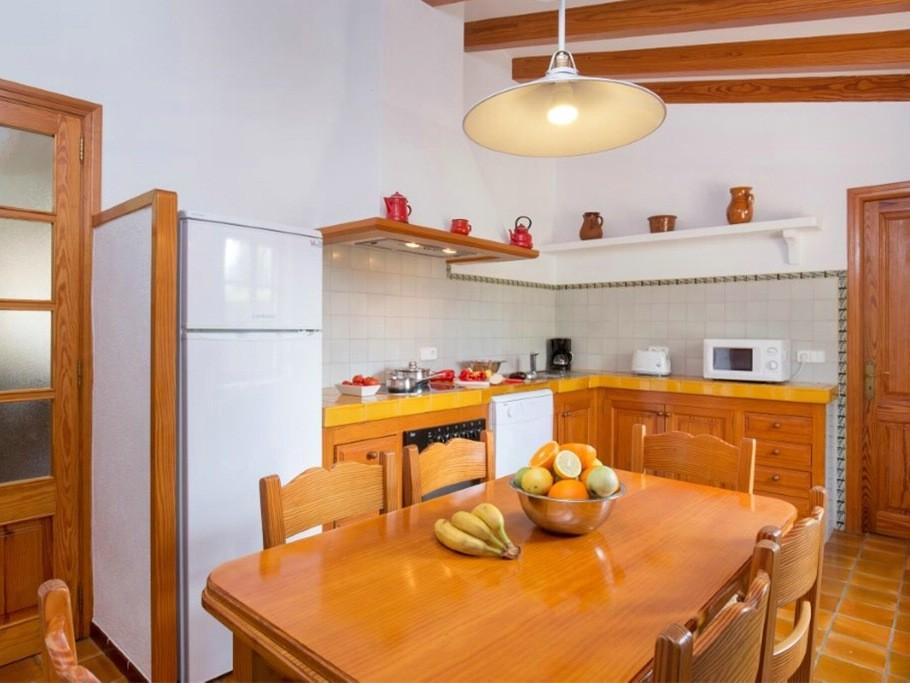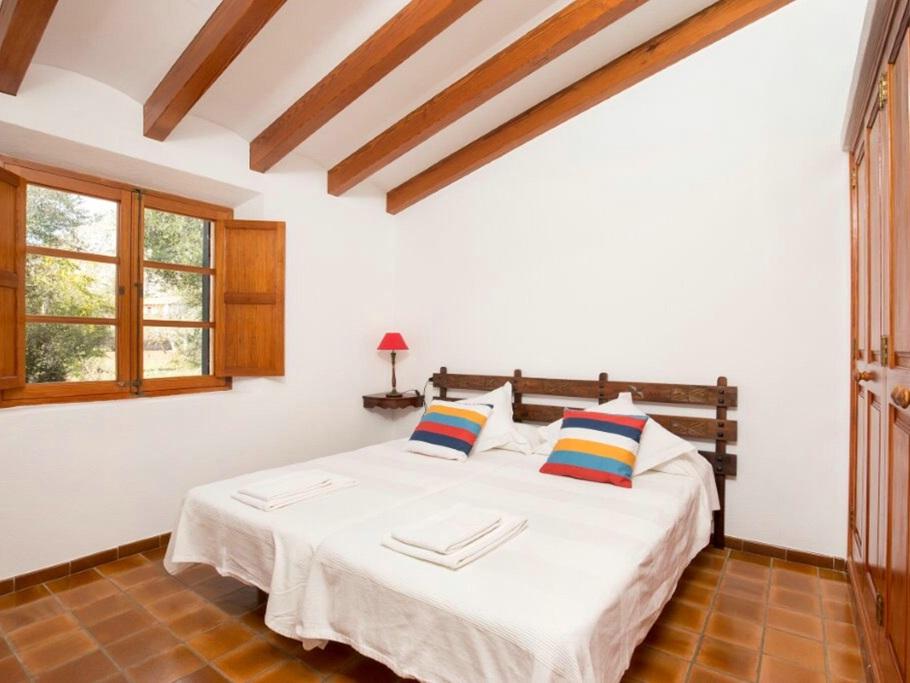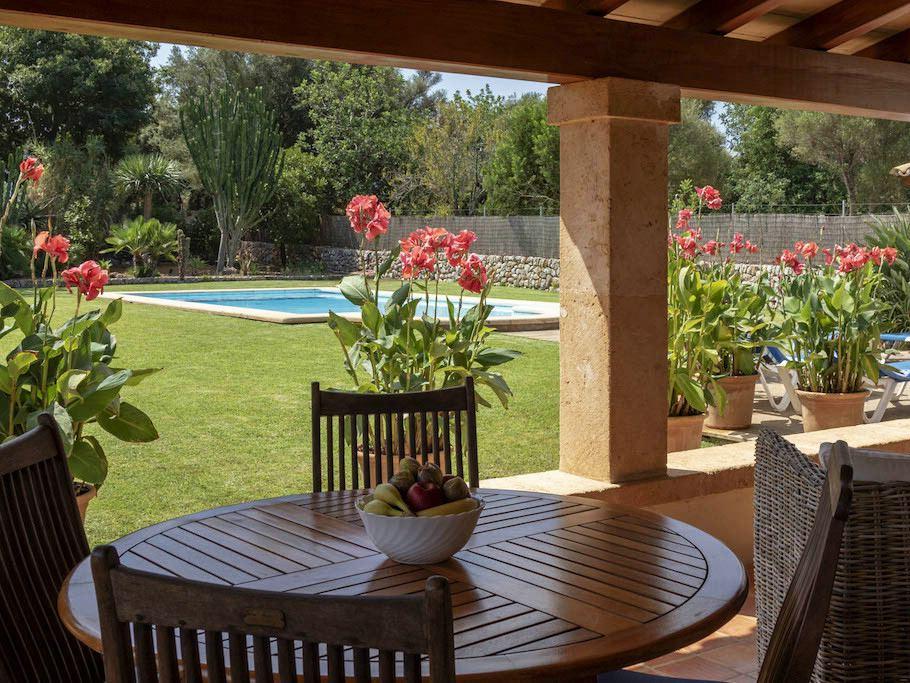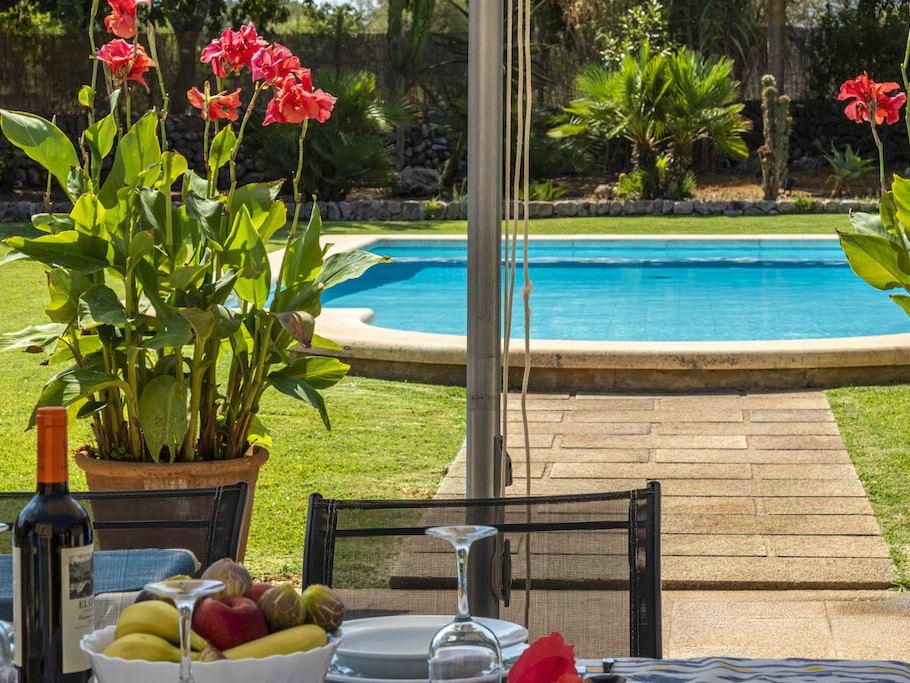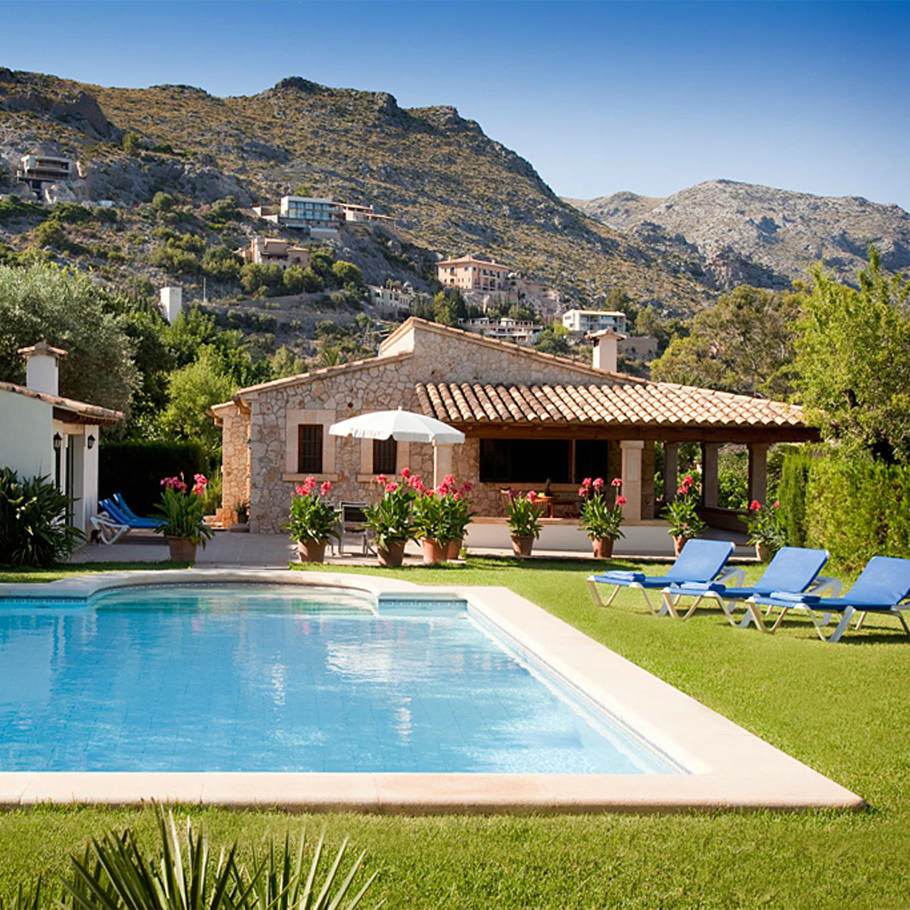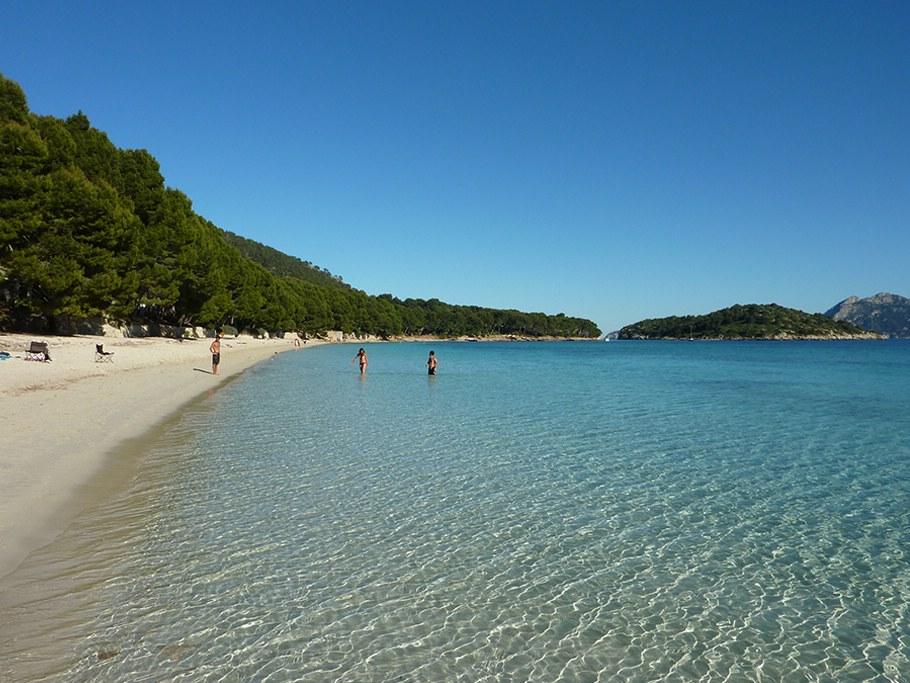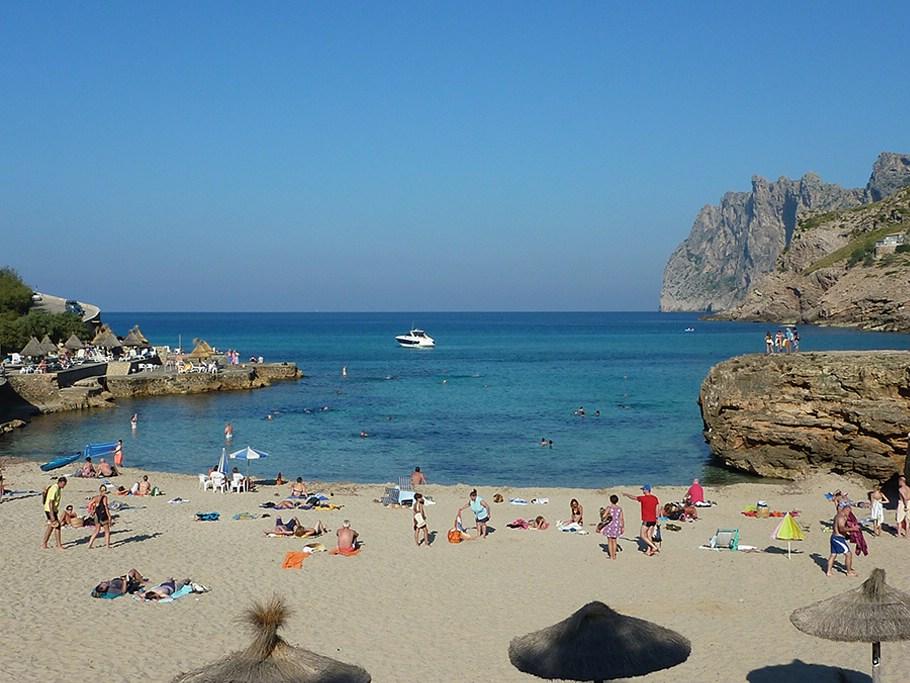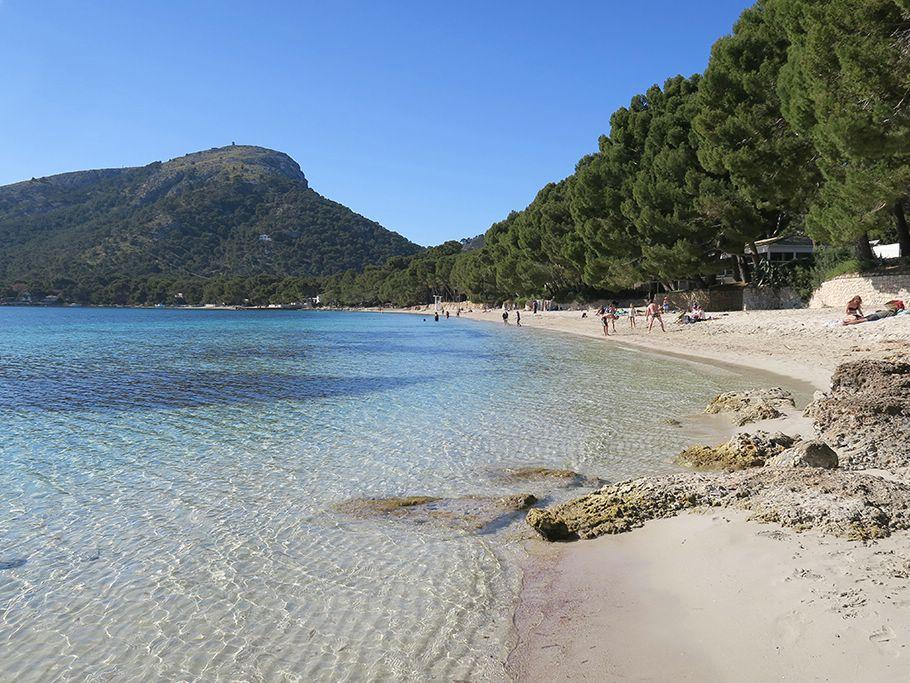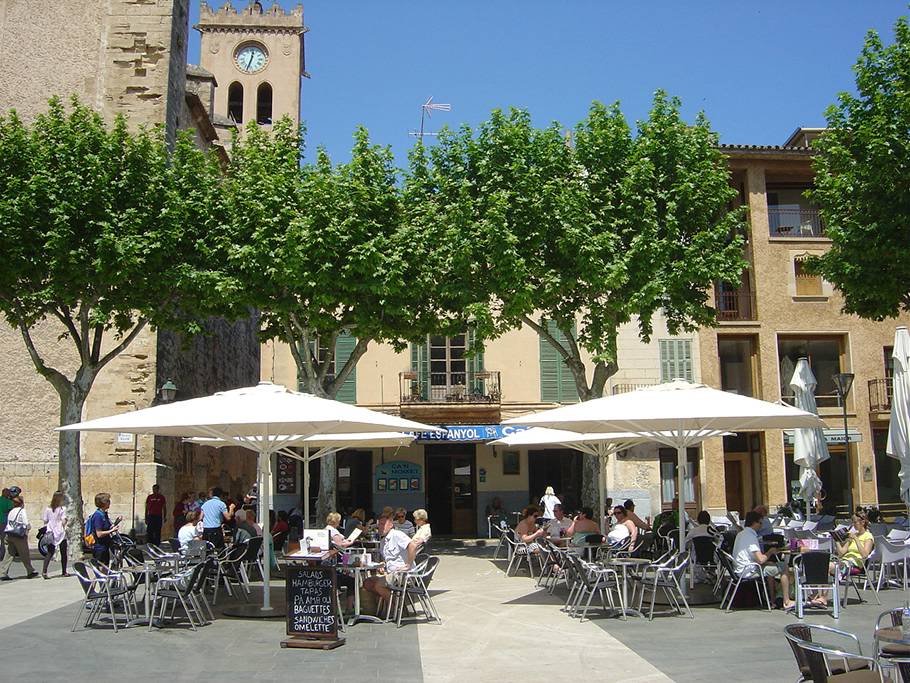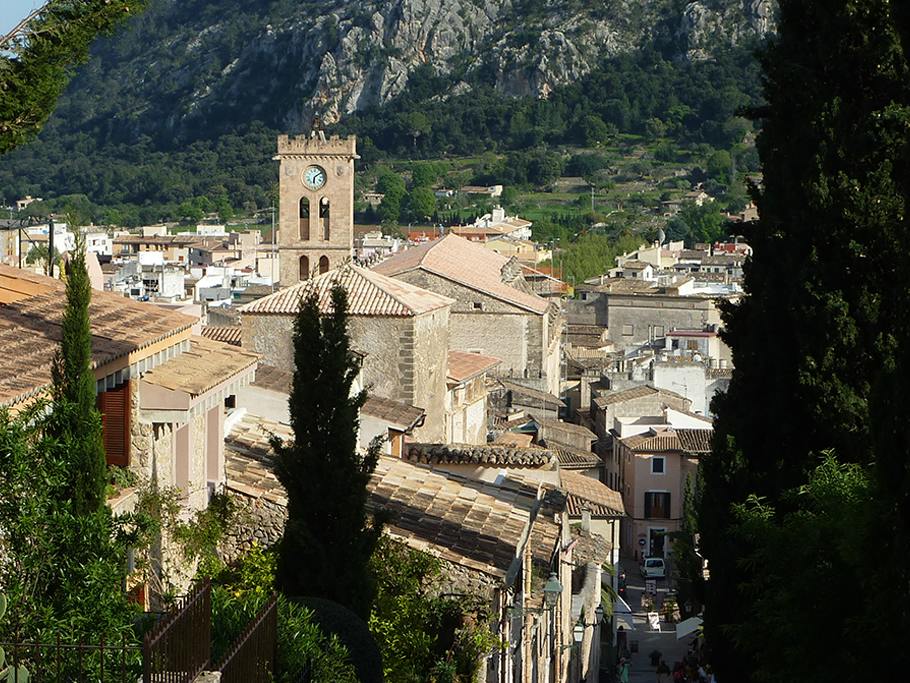 Size of plot:
approx. 6.400 m²
Living space:
approx. 160 m²
Bedrooms:
3 double bedrooms
Living room:
with dining room
License number:
VTV1446BAL
Facilities:
AC, wood stove, dish washer, washing machine, TV, Wi-Fi, pool towels
Linen:
1x weekly bed linen, 2x weekly towels
Tranquil Holiday home with private pool close to the sea. Beautiful views.
This is a lovely traditional villa in the La Font area of Pollensa, just 1,5 km from Pollensa Old Town. The house offers a large sitting/ dining room, kitchen, 3 double bedrooms and 2 bathrooms. At the back of the house there's a private and relaxing garden. The pool is surrounded by lawns and shaded by trees. A covered terrace overlooks the garden and pool. There's a barbecue too. This is a great family villa with lots of Majorcan character. It's in a really good location, only a short drive to Pollensa Town, Port Pollensa or the next beaches. To Pollensa Town its approx 4 km. The romantic winding lanes and steps lined with natural stone house facades, pleasant restaurants and small shops date back to the time of the Moors and are perfect for a leisurely stroll through the historic old town.
March, April:
1.190 €/ week
June, September:
1.590 € /week
July, August:
2.490 €/ week
Requires 7 nights minimum stay
Daily arrival possible
Eintrag vom 03.10.2019
Guten Tag Frau Prager,
Unsere Ferien in Mallorca waren perfekt.
Das wunderschöne Ferienhaus Silvia hat viel dazu beigetragen!
Das Haus war sauber und sehr gepflegt. Die Informationen zu Anreise, Unterkunft und Übergabe von Ihnen war super.
Wir waren das erste Mal in Mallorca, sehr wohl aber nicht zum letzten Mal.
Ihr Ferienhaus werden wir gerne auch weiterempfehlen.
Vielen Dank und Grüsse aus Bern,
Stefan Wälti
Eintrag vom 06.06.2019
Frau Prager,
Es war wunderschön! Die Landschaft und Umgebung zauberhaft und Silvia und ihre Familie auch! Wir haben uns alle wahnsinnig wohl gefühlt und kommen sicherlich wieder!
Julia H
Eintrag vom 27.08.2018
Hallo Frau Prager,
Der Urlaub war leider wieder viel zu kurz. Aber es war sehr schön. Das Wetter war völlig okay und die Finca war einfach perfekt. Wir haben uns in der Finca sehr wohl gefühlt und werden – sofern verfügbar – im nächsten Sommer bestimmt noch mal buchen.
Viele Grüße
Alexandra Nikolay
Eintrag vom 19.04.2018
Liebe Frau Prager,
der Urlaub war schön und auch die Finca hat uns gut gefallen. Die Kinder haben das große Grundstück mit den Katzen sehr genossen.
Am Ostersonntag früh bekamen wir vom Senior noch ein paar frische Eier überreicht – das war eine besonders nette Geste, über die wir uns sehr gefreut haben. Vielleicht können Sie unseren Dank ja auch noch mal weitergeben…
Auch organisatorisch hat alles sehr gut geklappt; wenn wir wieder mal nach Mallorca wollen, kommen wir bestimmt wieder auf Sie zu. Ihre Website verbreiten wir schon weiter.
Beste Grüße
HJ B. und Familie
Cana Silvia
Modern Villa with close to the sea – beautiful garden
from 170,00

€

/ night
Imported 12 bookings