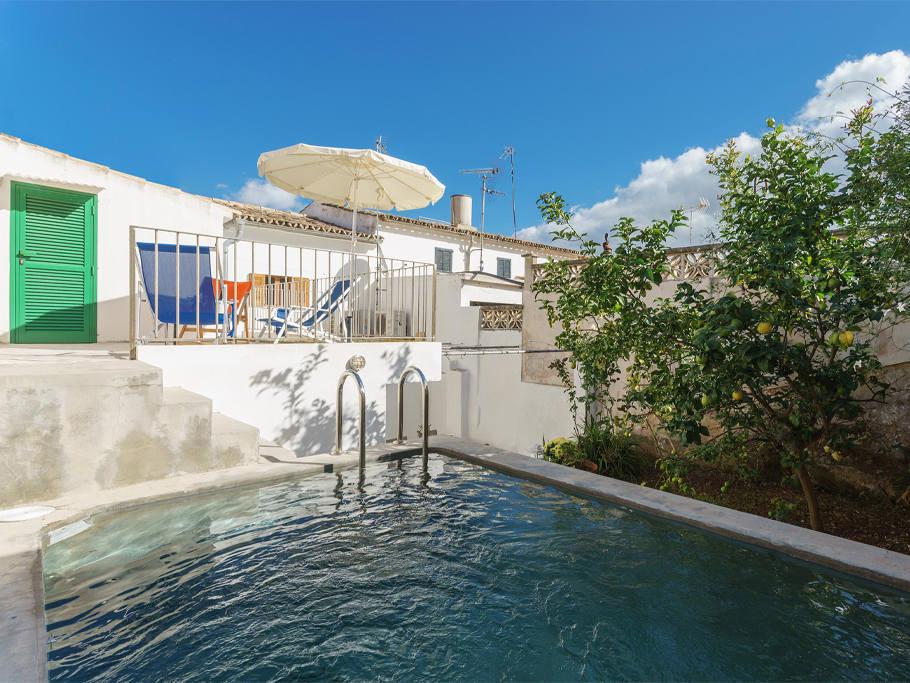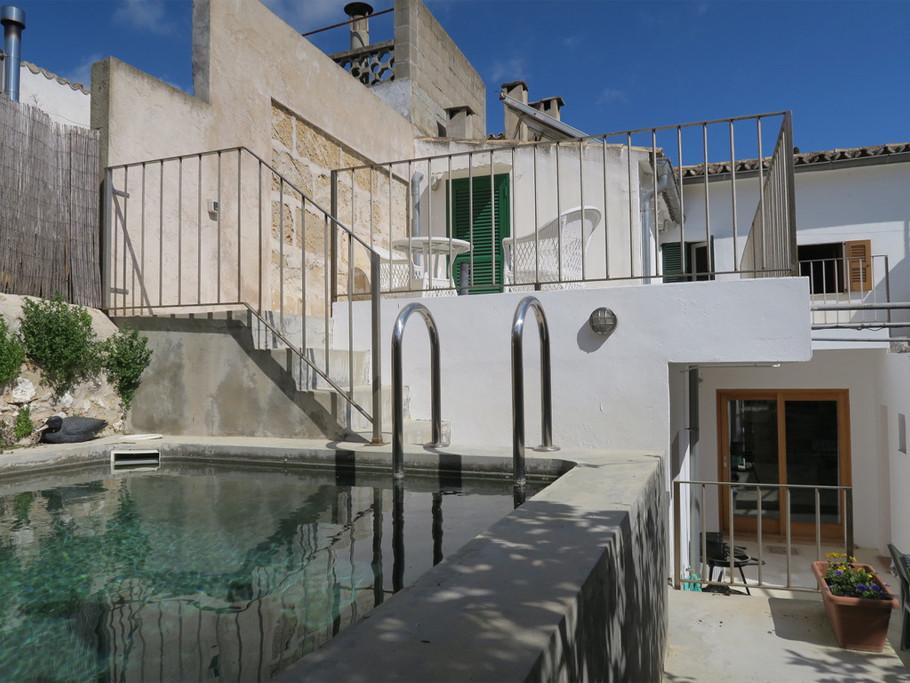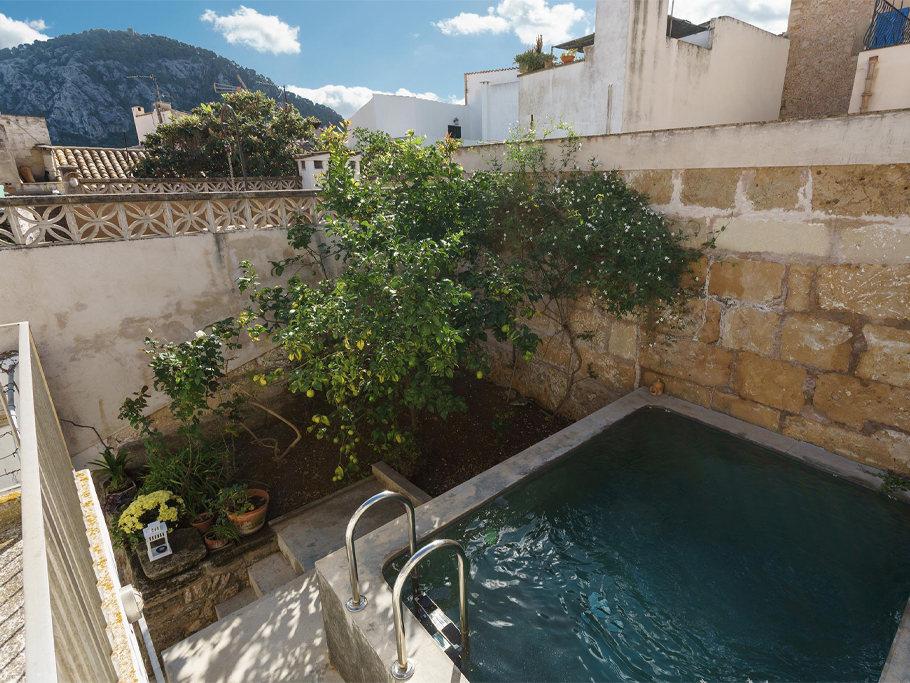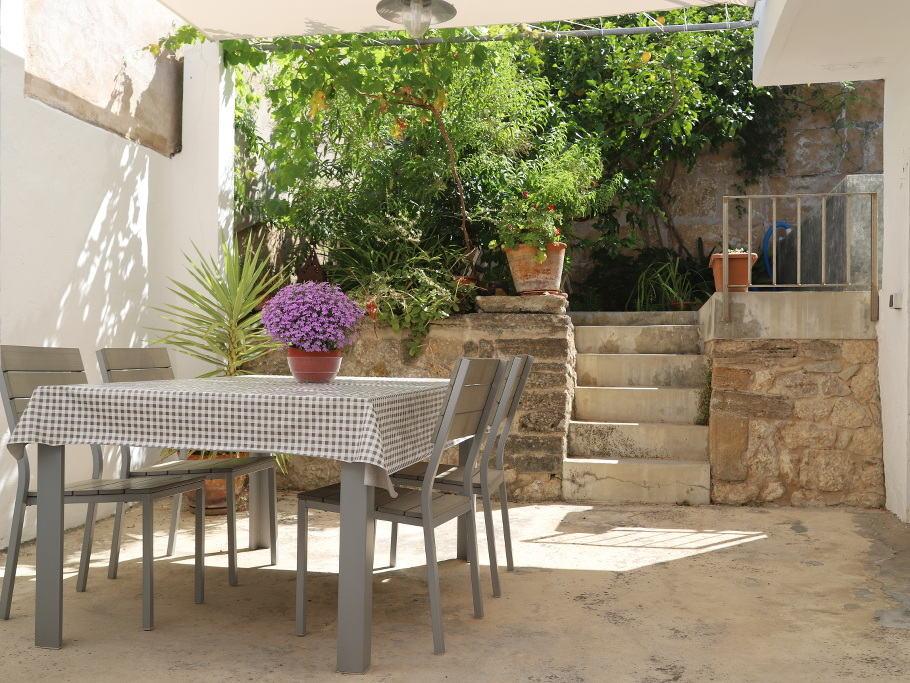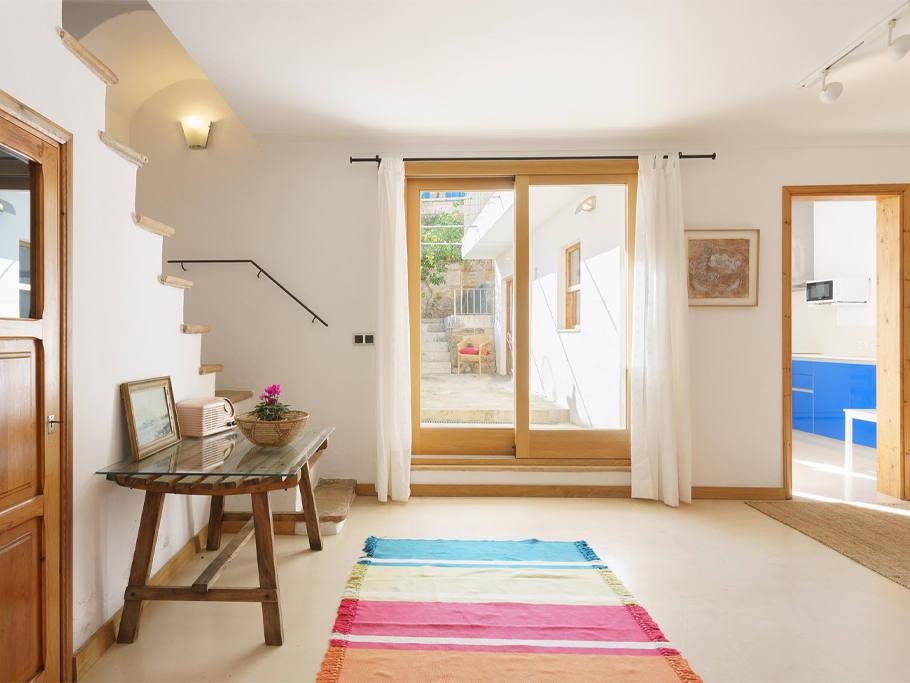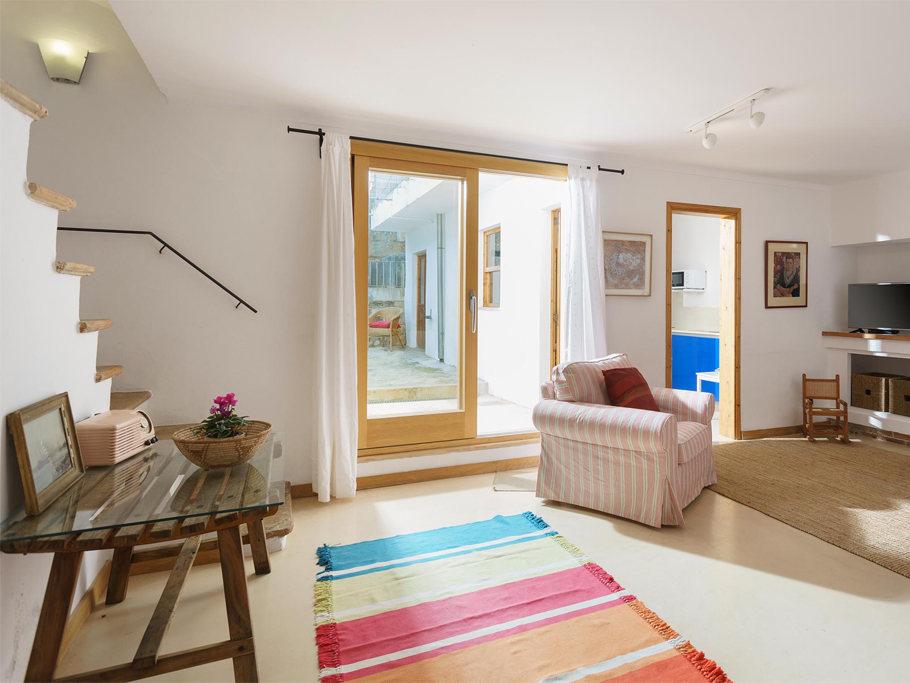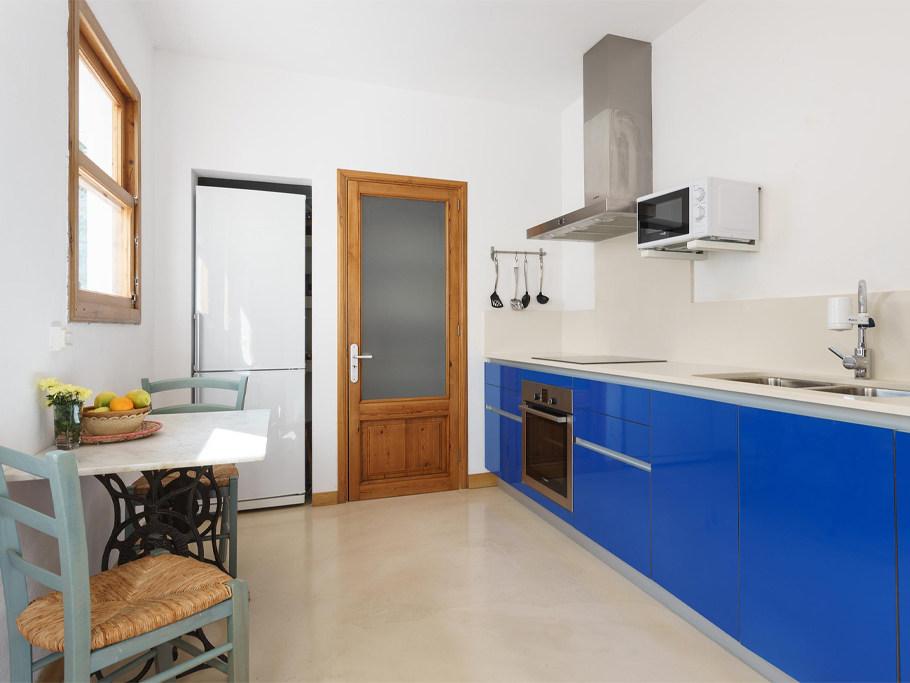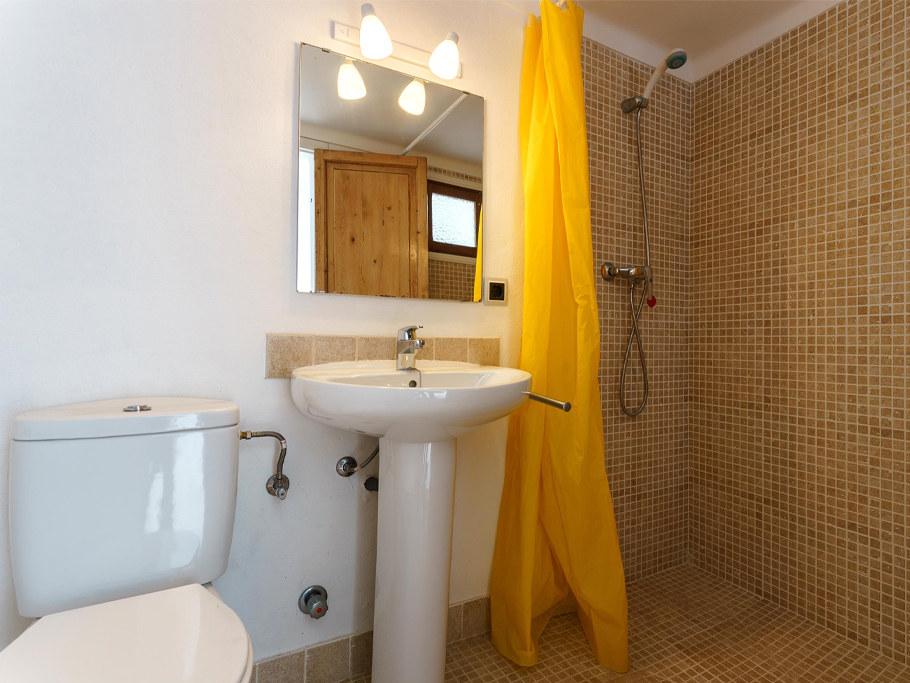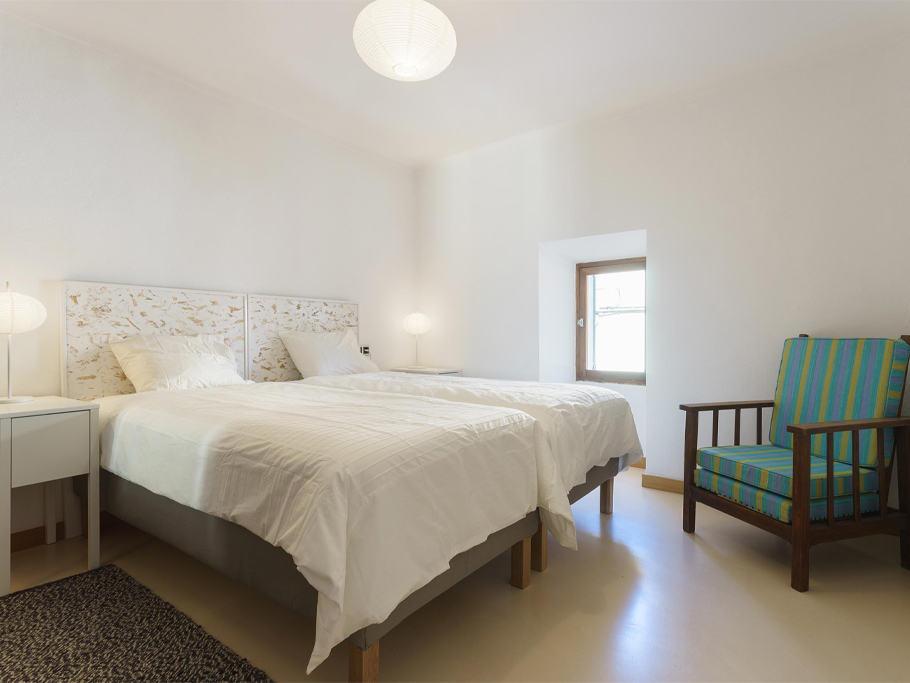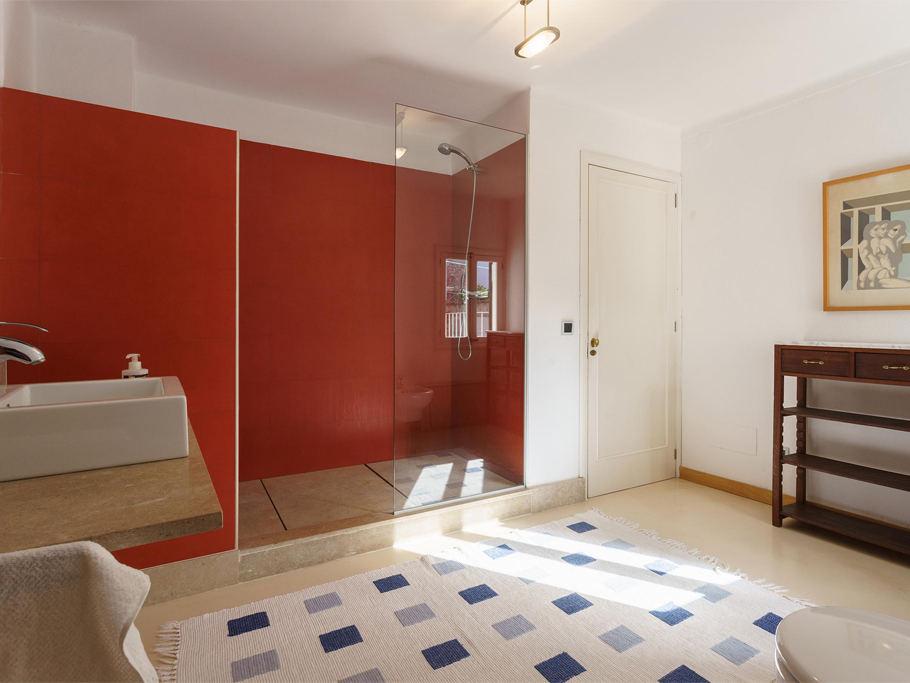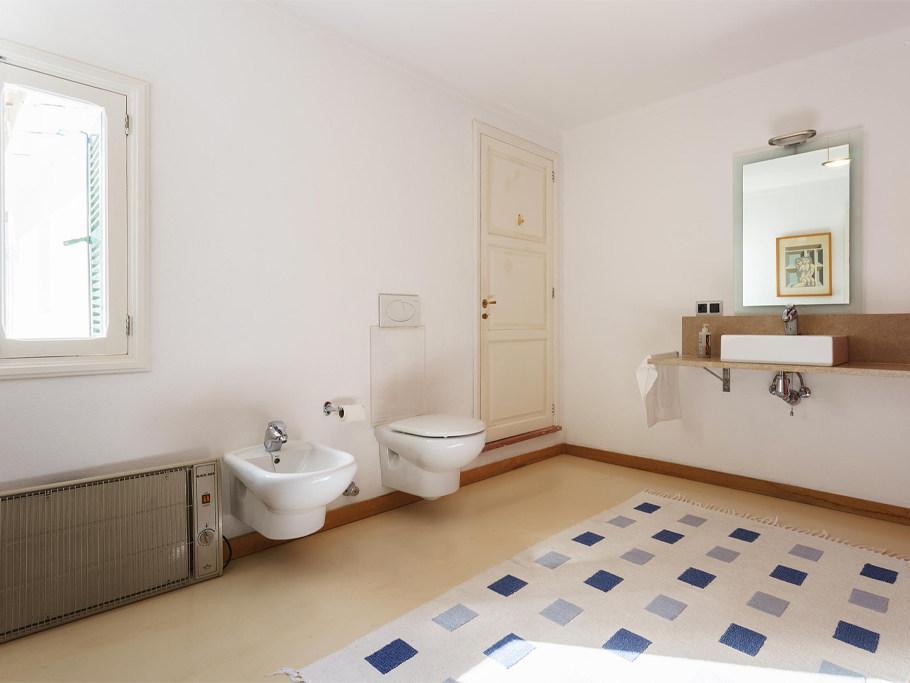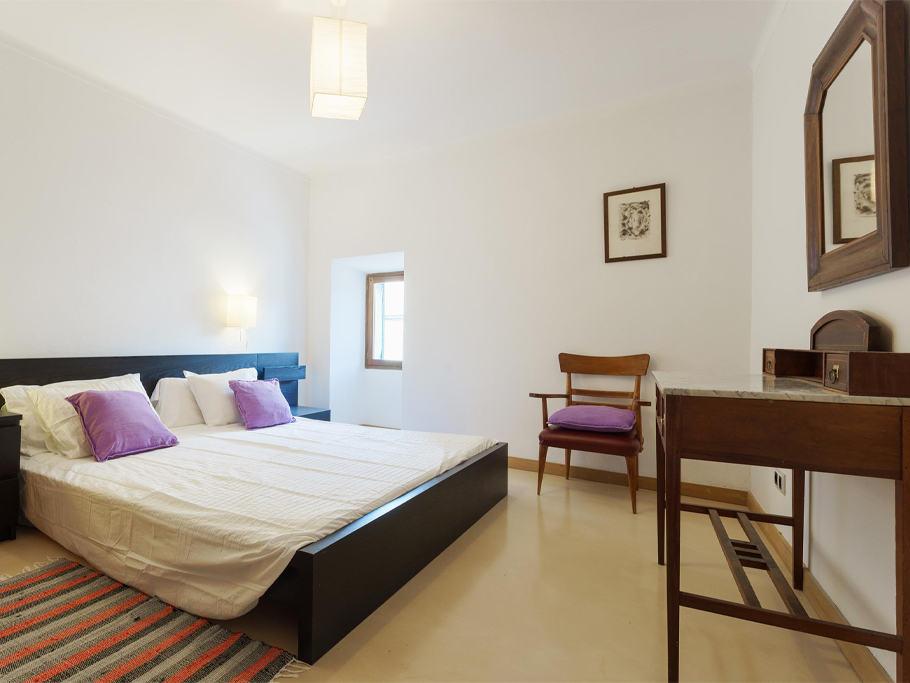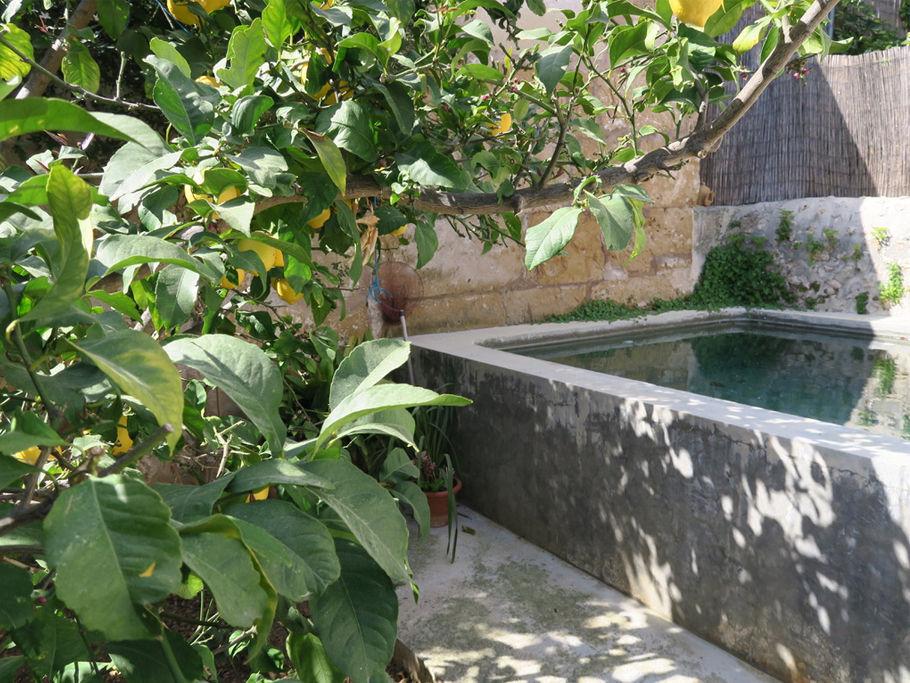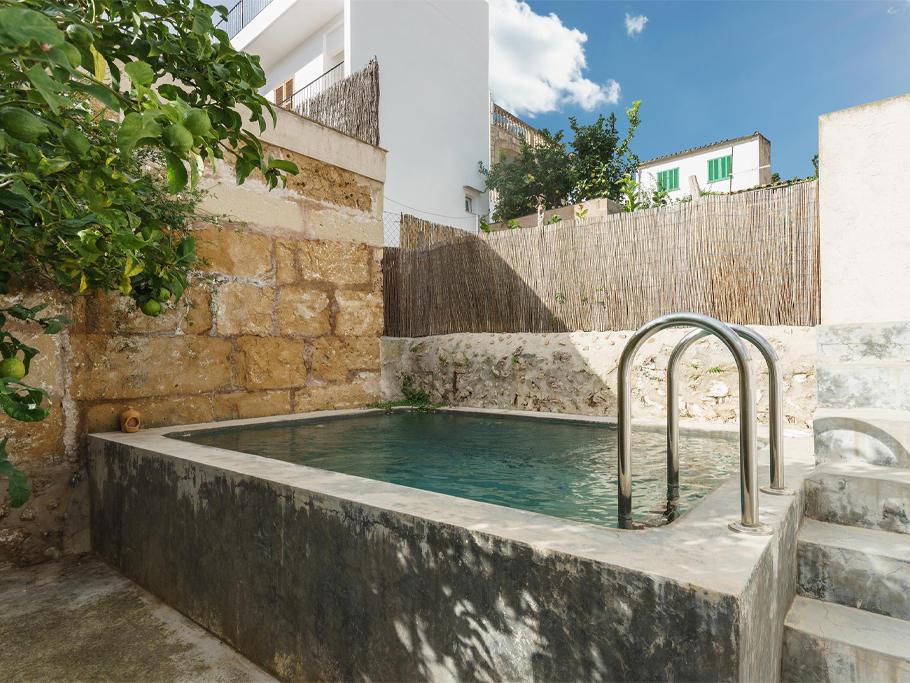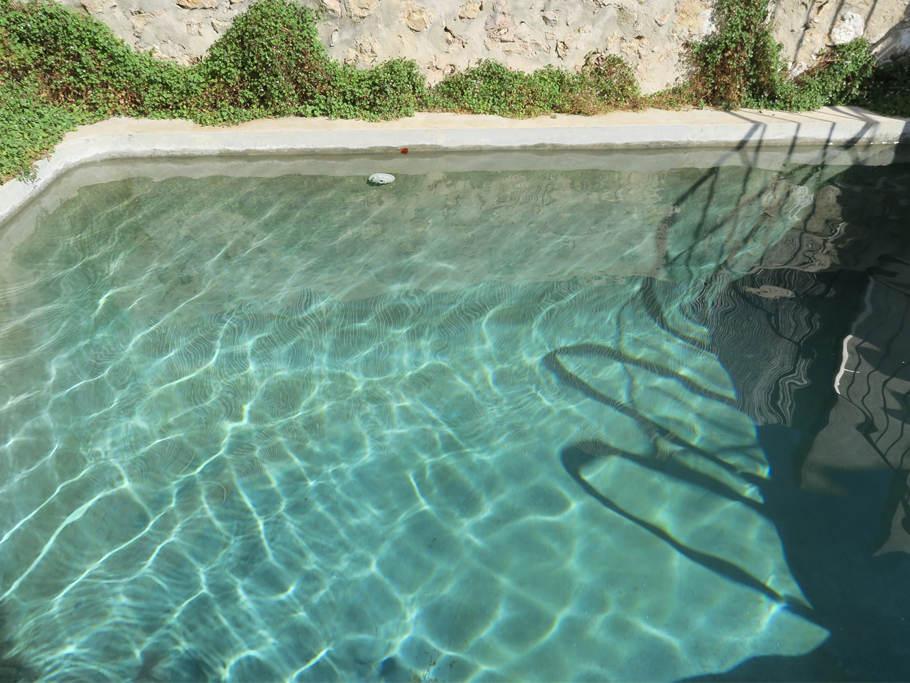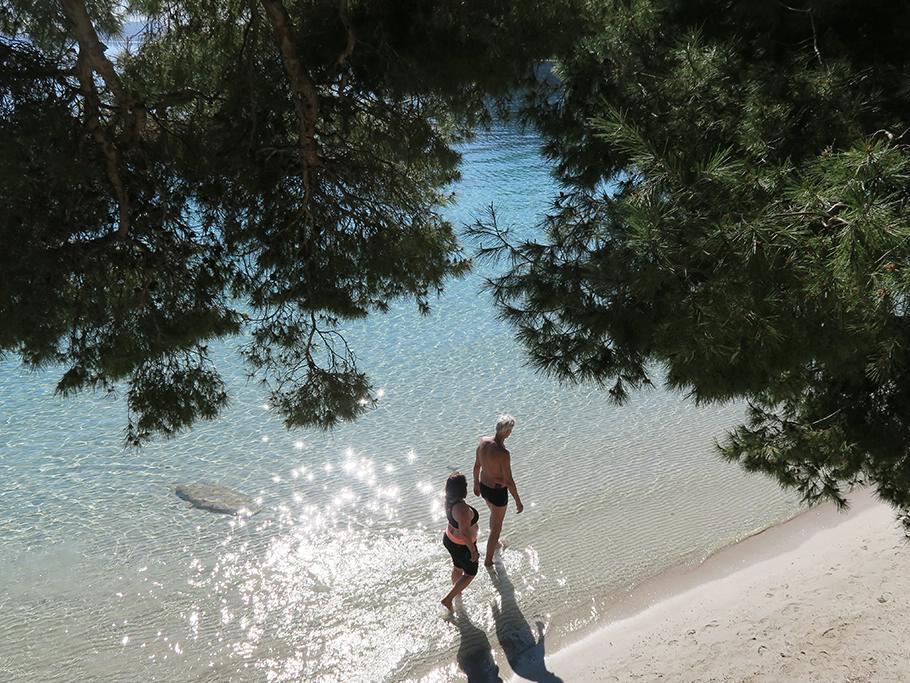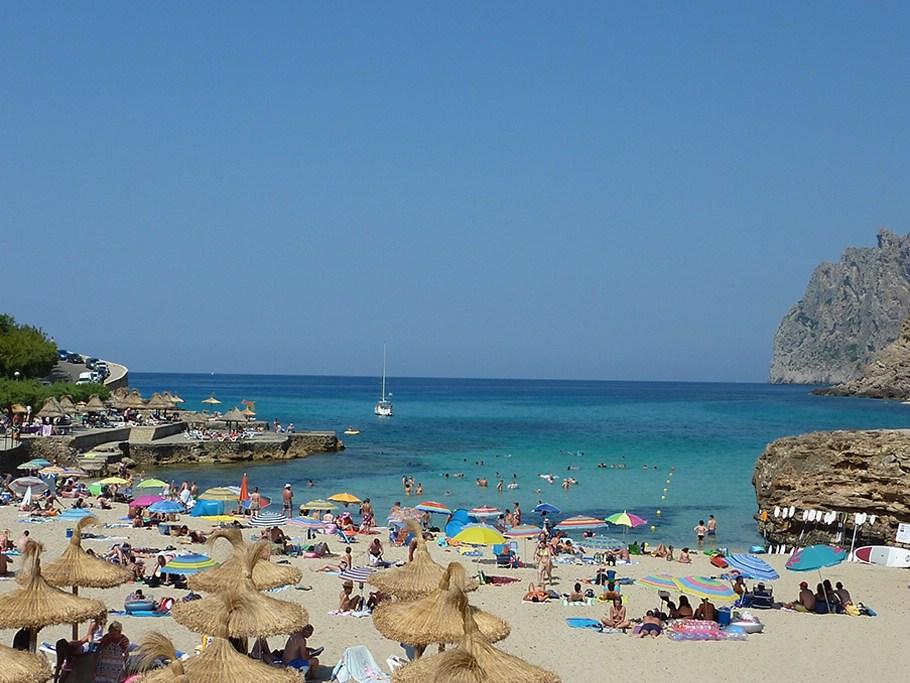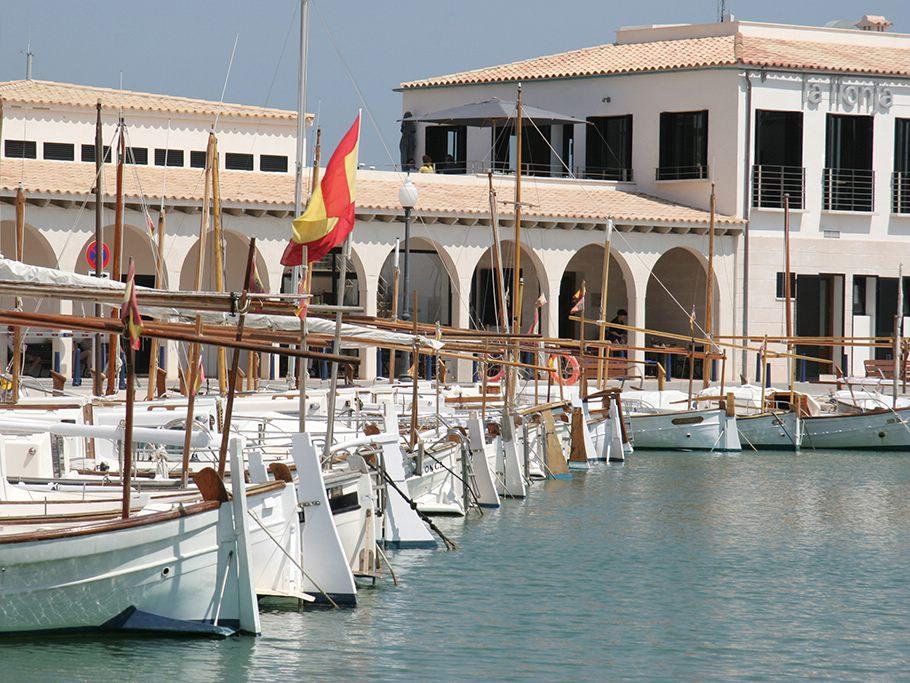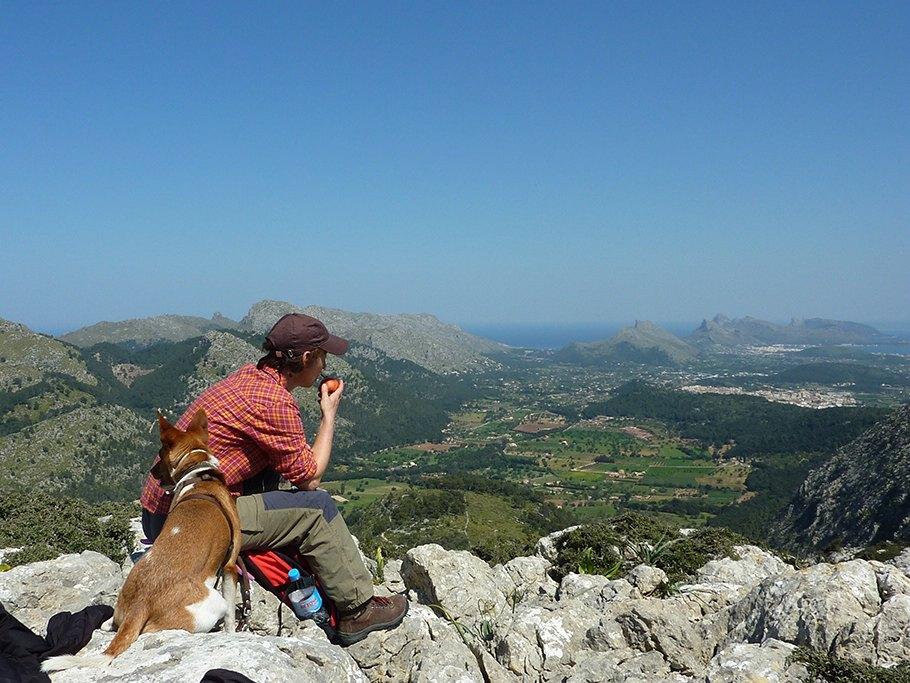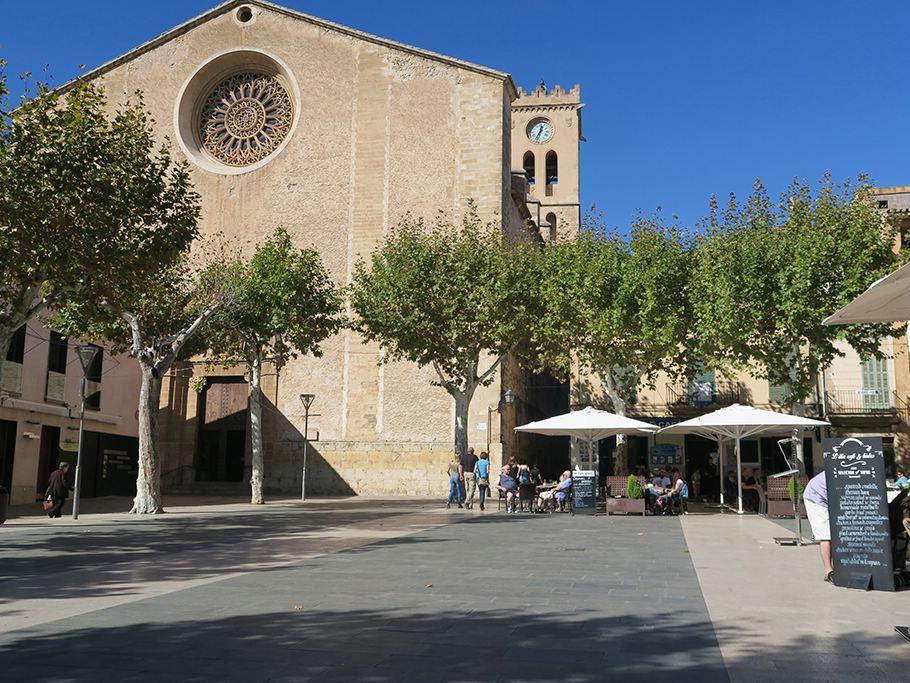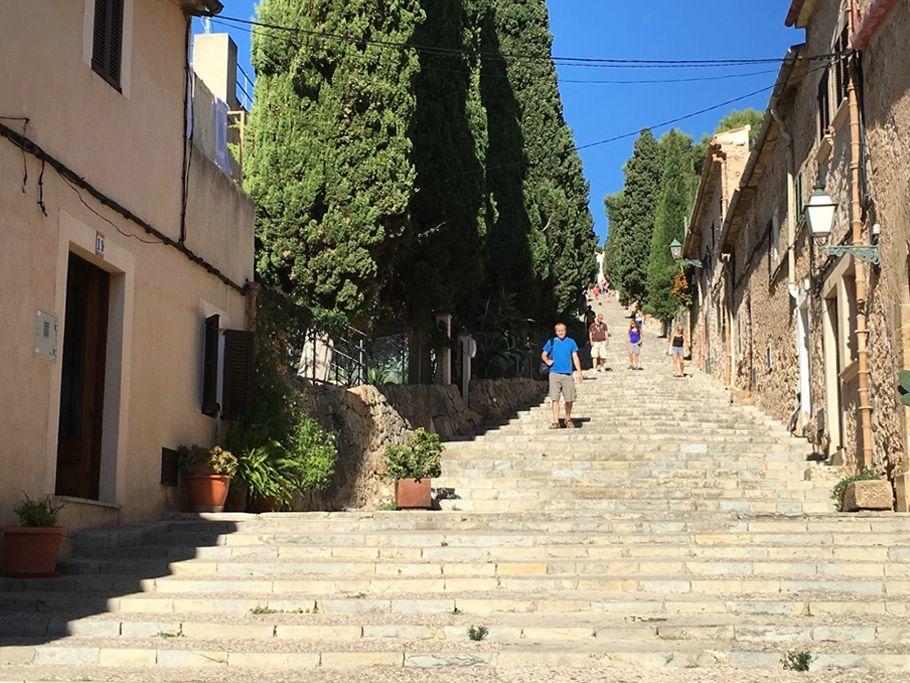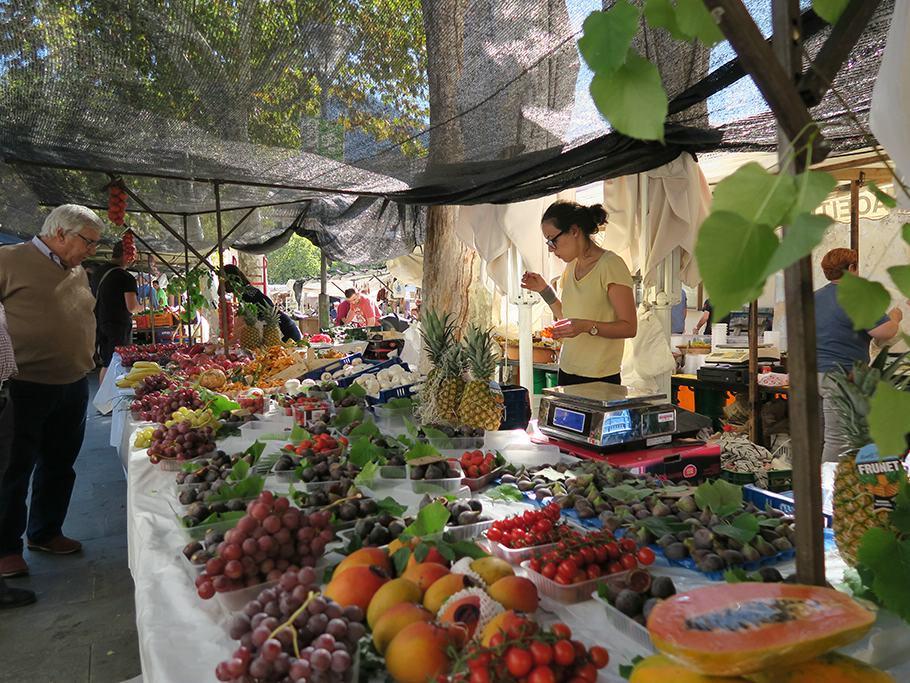 Living space:
approx. 110 m²
Bedrooms:
2 double bedrooms
Bathrooms:
2 (1 in courtyard)
Private Pool:
3,70 m x 3 m
Facilities:
courtyard, sun terrace, AC, wood stove, TV, washing machine, dishwasher, Wi-Fi, parking
Linen:
1x weekly linen, 2x weekly towels
Beautiful and tranquil Townhouse with private pool and spacious courtyard in Pollensa Old Town. Private parking
The antique town house in the historical quarter of Pollensa has been refurbished with love to the detail. It offers in the ground floor a sitting and a dining room and a kitchen which leads to the courtyard, with one bathroom. Upstairs there are two double bedrooms and a second bathroom. The sun terrace offers another retreat place.
Casa Jeroni is situated quiet and in the heart of the lovely Old Town, very close to the Main Square. The Sunday market attracts with the amazing fruit, food and flower stalls giving an abundance of colour and life to the main square, many artisan stalls line the side streets of the town and live music is performed creating a truly memorable experience.
The beaches of Cala San Vicente and Port de Pollensa are only a ten minute drive from the town.
07.01. – 04.04.:
750 €/ week
04.04. – 20.06.:
900 €/ week
20.06. – 12.09.:
1.190 €/ week
12.09. – 03.10.:
900 €/ week
03.10. – 31.10.:
820 €/ week
01.11. – 19.12.:
750 €/ week
19.12. – 07.01.:
850 €/ week
Requires 7 nights minimum stay
Arrivals daily
Eintrag vom 06.01.20
Wir haben unsere Weihnachtsferien in einem kleinen Stadthaus auf Mallorca verbracht und haben dort einen wunderbarren Urlaub verlebt! Das Haus war sehr gemütlich, ließ sich über den Kamin und die Klima-Anlage sehr gut heizen und die kleine, geschützte Terasse bot die Möglichkeit, an schönen Tagen die Wintersonne zu genießen. Während der Nebensaison ist die Stimmung in der Stadt (Pollenca) sehr entspannt, überall herrschten eine freundliche, angenehme Atmosphäre – auf jeden Fall eine gute Möglichkeit, als Alternative vom "klassischen Sommerurlaub" die "Insel des Lichts" kennenzulernen!
Eintrag vom 15.08.2019
Casa Jeroni was spotlessly clean on arrival and is very well equipped. For just a two/three bed, it is very spacious.
The outside area is gorgeous! A real sun trap and the pool perfect for cooling off.
The house has a great location, a pretty "no through" road which is really quiet and yet it is so easy to walk to all the shops and restaurants. This house is a total gem and we had a fantastic time in Pollença.
The house is far prettier than I expected!
Eintrag vom 01.05.2019
Fantastiskt hus mitt i Pollensa! Lagom för familj med två barn. Liten söt pool för skön svalka.
Eintrag vom 01.03.2019
Liebe Frau Prager,
vielen Dank für die Vermittlung dieses wunderschönen, gemütlichen Stadthauses. Es liegt tatsächlich ruhig und doch zentral und ist schön hell. Wir haben uns sehr wohl gefühlt und abends oft den Kamin angemacht – ein schönes Haus auch für die Nebensaison. Den Pool konnten wir im Februar leider nicht nutzen. Wir müssen also wieder kommen. Auf jeden Fall kann man dieses Haus empfehlen.
Eintrag vom 16.10.2018
Hallo Frau Prager,
alles hat gut geklappt. Das Haus hat uns sehr gut gefallen, es war alles da. Der Ort hat uns sehr gut gefallen, auch zur Tiefgarage war es nicht weit. Wir waren baden und wandern, das Unwetter haben wir aus der Entfernung mitbekommen, natürlich sind wir auch reichlich nass geworden.
Mit freundlichen Grüßen
Catrin Schneider
Eintrag vom 12.09.2018
Wir waren schon oft auf Mallorca, aber das erste Mal in einem Stadthaus in Pollença. Das Haus war für uns perfekt. Zentrale und ruhige Lage, gute Ausstattung und individuelle Einrichtung – kein 0815 Ferienhaus. Das Wetter war nicht so toll, um so mehr haben wir uns dann über das gemütliche Haus gefreut. Wir werden in der Nebensaison mal kommen, um den Kamin zu nutzen. Vielen Dank für Ihre Gastfreundschaft, wir werden Sie weiter empfehlen.
Hasta pronto, Familie P.
Casa Jeroni
Tranquil Townhouse in Pollensa – with private pool and parking
from 108,00

€

/ night
Imported 13 bookings
Favorite