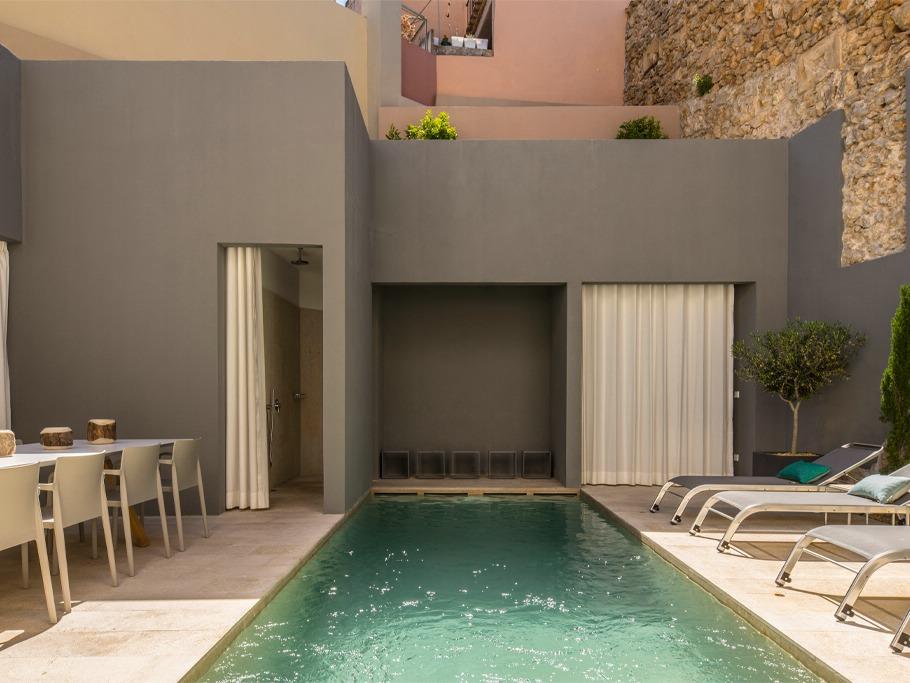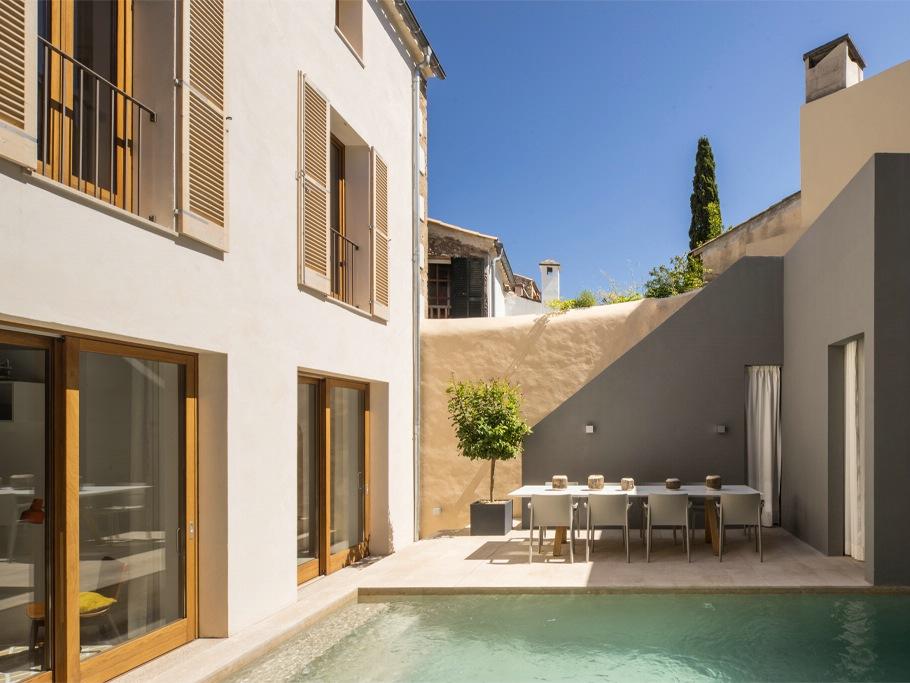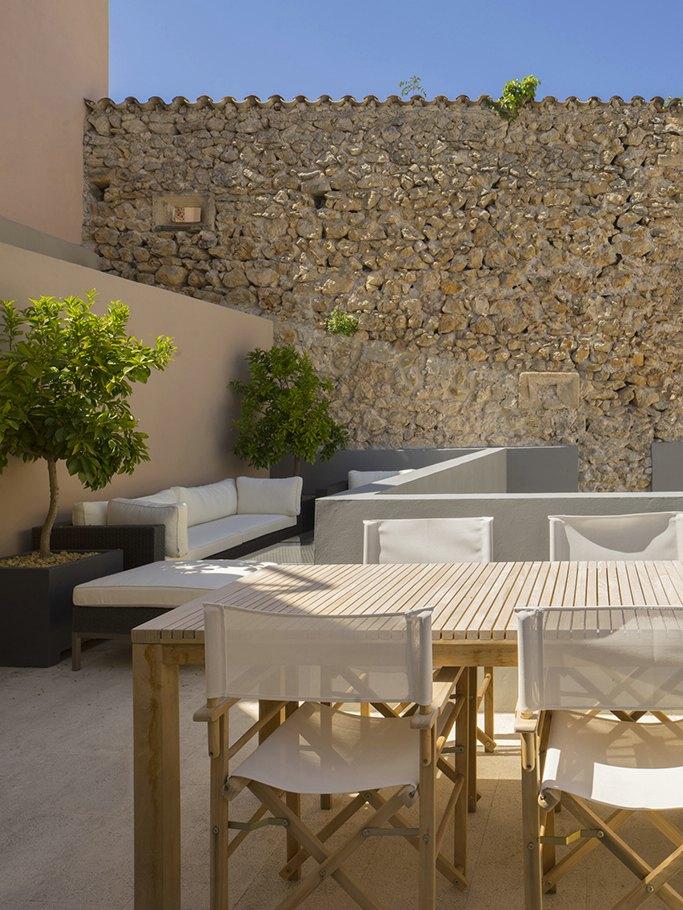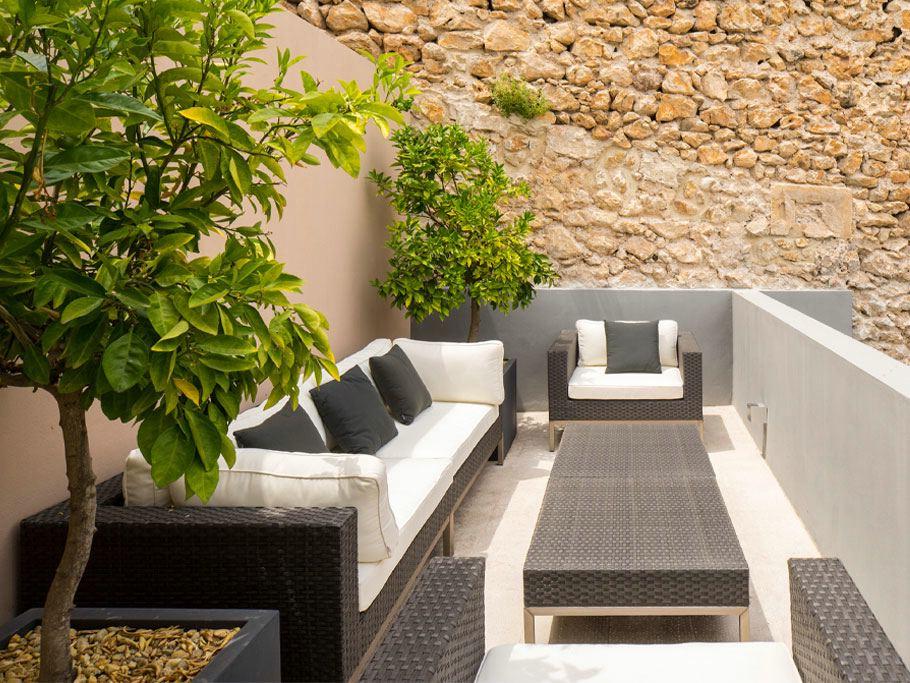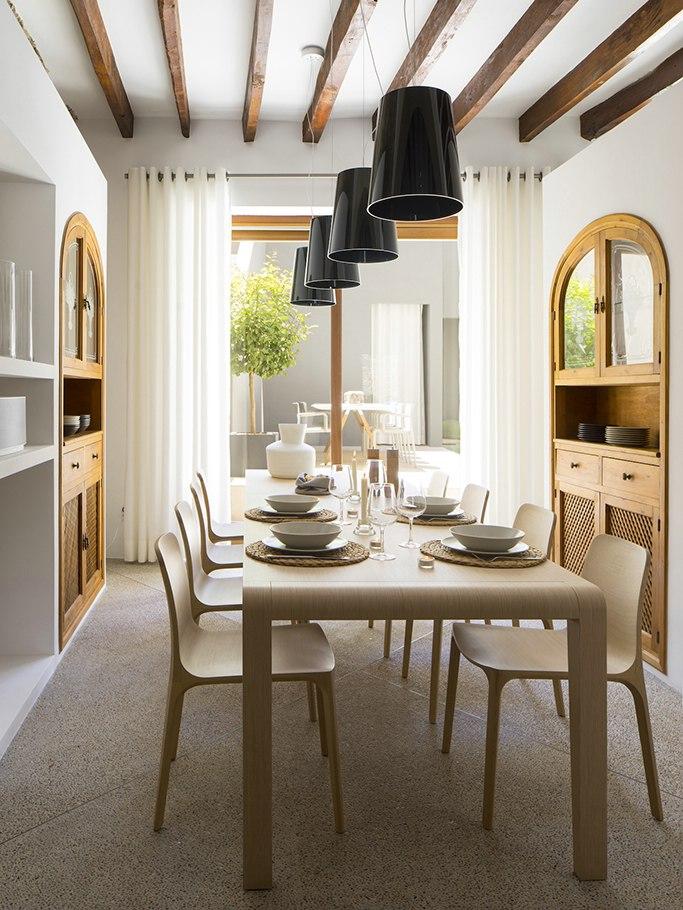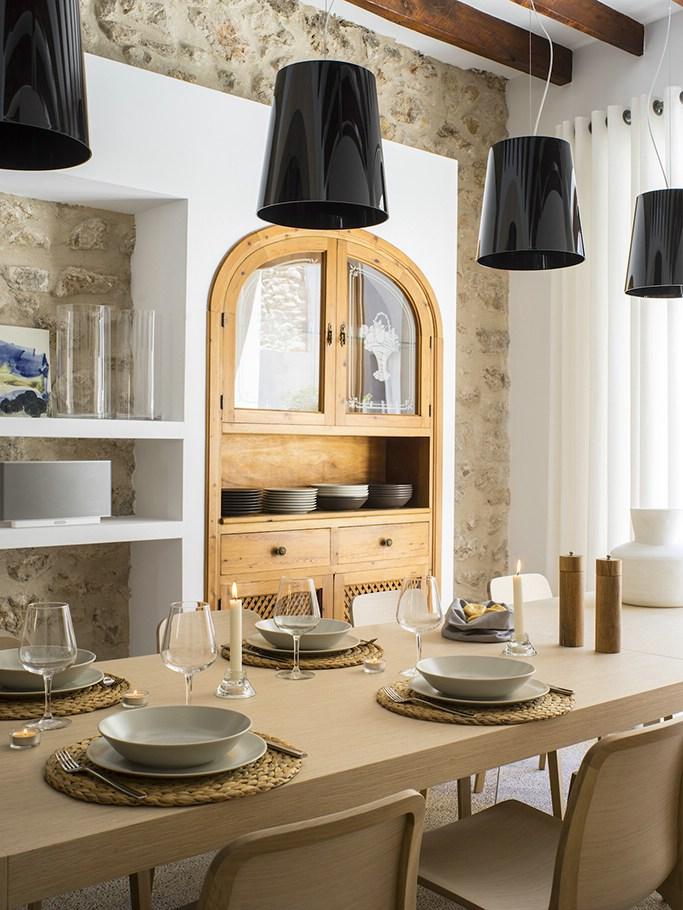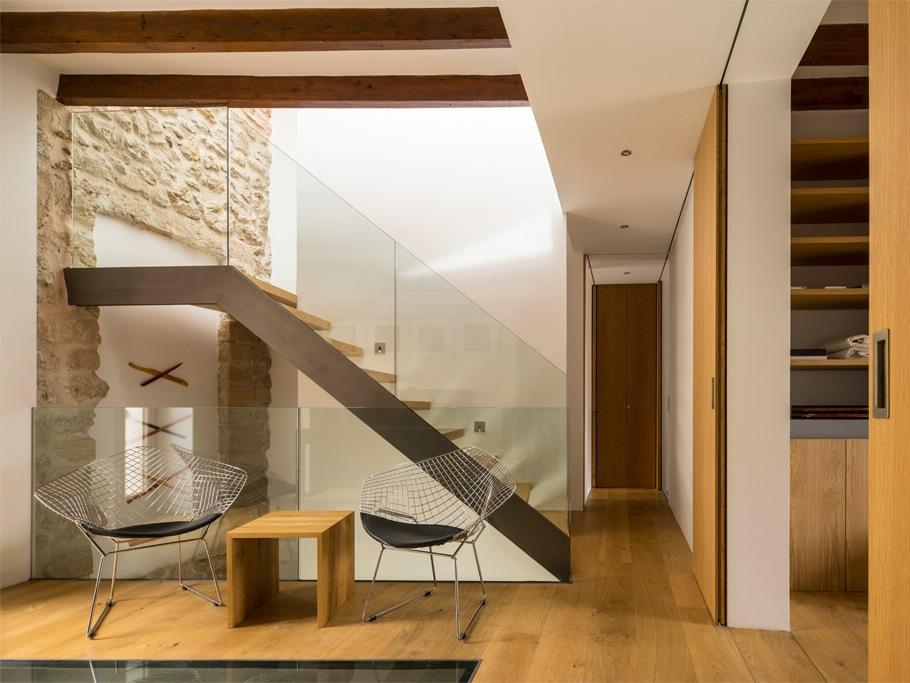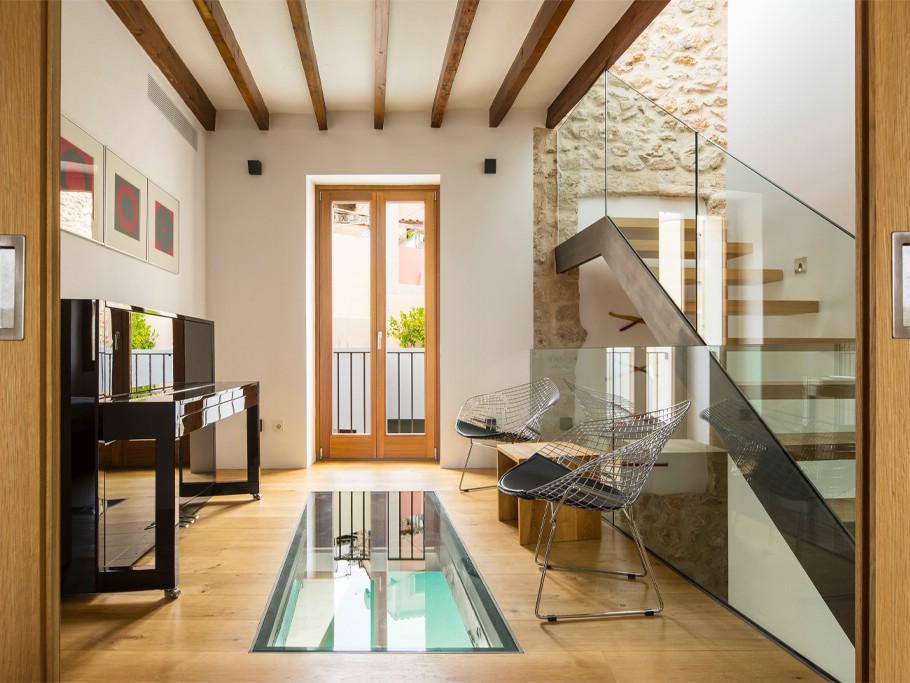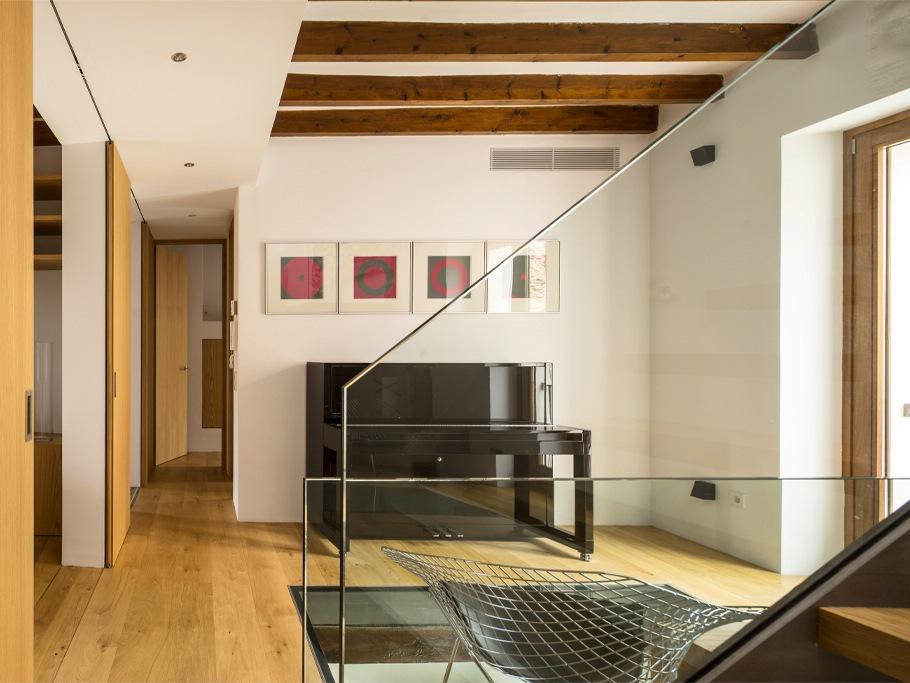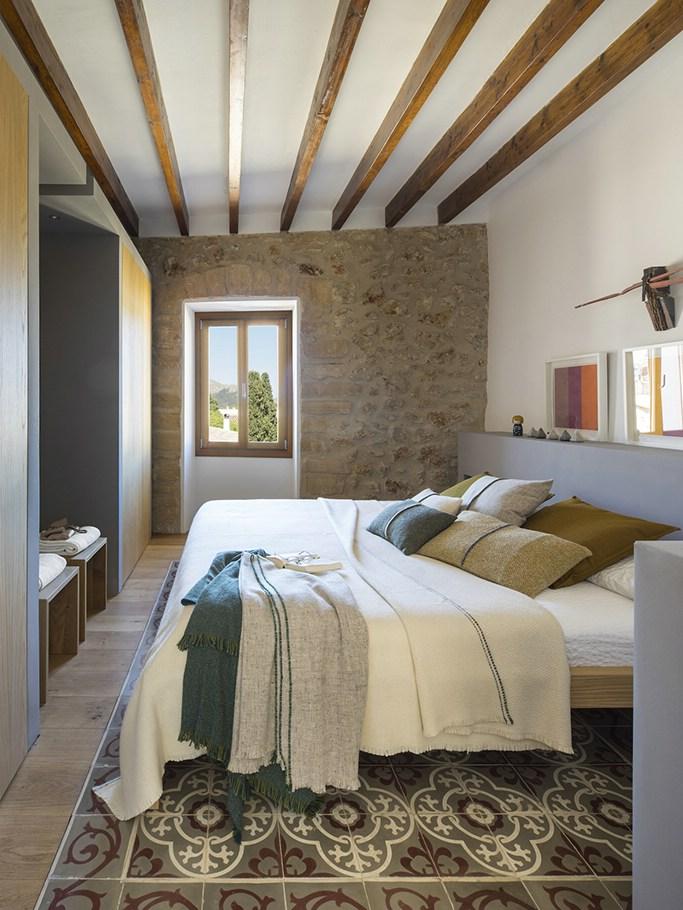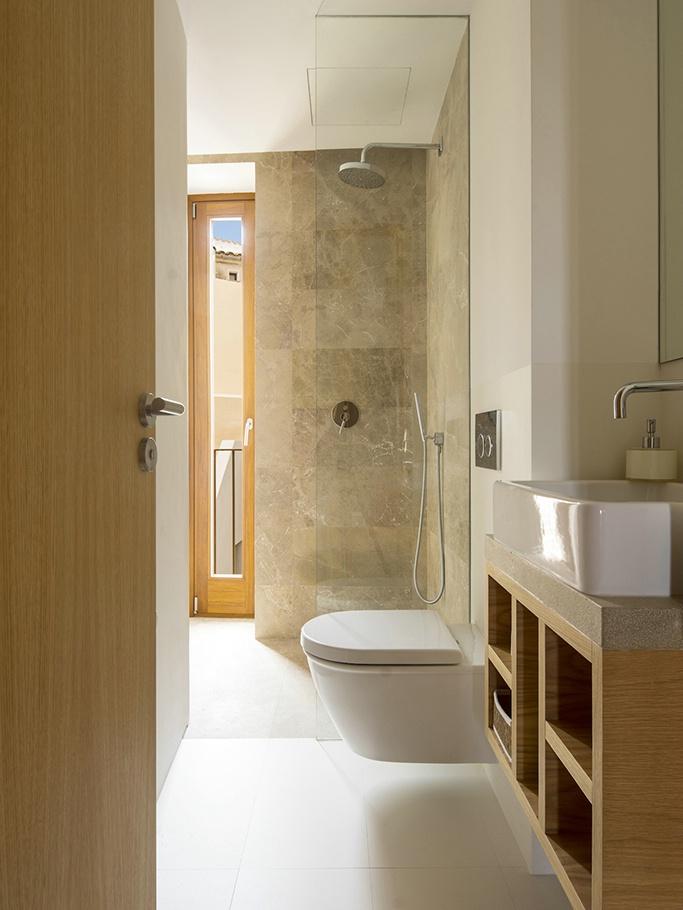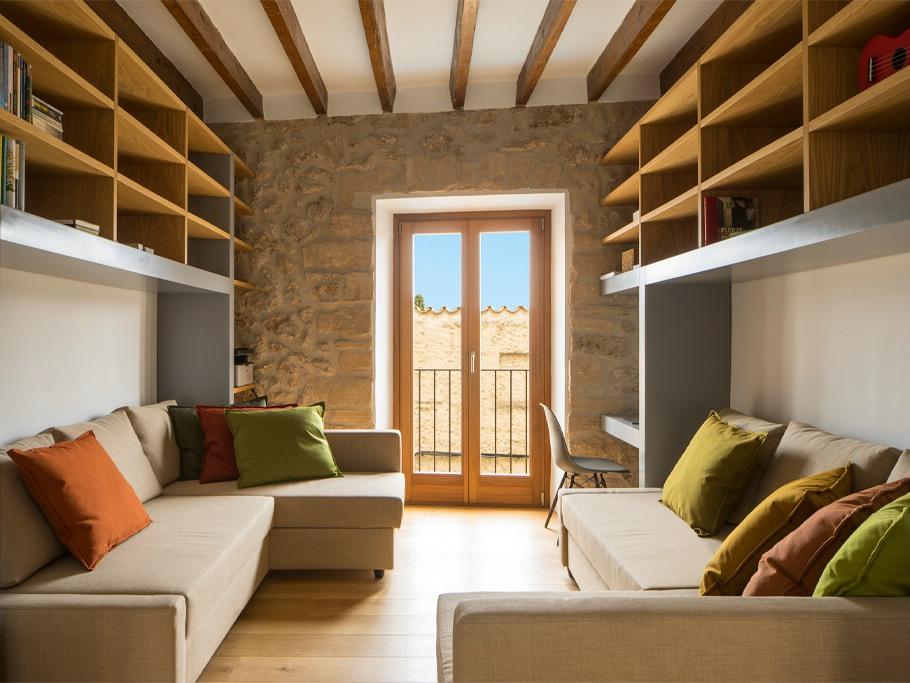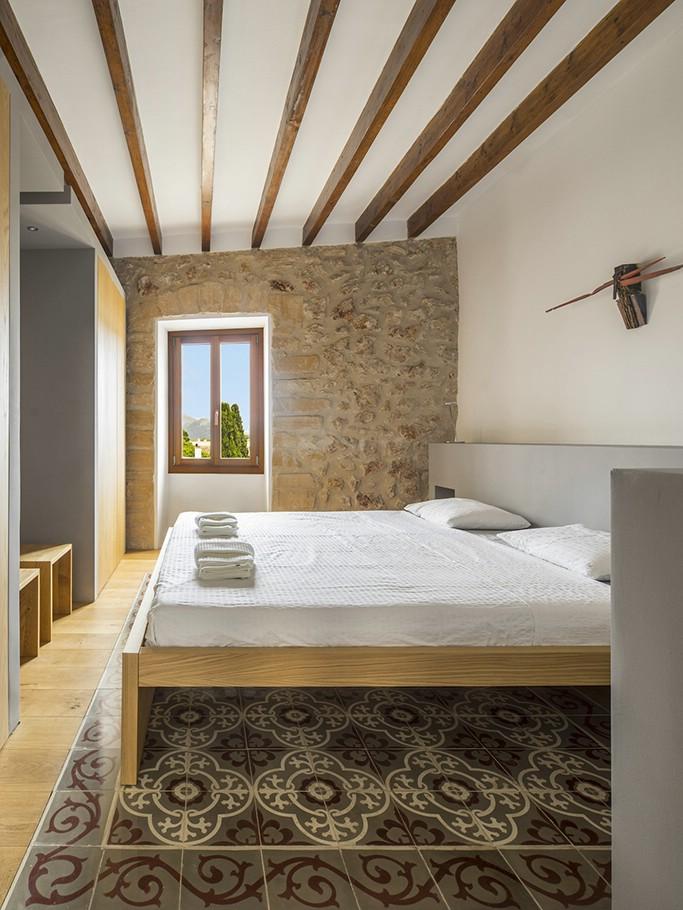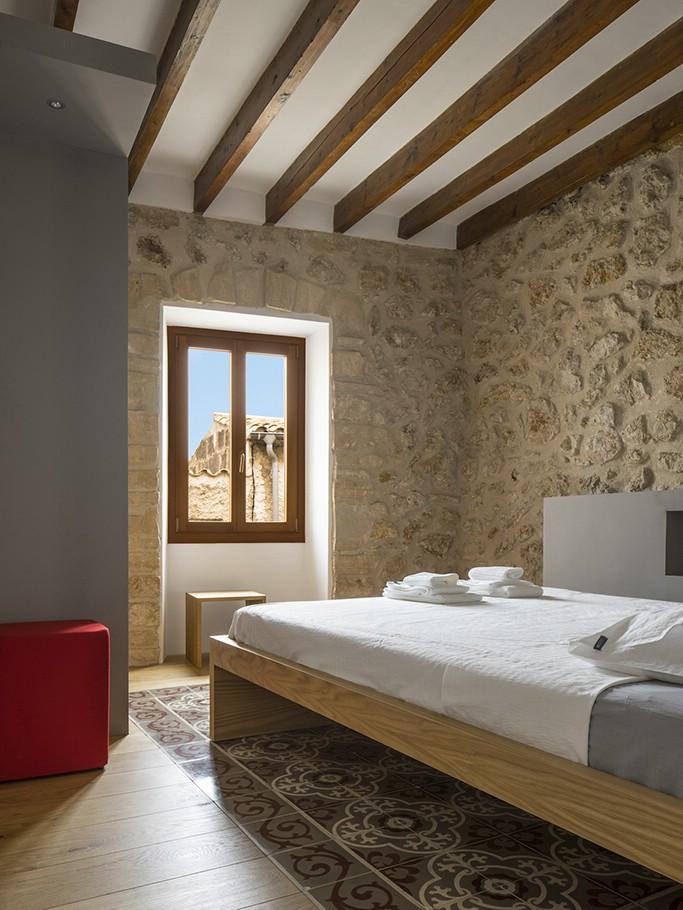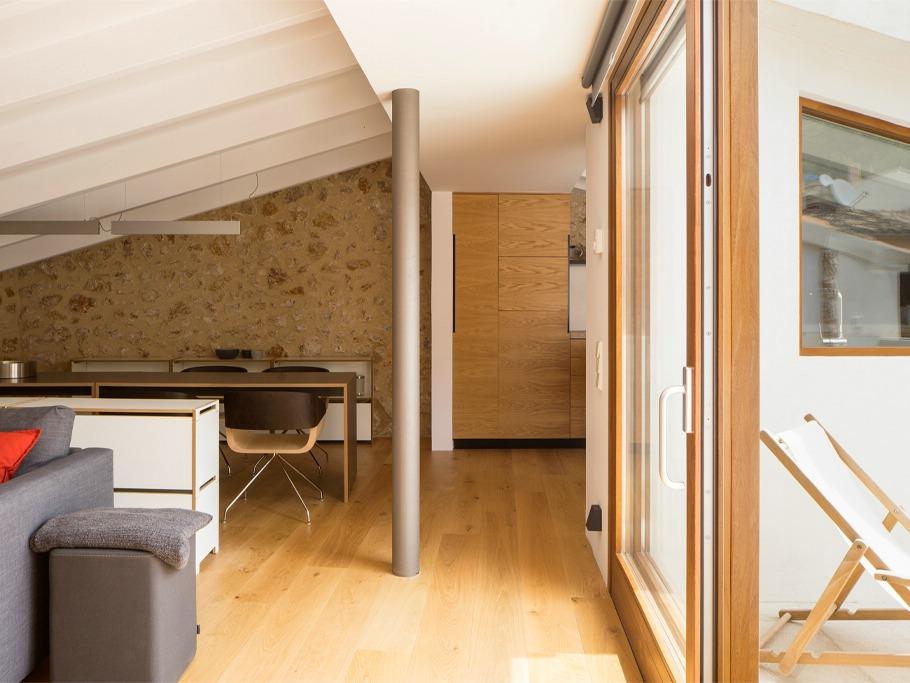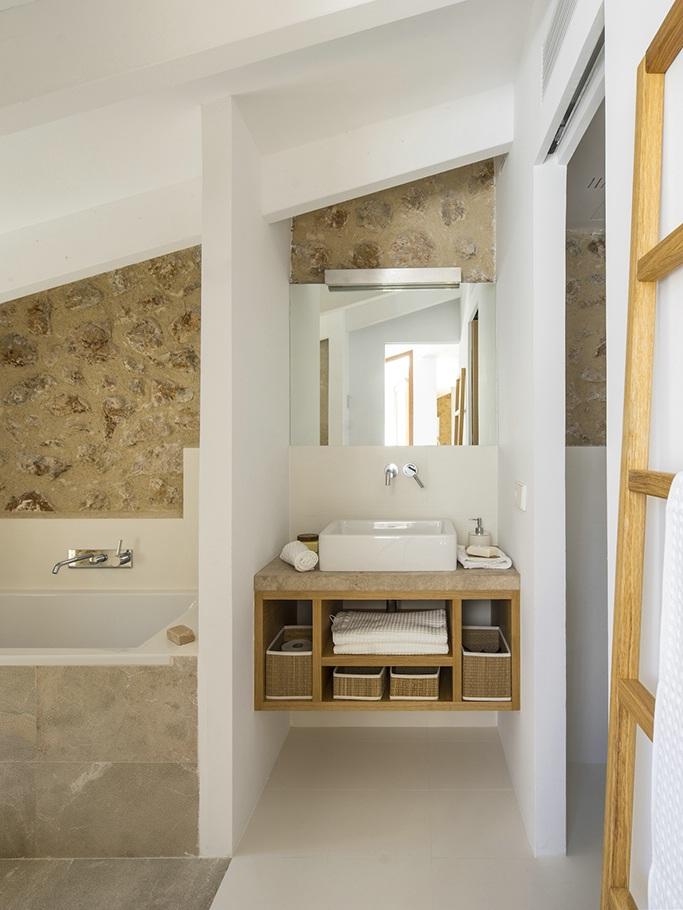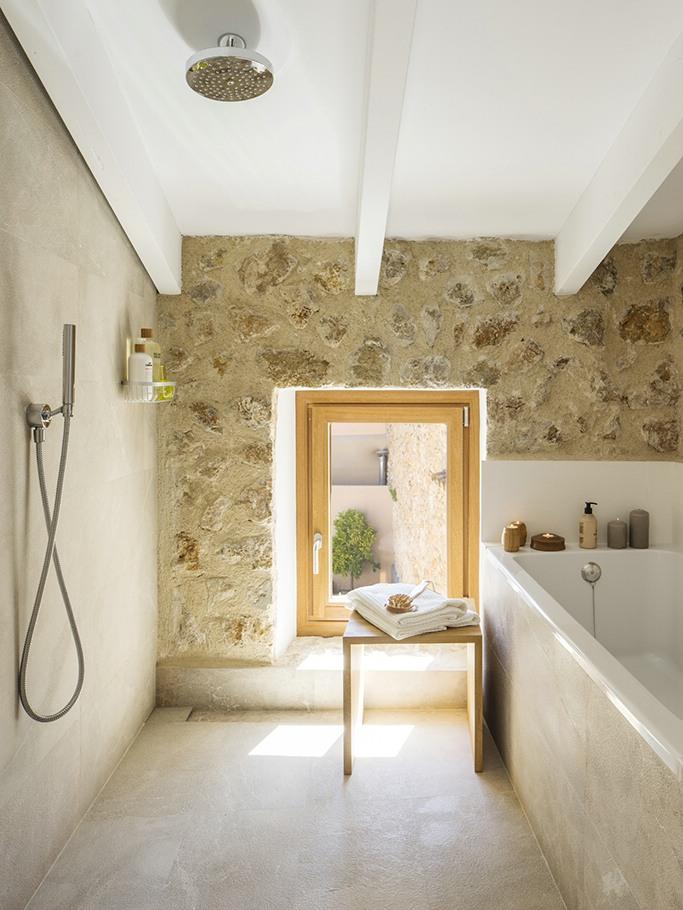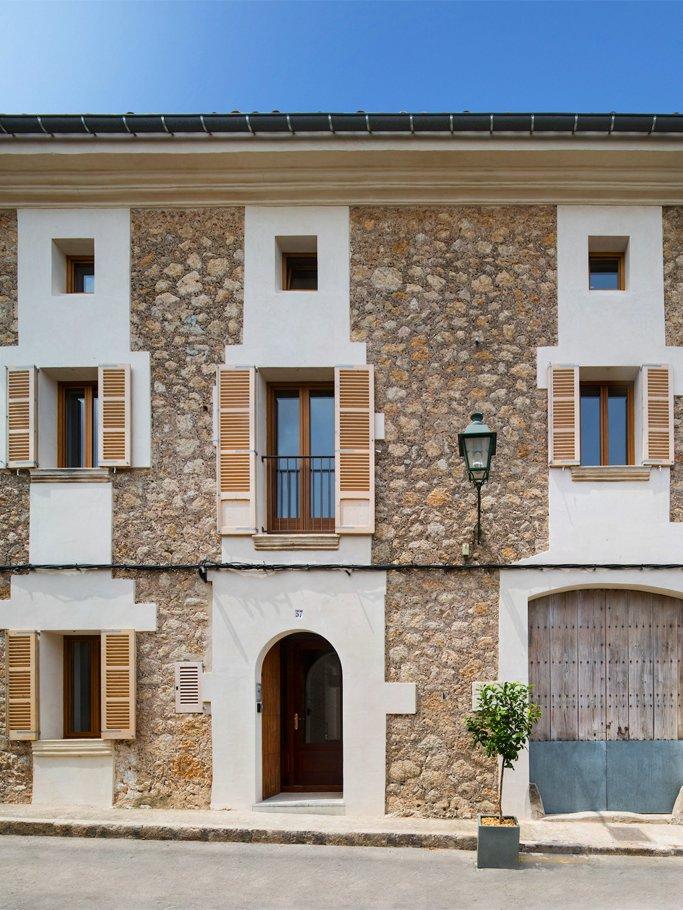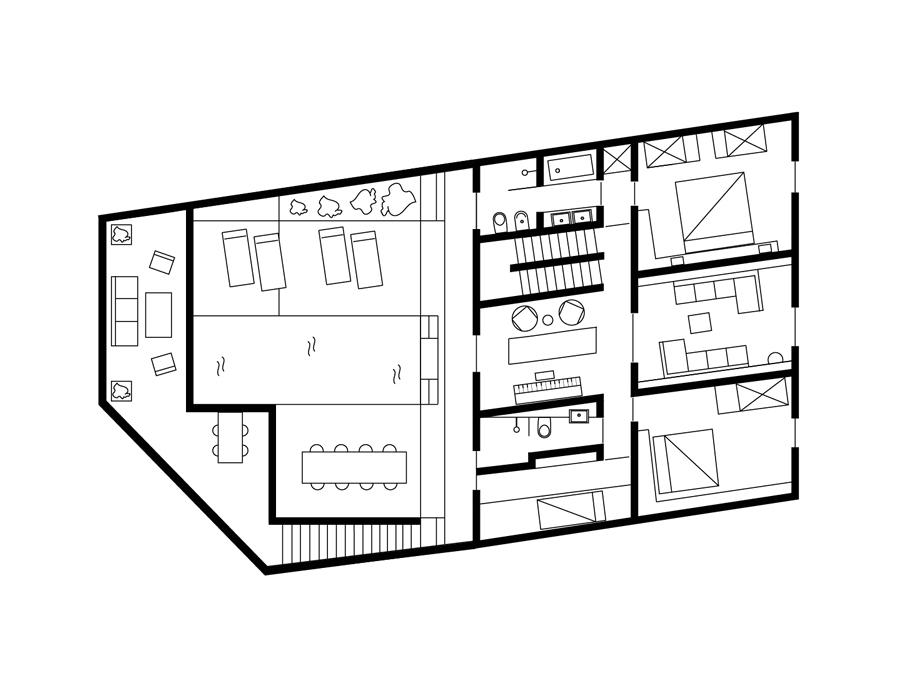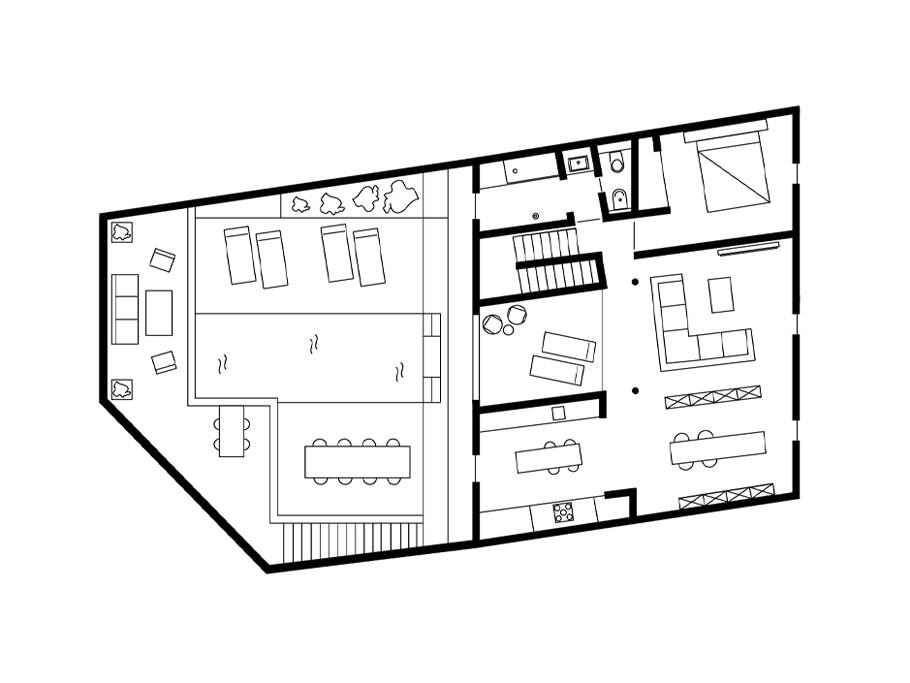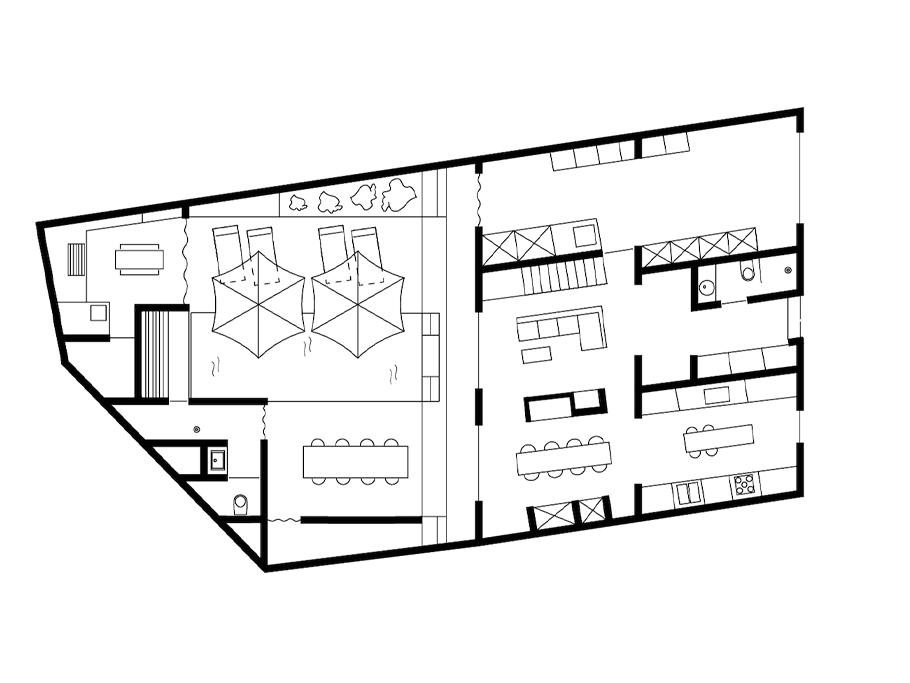 Living space:
approx. 320 m²
Bedrooms:
3 double bedrooms, 1 bedrooms with bunk beds
Bathrooms:
3, 1 at the pool area
Private Pool:
8 m x 2,20 m
Facilities:
sun deck, courtyard with BBQ, AC, Sat TV, Sonos music system, washing machine, tumble dryer, dishwasher, Wi-Fi, piano, pool with jet stream, pool towels
Linen:
1x weekly bed linen, 2x weekly towels
Arrivals:
from June to September on Saturday
Fantastic Townhouse in Pollença Old Town, private pool, courtyard and terraces.
Situated in the Historic Old Town of Pollensa, the house is a few minutes walk from the fabulous main square with all its pavement cafe bars , restaurants & shops on your door step. Great views and a big inner courtyard with different terraces, salt-water pool, sun beds, BBQ and dining tables on all levels allow a summer and holiday life outdoor. In winter, the house is warmed and has an extra wood-burner for pleasent atmosphere. The house offers 3 double bedrooms and an additional cozy bedroom with bunkbed, 4 bathrooms (plus one outdoor bathroom near the pool), a reading room with desk, a large and well-equipped kitchen with dining room, living room, the large patio with pool and orange trees, roofed outdoor BBQ, TV, Wifi. The landmarked mansion is exceptionally designed and furnished by the owners, who are designers.
Casa Leon is a holiday home in Pollensa for high demands and for every season. A peaceful retreat, perfect for those who want to relax yet still be within short walking distance of shops, cafe bars and restaurants. Casa Leon is ideal for a family holiday or a trip with friends. It takes a 10 minutes minutes drive to beautiful sandy beaches with fabulous mountain scenery. There is wind-surfing, diving, golf, cycling and excellent horse riding nearby.
11.01. – 14.03.:
2.400 €/ week
14.03. – 04.04.:
2.400 €/ week
04.04. – 02.05.:
2.800 €/ week
02.05. – 16.05.:
2.400 €/ week
16.05. – 13.06.:
2.800 €/ week
13.06. – 29.08.:
3.600 €/ week
29.08. – 24.10.:
2.400 €/ week
24.10. – 07.11.:
2.800 €/ week
07.11. – 28.11.:
1.800 €/ week
28.11. – 09.01.:
2.400 €/ week
Prices are shown for a stay with 2 people and 7 nights. 150 €/ week extra per person extra
Deposit 1.500 €
200 kwH/ week for AC are included
From June to September arrivals on Saturday
Eintrag vom 04.07.2019
Dieses Traum Herrenhaus, dessen geschmackvolle Einrichtung – eine Mischung aus mallorquinischer Tradition, klar abgegrenzten modernen Details und skandinavischer Klarheit, möchte man nicht wieder verlassen. Nach kürzester Zeit fühlt man sich als "Príncipe" zuhause. Wenige Schritte vom Trubel des Marktgeschehens und vielen ursprünglichen Tapasbars entfernt, in einer kleinen, aber lebendigen mallorquinischen Stadt, in der die Touristen noch deutlich in der Minderheit sind, erholt man sich selbst am Besten zuhause am türkisgrünen Salzwasser Pool zwischen Orangenbäumen und Sternenhimmel – unbedingt empfehlenswert und einzigartig.
Eintrag vom 22.11.2018
Ein perfekter Aufenthalt in Pollença. Seit Jahren kommen wir zweimal im Jahr nach Pollença – diesmal haben wir die perfekt Unterkunft für uns gefunden. Von der Beratung über Abwicklung bis zur Betreuung vor Ort – wir waren 100 % zufrieden und kommen wieder. Gerne empfehlen wir Sie weiter!