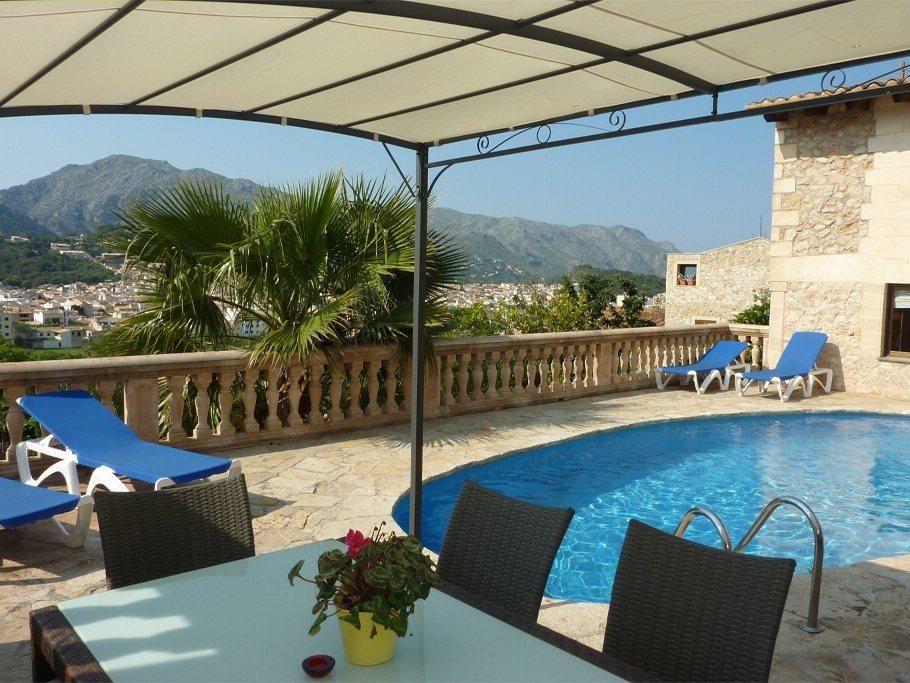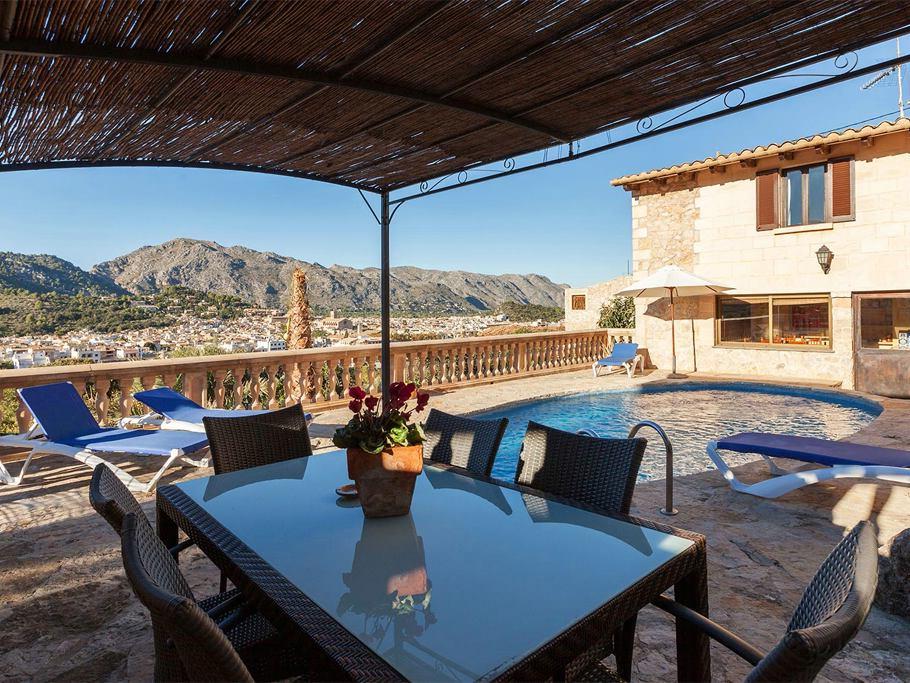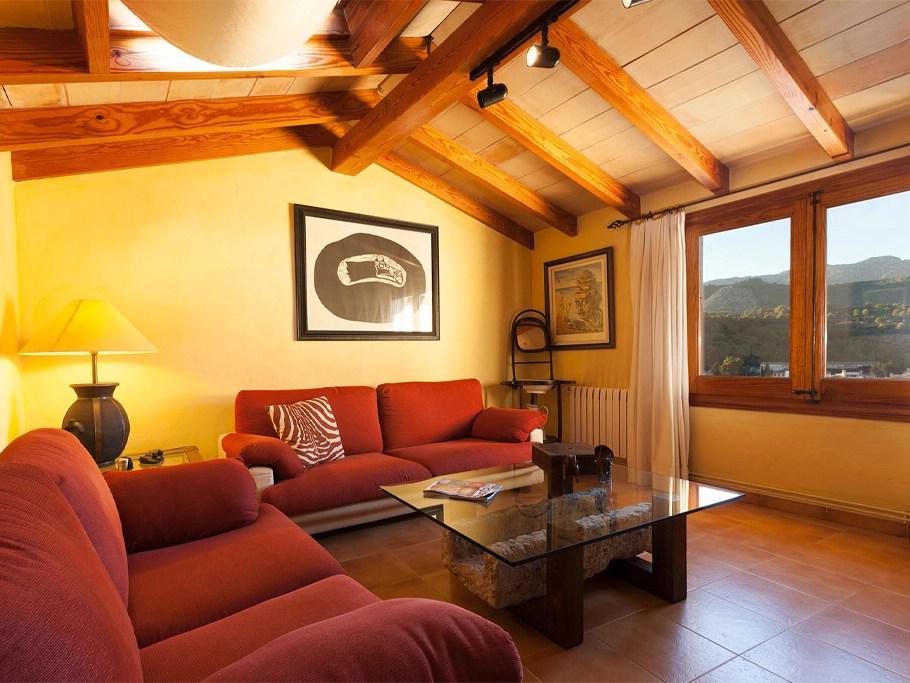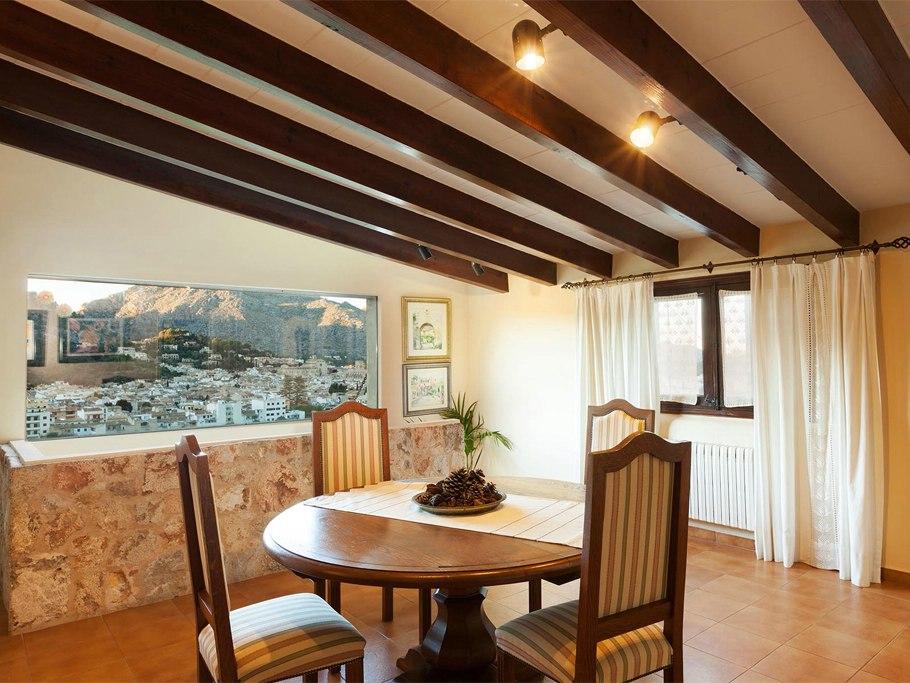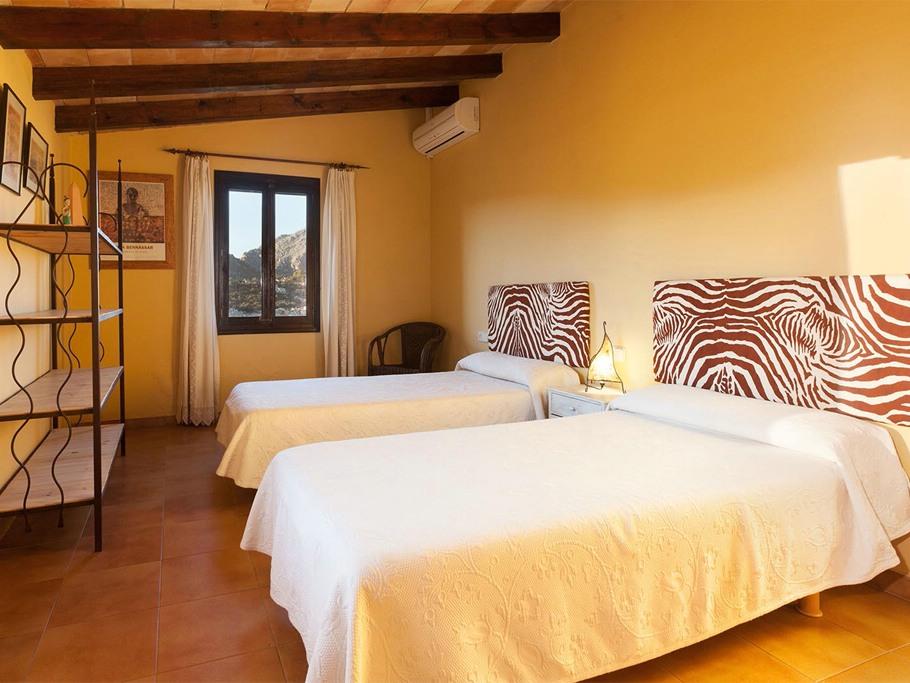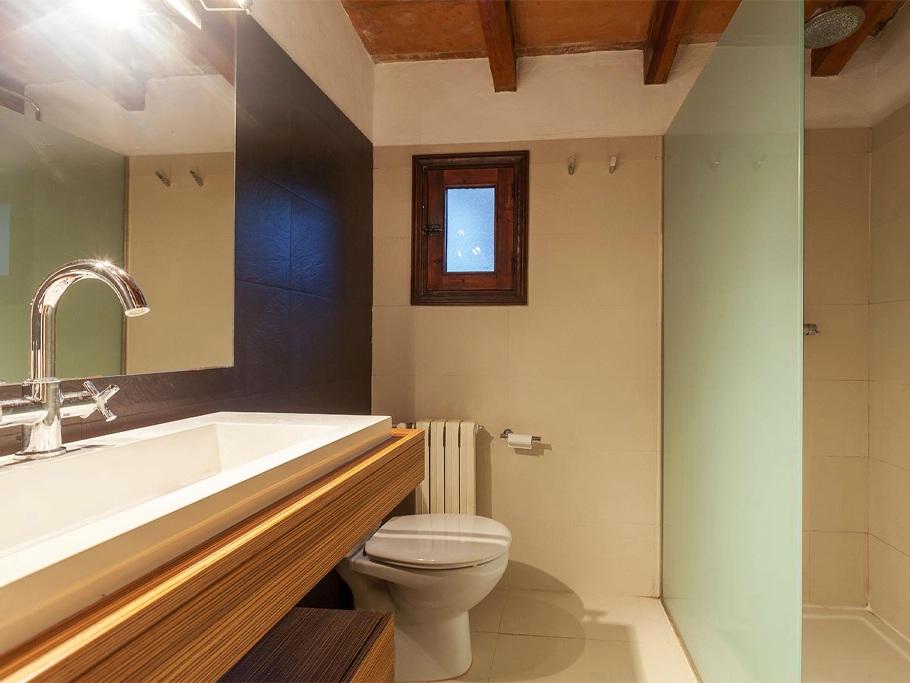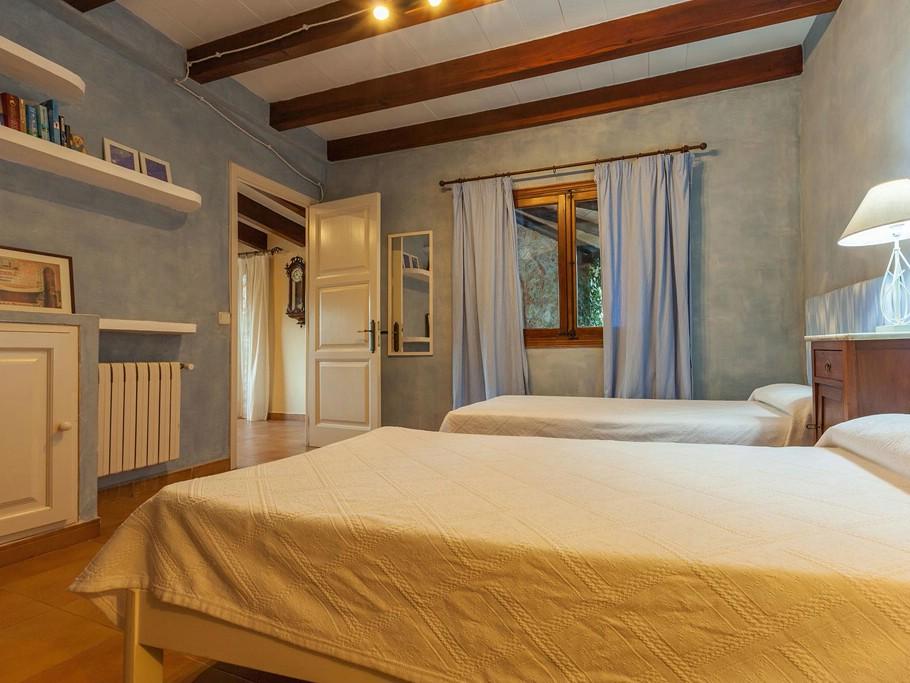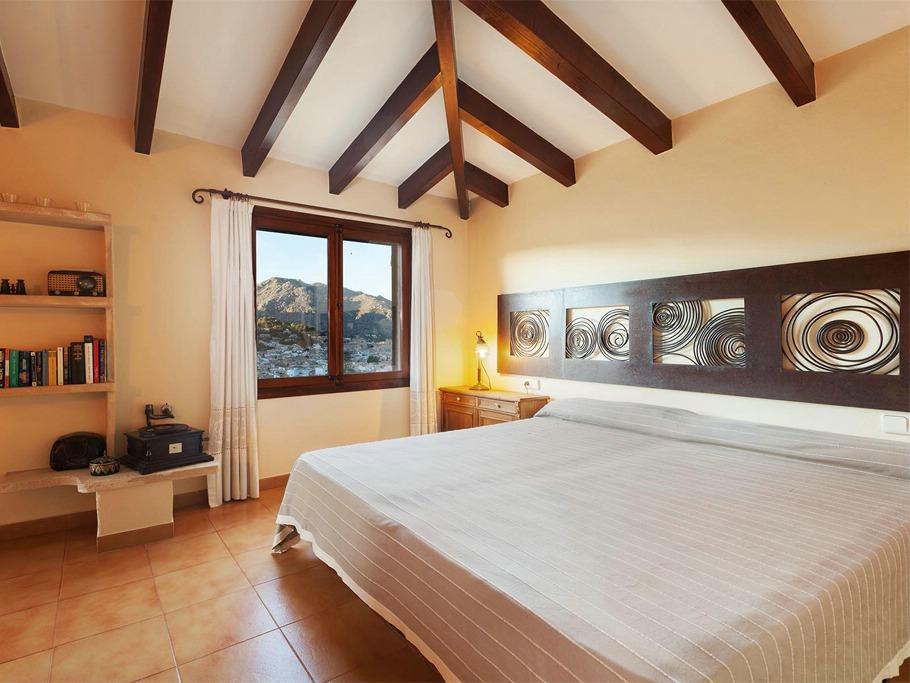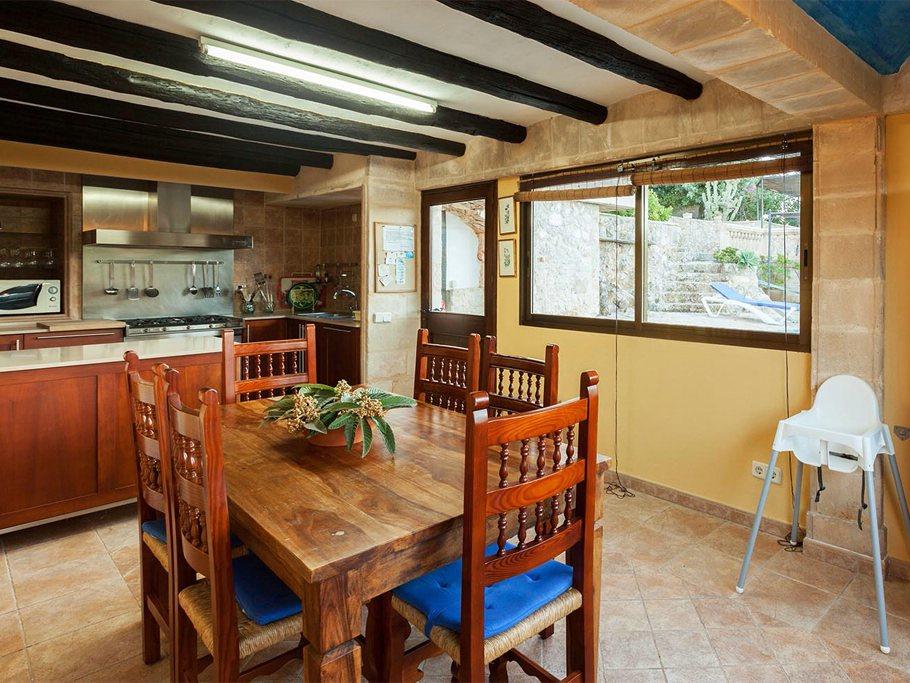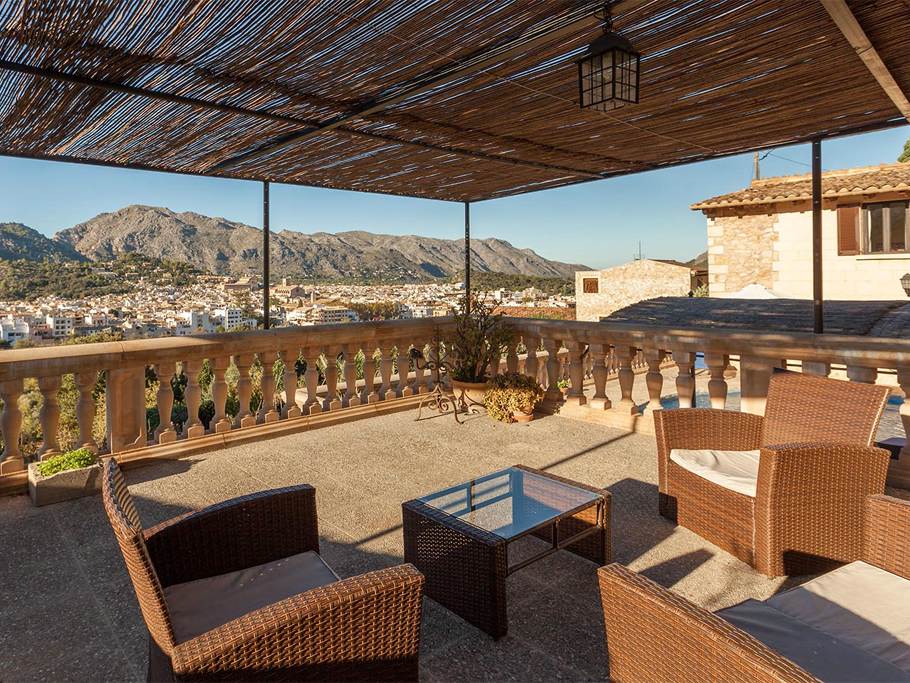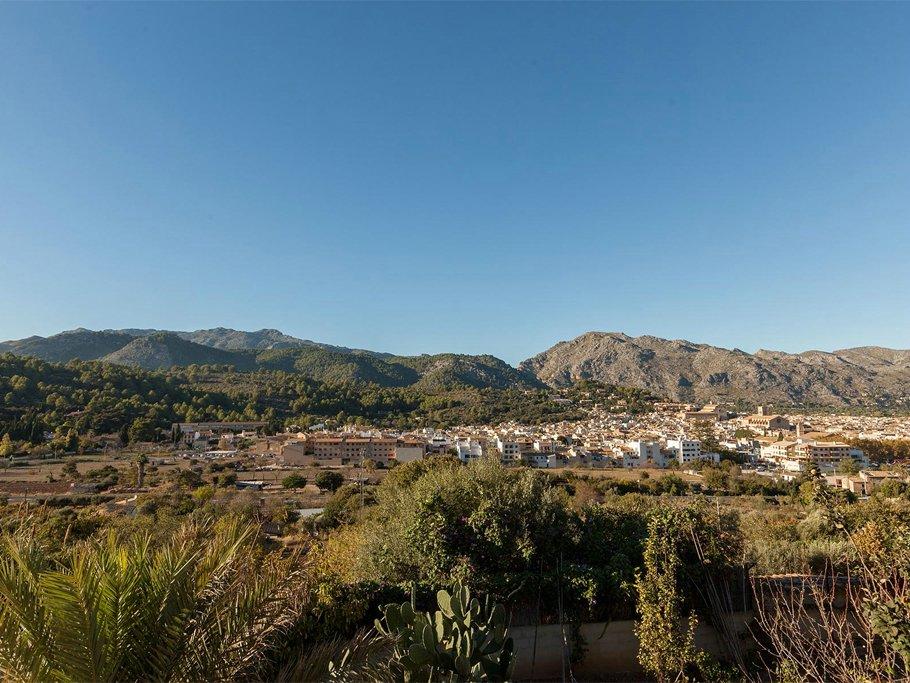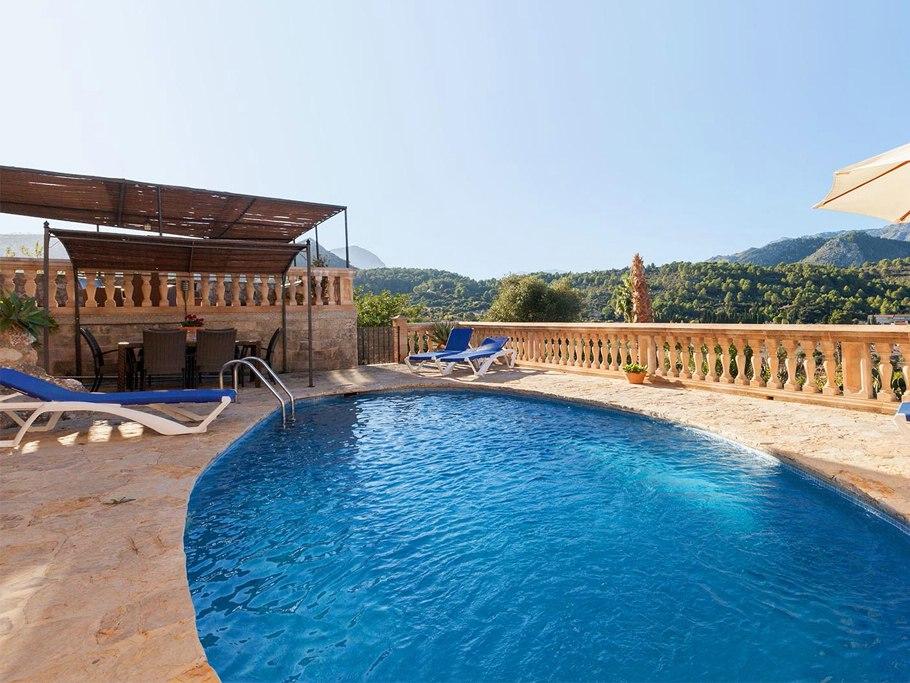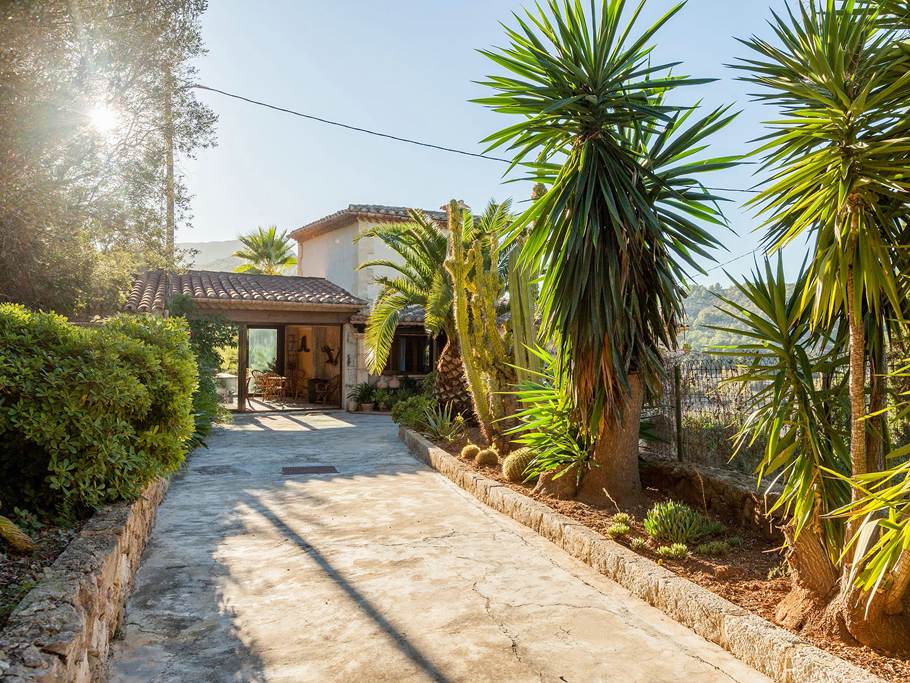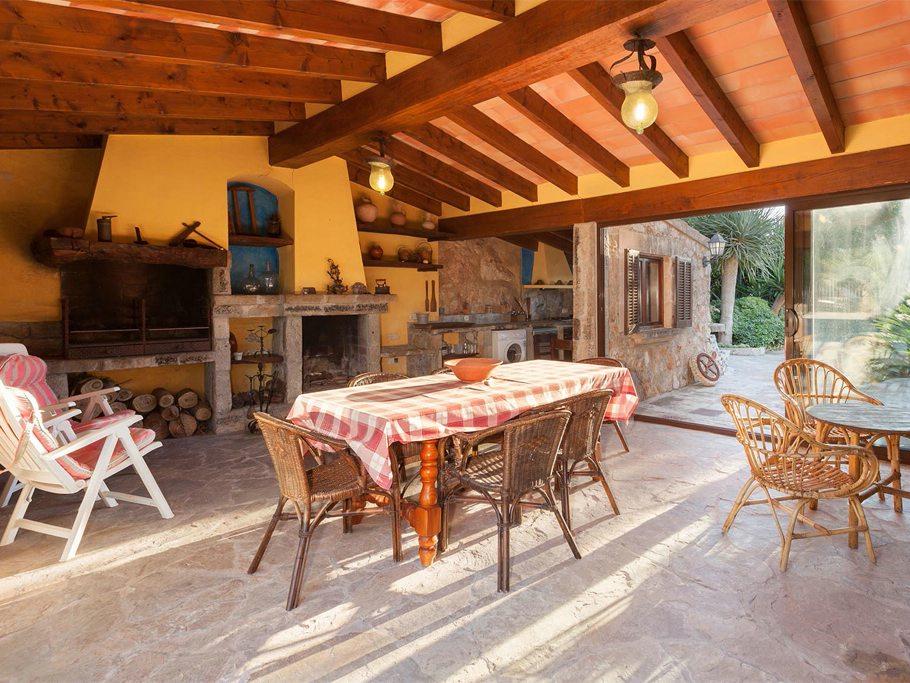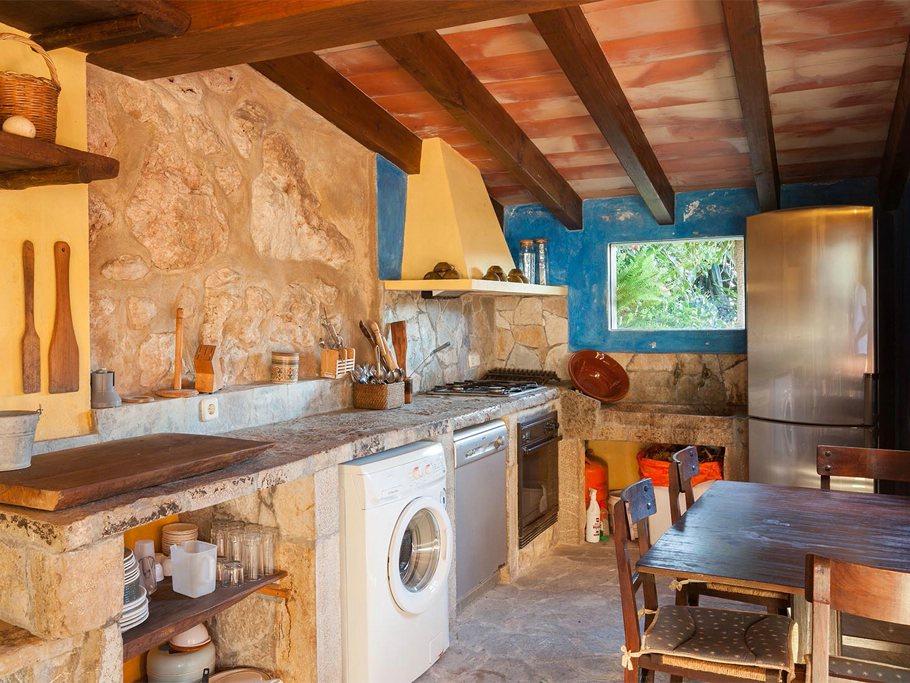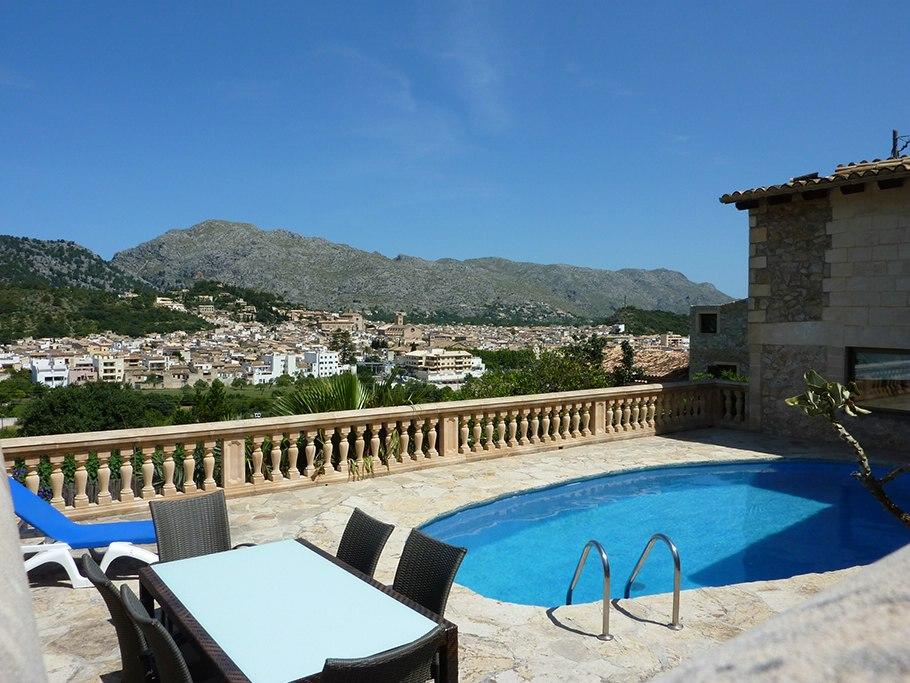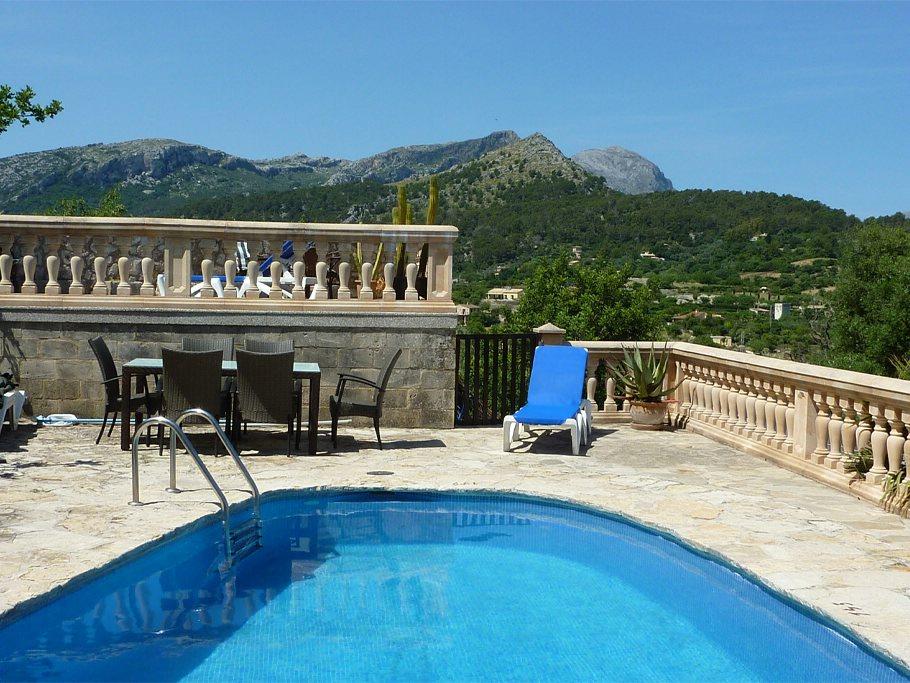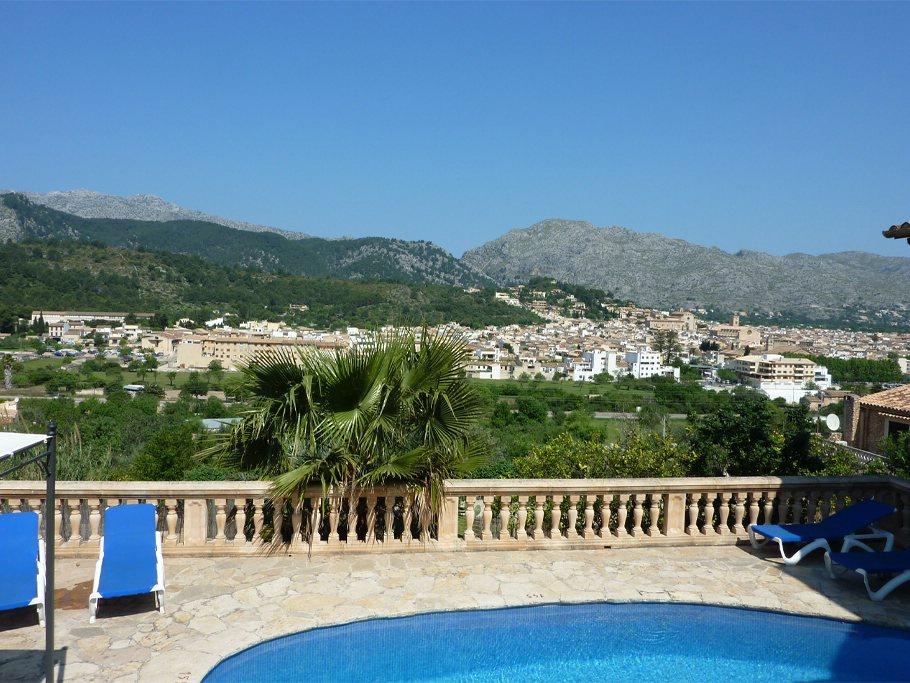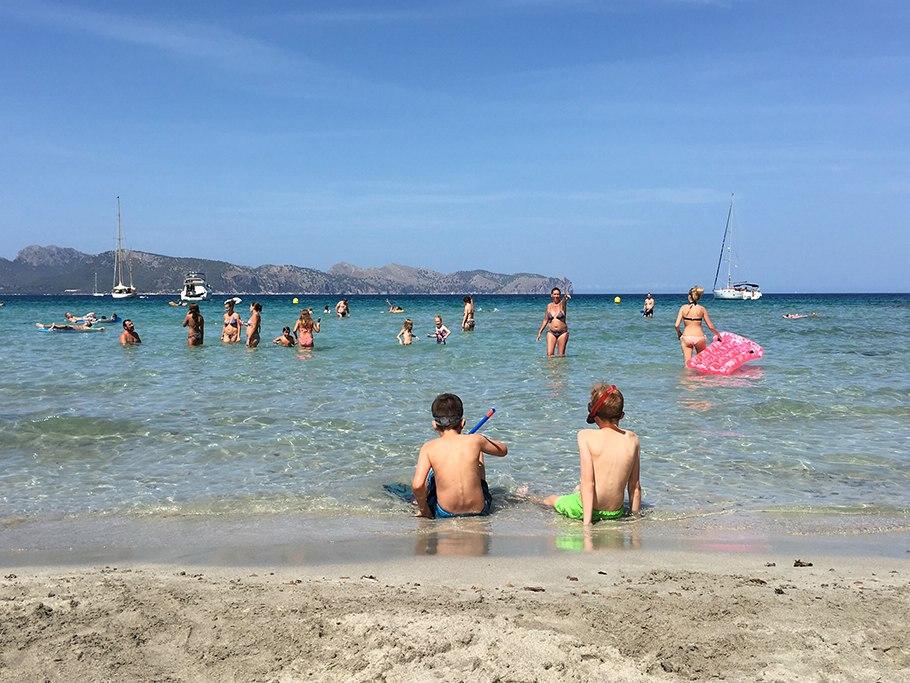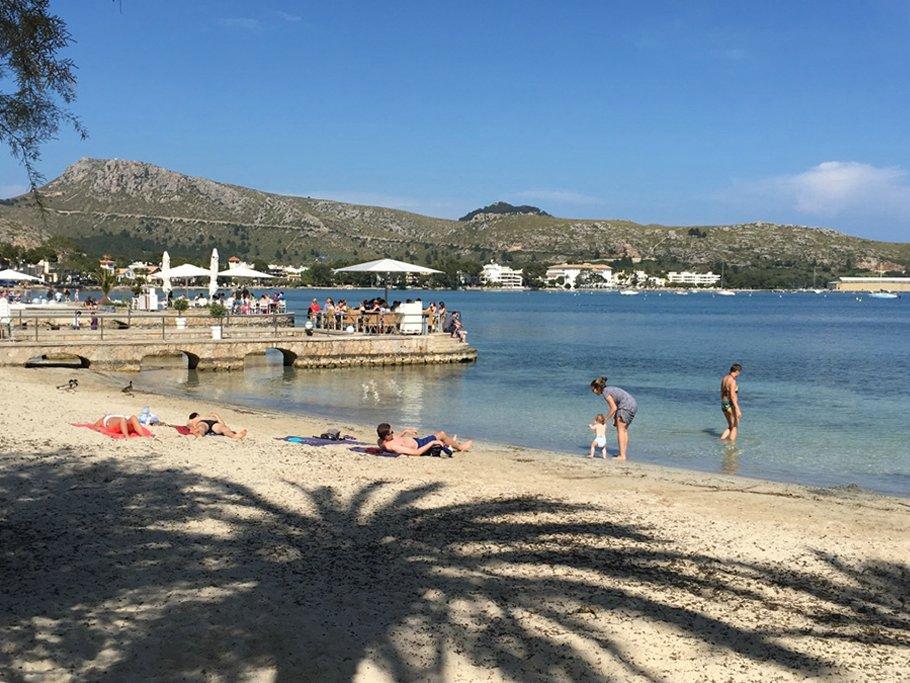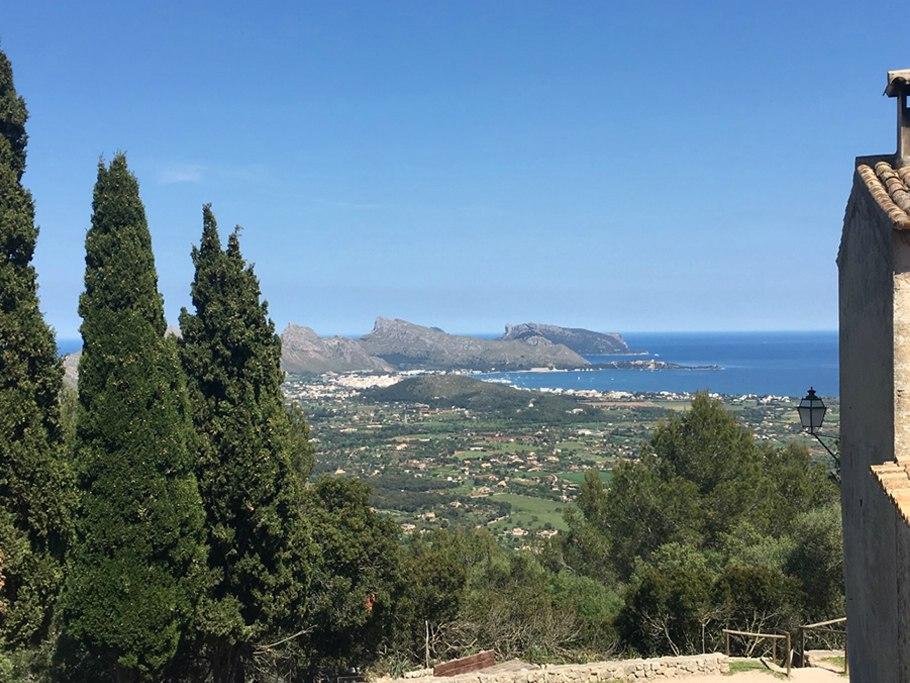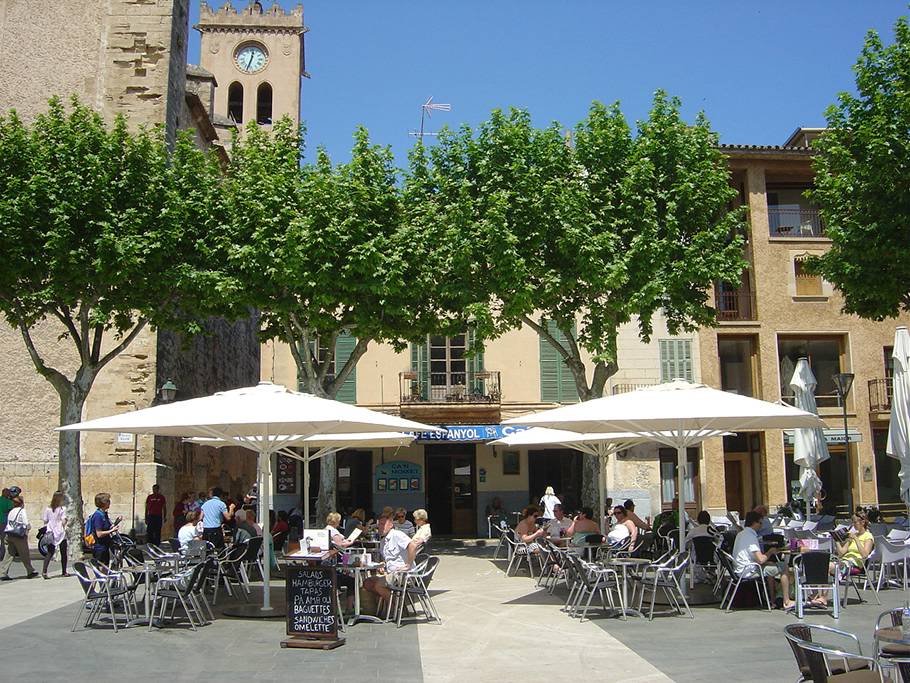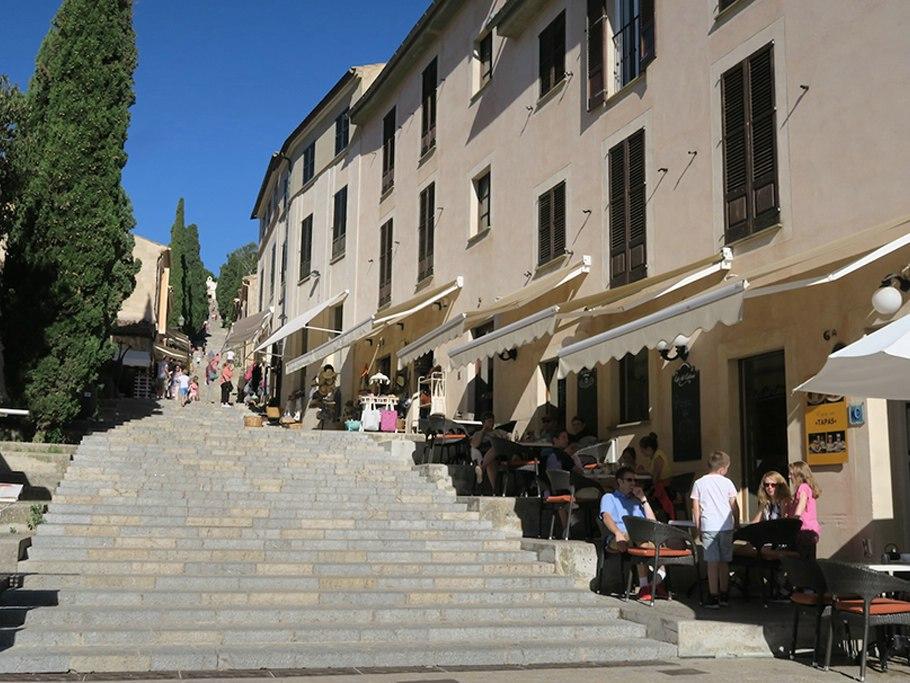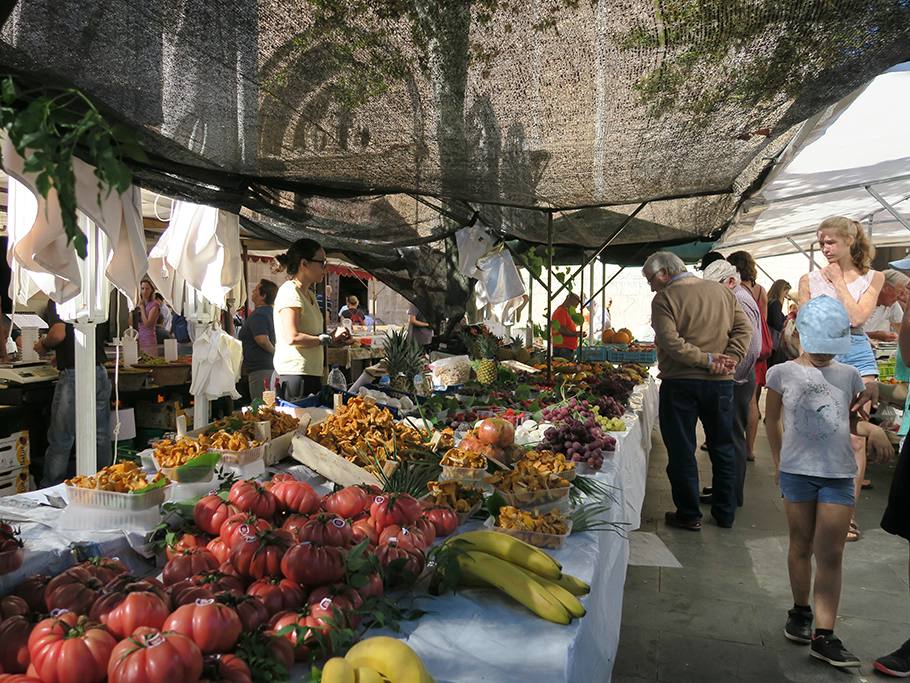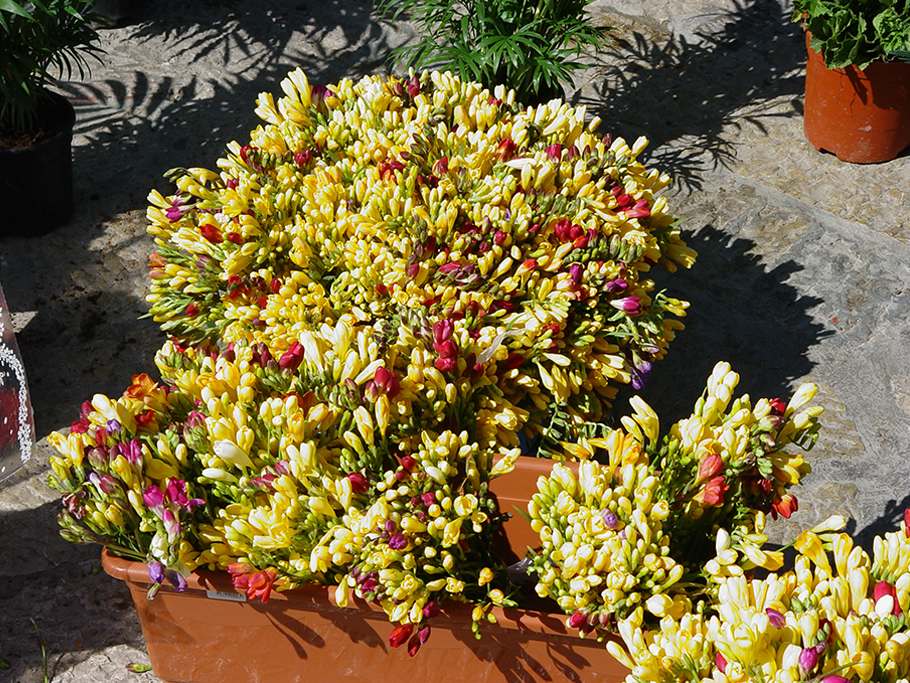 Living space:
approx. 180 m²
Bedrooms:
3 double bedrooms
Facilities:
sun terraces, AC, central heating, TV, washing machine, dishwasher, Wi-Fi, BBQ, table tennis, pool towels
Linen:
1x weekly bed linen, 2x weekly towels
Arrivals:
From June to September on Saturday
Fantastic Villa at the Puig de Maria in Pollença. Breathtaking views to Pollensa Town and the Tramuntana Mountain Range. With central heating and AC.
It is a very nice rural Villa located on the mountain Puig de Maria, from here you enjoy a wonderful views over town of Pollensa and the mountains. The house offers 3 double bedrooms, 2 bathrooms, sitting room, dining room and kitchen. From the kitchen there is access to the swimming pool area (security door especially for children). The swimming pool is located on a terrace build of typical majorcan stones, here you will enjoy large sunbaths and refreshing swims in the pool. In the BBQ area you will find another kitchen with wood-fired oven and open fire place. It takes you 10 minutes walk to Pollensa and a 10 minutes drive by car to the sea.
Pollensa is approx. seven kilometres from the sea. A select circle of approximately 16,500 inhabitants lovingly keep the traditions of this beautiful and historic little town alive. The Plaça Mayor is a great place to spend some time, and you can enjoy the flair of this beautiful town from the terrace of the Ca'n Moixet ('Pollença's living room'). A market is held every Sunday.
01.01. – 26.03.:
1.200 €/ week
27.03. – 09.04.:
1.450 €/ week
10.04. – 30.04.:
1.300 €/ week
01.05. – 31.05.:
1.350 €/ week
01.06. – 30.06.:
1.550 €/ week
01.07. – 31.07.:
2.350 €/ week
01.08. – 31.08.:
2.400 €/ week
01.09. – 30.09:
1.450 €/ week
01.10. – 31.10.:
1.300 €/ week
01.11. – 30.11.:
1.200 €/ week
01.12. – 31.12.:
1.350 €/ week
Requires 7 nights minimum stay from June to September.
From June to September arrivals on Saturday
Eintrag vom 28.05.2019
Villa Pou….ein wahrgewordener Traum .
Im Mai waren wir 14 Tage zu Gast in dieser wunderschönen Finca. Wunderbar gelegen am Fuße des Puig Maria. Pollenca ist in 10 Minuten zu Fuß zu erreichen.
Zum dritten Mal bei Ihnen gebucht Frau Prager, und wieder waren es 2 wundervolle , sehr erholsame Wochen.
Die Einrichtung entsprach genau unserem Geschmack und ließ keine Wünsche offen.
Die 2 herrlichen Aussenterrassen waren natürlich das Highlight…..Pollenca liegt einem zu Füßen.
Dort konnte man den Abend bei gutem Essen ( BBQ) und einem Glas Wein ausklingen lassen.
Den Pool haben wir auch reichlich genutzt, das Wetter war wunderbar .
Ich kann die Villa Pou nur empfehlen .
In 3 Wochen geht es wieder nach Pollenca, diesmal in das Apartment Mila, welches ich auch nur empfehlen kann, mitten in der Stadt und trotzdem ruhig gelegen.
Wir freuen uns schon riesig
Eintrag vom 01.10.2018
Sehr geehrte Frau Prager
Wir hatten eine traumhafte Woche in einer wunderschönen Finca. Die Ausstattung der Finca und die Umgebung ist sehr gut. Die Besitzerin sehr freundlich und zuvorkommend. Alles hat prima geklappt; inkl. Mietauto. Wir haben bereits gerne wieder bei Ihnen eine Finca für 2019 angefragt…
Freundliche Grüsse
Malte O.
Eintrag vom 14.06.2017
Hallo Frau Prager,
der Urlaub in der Vill Pou hat uns sehr gefallen. Die Lage des Hause , die Großzügigkeit innen und außen,sowie der Ausblick auf Pollenca und die Berge sind einfach toll. Dafür muss man auch mal die Straßengeräusche, je nach Wind, in Kauf nehmen. Vincente und auch die Eigentümerin Juana,die wir zufällig bei unserer Ankunft kennengelernt haben sind sehr nett. Wir waren mit unserem Aufenthalt in der Villa rundum zufrieden.
Eintrag vom 02.06.2016
Hallo Frau Prager,
das war ein perfekter Urlaub!!!
Mit dem Wegweiser "Puig de Maria" ist das Haus gut zu finden, die Lage ist schlicht f-a-n-t-a-s-t-i-s-c-h! Und man hat ja auch schon das erste Drittel vom Weg hoch zum Kloster hinter sich – was sich als Wanderung auch wirklich lohnt. Schön ist auch, dass man problemlos zu Fuss nach Pollenca laufen kann und der "Wocheneinkauf" bei Lidl ist bequem mit dem Auto zu erledigen.
Die Ausstattung des Hauses ist wirklich gut, vom Grillen über Sundowner auf der Hochterasse bis zum Planschen im Pool haben wir alles wunderbar nutzen können.
Von uns allen – wir waren jetzt zu sechst im Haus – kann ich sagen, dass wir ausnahmslos begeistert waren und tatsächlich schon Rufe nach Wiederholung im nächsten Jahr laut wurden. Wir bedanken uns bei Ihnen, Joana und Ihren Helfern vor Ort für einen tollen Urlaub,
mit besten Grüßen aus Hamburg
Eric G.
Eintrag vom 18.08.2015
Wir waren nun bereits zum dritten Mal zu Gast in der Villa Pou und haben uns wie immer ausgesprochen wohl gefühlt.
Die Ausstattung ist sehr komfortabel. Bei den hohen Temperaturen Anfang August 2015 waren wir für die Klimageräte in den Schlafräumen sehr dankbar, die sich so gut einstellen lassen, dass sie weder lärmen noch zu stark kühlen. Der ausgesprochen gepflegte Pool und die beiden Terrassen bieten einen Traumblick auf Pollença. Man wohnt herrlich ruhig und ist dennoch zu Fuß rasch im Ort.
Die Betreuung durch Martina Prager war wie immer vorbildlich. Wir buchen nun schon seit 10 Jahren regelmäßig bei ihr und können contacto – mallorca uneingeschränkt empfehlen.
Michaela und Stephan Mahlow
Villa Pou
Villa with views in Pollensa – situated on the Puig de Maria
from 172,00

€

/ night


Imported 9 bookings
Favorite